I was a battery charger, then a typist, before becoming journalist who openly bluffed a governor —Oba Ogunleye
Journalist, public relations practitioner and administrator, His Royal Majesty, Oba OlufemiAdewumi Ogunleye, is the Towulade of Akinale, Owu Kingdom in Ogun State. He told his life story to TUNDE ADELEKE.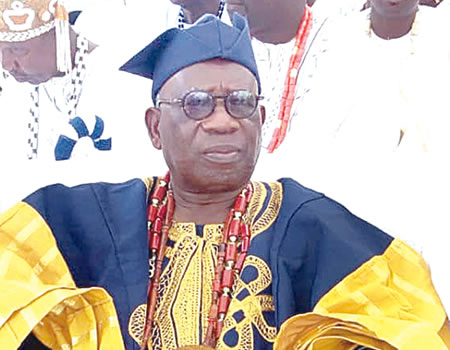 You were a journalist, and a public relations expert. Not many people knew you were a prince. What is the story behind the royal connection?
I call myself an accidental Oba because I am the only child of my parents and if I had waited for their usual pampering in this village, I don›t know how I would have ended. My father was contented with life, but he had a lot of things because he was a farmer. Everywhere he lived, he farmed and made enough to live. My father left Akinale for other villages. That›s what brought them to Asoore, now known as Gbalefaland.
Was he also into trading?
My father planted cocoa and kolanut. My mother was a trader too. They established farms in Onigbedu, planted cocoa, cocoyam and kolanut. My father had farms in Akorogbo, Kajola, before he came back to what he had in Akinale and I was the lone child, yet, there was no sufficient money to send me to school.
How did that affect you?
When I was in primary school in Akinale, our headmaster told us in 1958 that any of us (the pupils then) that made good grades in entrance examinations to three schools:  Baptist Boys High School, Abeokuta; Olivet Heights School, Oyo, and Baptist Academy, Lagos, would be given scholarship. So, we competed with ourselves. Here, about four of our people had gone to BBHS and I wanted to be there too, so I thought I should go to BBHS, Abeokuta. We sat for all entrance exams and I made good grades, which I thought should qualify me for scholarship, but the scholarship for that year went to Ogbomoso. For me to get admission to Baptist Boys High School, my father had to pay seven pounds, five shillings, which was not available. So, our headmaster said rather than not going to school at all, he substituted Boys High School for Alabama Secondary Modern School, Saje, in Abeokuta. I went there in 1959. Again, I couldn't finish there for lack of funds; and I dropped out. My father asked me to join an uncle in Lagos. I lived with my uncle at Davies Street, an open market place, and sold petrol for him, using the old pump that was jacked with hands.
How did you turn things around?
By the time I came back to Abeokuta in 1960, my headmaster who knew me when I was at Alabama, saw me and asked what had happened to me. I told him I dropped out of school because there was no money. He said; 'no money for people like you?' Come and join me'. The man was S. I. (either Samuel or Sunday Ilesanmi) Ojo. He was from Ekiti. He took me to Ansar-Ud-Deen Secondary Modern School,  Abeokuta, where he was the headmaster. I joined them in Modern II in 1961and I finished Modern III in 1962, using the man›s scholarship. That would be the only structured secondary or mini-secondary school I had the opportunity of attending. By the time I finished, my father asked me to join his brother. I went to Jos and that was the last journey that brought me to limelight. My uncle was a businessman, a battery charger. When batteries got spoilt then, they removed the cell, added water and acid and repaired them. The first six months I worked for my uncle, acid affected my hands, clothes and other things, so I went to Baptist Church, which I attended back home.
Did the church assist you?
I made friends who helped me to move round in Jos. One day, I went to the Ministry of Labour and noticed that a government agency was recruiting. I was among the 12 who were employed in 1964. We were the nucleus of the Federal Ministry of Finance (Federal Pay Office). When we were to be paid, out of the 12, 10 were paid 14 pounds; one of us was paid 13 pounds, and I was paid 8 pounds, 10 shillings. I asked why, since we were employed the same day. They said it was because of my educational qualification. They said what I had was not school certificate, but something like Middle II, and that I had been employed as a clerical assistant. The man who earned 13 pounds said he was a trade test man, a typist, and that he had a certificate. Instead of quarrelling, I didn't. I asked him how I could become one. He said I should ask where they were training people how to type. I registered for typing, shorthand, English and other commercial subjects. I paid for six months out of my salary. Surprisingly, in six months, I passed my Royal Society of Arts (RSA) Stage I. I told my employers that I had passed my examination and wanted to be converted to a typist. They said they would be queried as no one had given me authority to study because I ought to have taken permission. My friend said, "no, you know Femi is a joker. He did not do anything". I immediately withdrew my request for conversion, but I got a job at Post & Telegraph (P & T). That job opened my eyes to further education. Anytime there was an exam, I would do it. My late wife became my assistant because I bought so many high speed dictation books. Whether I was drunk or tired, she would dictate to me; the ones she could not dictate physically, she would put on tape. So in no time, I passed 100 words per minute in Shorthand and 150 words per minute in Shorthand and 50 words per minute in Typewriting.
When did you start earning from this effort?
We took the initiative to prepare for GCE. For every year you took the exam, you're bound to fail. I had a cousin who was studying for GCE Advanced Level. He was taking Rapid Results College correspondence courses. Those that he read, he passed on to me. We bought WAEC syllabus to decide on what subjects we could enroll in, but still failed because there was no teacher. We resorted to buying past questions. In a year, I cleared all the papers that I needed (around 1968). That gave me the certificate I needed. In 1965, one old man, M. J. Fereira of Morning Post, who had noticed my skill, told my boss, L. A. D, to allow me to type for him. My boss said, 'give it to him now'.  He then said: "Femi, you understand English now. I'm sure you would like to become a reporter'. I told him that was my wish, without knowing what a reporter meant.
Can you recollect your first report?
That was in December 1965 on Radio Jos. I wrote a sports story and it was like I was put on the wing of an aircraft to fly.  J. S. Tarka and his UMBC party, an ally of Action Group, had a paper in Jos called Middle Belt Herald. I was a correspondent for it and they published my stories. In January 1966, when the New Nigeria started in the North, I was one of those who worked, but not as a staff. For every published story, lines would be counted. Front page stories in the New Nigeria then were 3 pence per line, while back page was 2 pence per line. Inside page was 1 penny. It gave me the impetus to work harder. Eventually, I noticed that each time I wrote sports story, particularly inter-house sports, I had an advantage. If you finished the body of the story, you had to add detailed results of the races. Those were added lines for me when I was to count. That way, I was earning far above staff reporters who were paid 12 pounds.  However, Daily Times was the first paper to give me full staff appointment. That was because when the editor visited Jos on tour sometimes in 1969 or 1970, each morning he saw that New Nigeria lead stories or second lead stories usually carried my byline. He then said I would be a good material for Daily Times. I told him how I had applied without success, but he said I should not worry. On getting to Lagos, the vehicle bringing newspapers the following morning brought my appointment letter along. At Daily Times, I trained formally as a reporter around 1972. When I was brought back to the North, I worked in Jos, Zaria, Kaduna and finally, I worked in Kano. It was in Kano I had problem with government and I was brought back to Lagos.
What was the problem?
The governor did not like a lot of my stories. The story that caused problem for me was when he came back from Russia with General Yakubu Gowon. That day, I was not keen on asking him any question. But when he said Mujemu (because I kept beard), are we fighting? I said welcome, Sir. Can I ask a question? He said yes. I then asked a question about an agency that was in charge of the assets of the six northern states and that the people agitated for it to be disbanded as it had become a political forum for that part of the country. I had records to support my claim. Audu Bako flared up and said all sorts of things. I just quoted him. The following day, Daily Times came out with the story. He denied and called me names, saying I was a security risk. Daily Times sent Haroun Adamu to investigate me. Government simulated a press conference to give the impression that I had lied, but I proved that it was at the airport that I asked the question, and not at a press conference. My interview was open at the airport; there was background noise of aircraft humming and, of course, the governor called me before the encounter and everything was on tape. So, I was exonerated. But they bundled me into an aircraft and sent me to Lagos. Two weeks later, Daily Times brought my family to Lagos.
Did you meet him again?
The governor came to a meeting in Lagos. They called us for an interview at the airport. I told the governor that I was a federal journalist and that I didn't talk to state governors, so if he had anything to say, he should make a press statement and send to us. But we later became friends.
In Africa, particularly among the Yoruba, the road to the throne is always strewn with all sorts of intrigues, troubles and other problems. Can you describe your experience?
I had no problem. I am the foundational ruler (Oba) here, but the 15th Baale. My coming to Akinale was not to contest for Baaleship. In the olden days, what they did was to make the oldest person the Baale. But after my father died, two other people had been Baale.  Funny enough, we were related. After I retired from Nigeria Airways, my boss, Sam Amuka, charged me to be writing for the Vanguard on aviation. That was how I took up a column. In my house at Alakuko, there was a man opposite my house, who, by12 midnight would hold a vigil. Each time I went to him to complain, he would ask me to kneel down for prayer. After a while, I didn't go to him again I suggested to my wife that we should go to Akinale every weekend and come back after the weekend. At first, she didn't like it, but later, we decided to try the idea. One Friday, we came to Akinale and we slept. At 1.00am I woke up and moved round the compound, there was perfect serenity. Two weeks later, l said let's leave Ikeja and try to see what time it would take us to get to Akinale. We took off by 6. 30pm and by 8.30pm, we were in Akinale. By the time I was opening my door, some friends called to know where I was. I told them I was already in Akinale, whereas they were still in a traffic hold-up in Maryland. I began to see the quietness and serenity in Akinale. A week later, they told me that I should come and take up the Baaleship. I told them I could not accept to be Baale as I was still involved with so many aviation journals. But they declined. By Sunday morning, we locked our doors and went back to Lagos. But they came down to meet me in Lagos. Finally, I agreed. Before then, I never knew there was a dichotomy amongst the various ethnic groups in Abeokuta. The day, I agreed, one oba in this area wrote a letter that whoever was to be installed as Baale should see him as he was the Arole Alake and that Alake was the one vested with the authority to install a Baale there. When I read that one, it was strange to me. I knew that Akinale was an Owu settlement, and that it's Olowu that had authority over the place. In those days, they installed their Baale themselves, but with the advent of modernity, it's the Olowu that usually approves. I replied the Kabiyesi that I didn't know what he was talking about, but as for installation of Baale, it was the Olowu that should do it, but that I would ask the person to pay homage to him after installation. I didn't go beyond that.
Was there a problem after that correspondence?
I went to play golf in Abeokuta. A friend, Apagun Olumide, now late, called me and said "Chief Ogunleye, what is the matter between you and one oba who had gone to report you to Alake that you disparaged the Alake? I told him that I did not do that. Alake personally installed me in Abeokuta as Ekerin-Apagun Egba on August 8, 1992. He said if I wanted to be Baale, I should meet Alake. I said no; that my father never went to Alake for installation, neither did my grandfather.  I would be Baale first, then, I would see Alake. If the Alake wouldn't grant me audience, I would know what to do. The day I was to be installed Baale, there was heavy police presence. I called everybody I knew, including the friend I spoke to in Abeokuta. Nobody picked my calls. Later a cousin of mine, Chief Niyi Adegbenro, said there was no problem and that he would be with me shortly. He said the governor would like to speak with me. The then governor, Otunba Gbenga Daniel, asked what the problem was. I narrated the story to him. He assured me that he would get back to me in 30 minutes. A new set of policemen came to replace the ones on ground and the ones on ground left just as the governor promised. Some Baales stormed this place, spoiling for war with anybody who dared to disrupt the installation. The Baales pleaded that I should please allow them 'fight a war' of liberation as they were already fed up with what was going on between them and an oba in this area.
How did you resolve it?
I led them to Chief Olusegun Obasanjo at Ibogun the following week. It was at Ibogun I knew what happened to me. The governor castigated the Commissioner of Police for not contacting him as the state chief security officer before sealing off the village. He said "the village people themselves chose their Baale, not that the Baale wanted to impose himself and he should withdraw his men from the place. Instead of the CP to do that, he contacted the IGP. The IGP was of the opinion that since the Baale in question was an Owu indigene, and the president was also an Owu, he needed to seek the opinion of President Obasanjo. When he got across to Obasanjo, he was said to have thanked the IGP for the information and told him pointedly "Call me back in 20 minutes to tell me the Baale has been installed". That was the end of the whole thing. My plan was just to call my friends in the media to come and sit with me. I never knew I needed any contact outside this place. That singular episode sort of made me popular. Not long after, the Olowu upgraded some Baales to coronet chiefs in order for them to have some little powers to organise their communities. That was how I became one of them. And the Olowu gave me a crown from Owu and that's why my title is Towulade.
How did you meet your wife?
I lost my first wife after my chieftaincy in Abeokuta which, if not for the way it happened, I would have been blackmailed as using her for the chieftaincy. My late wife was Egba and a princess of Ake. I met her in Jos working as a reporter. We would have been married for 53 years this month, but after my chieftaincy in Abeokuta in 1992, she went with church members on a mission and had an accident when coming back. All of them died. It took me about three  a half years again before I thought of remarrying. I didn›t want to, but two of my female children insisted I should remarry before they settled down. Luckily, I ran into my present wife. She just came back from England and was single. The first day I requested her to come to my house, she said no, that I would need to follow her to her parents and I agreed. We were on our way to Ilesha and we branched to see their family friend in Ibadan, Bishop Lajide, where they asked her who I was. She said I was a friend she just met. Baba Lajide said, «You are Mr. Femi Ogunleye.» I said yes. He said, «Sorry for what happened the other time. We wrote to your church when your wife died». I was shocked! He then continued: «That was not how I knew you.» The man recalled what happened in Nairobi. Seven Nigerian clergies were in Nairobi for an Episcopal conference. They went with Ethiopian Airline. But we (Nigeria Airways) were launching our flight into Nairobi. When they saw the advertisement, they agreed to come back with our own flight to Nigeria. They came to Nairobi Airport. I was still in town. And they were to be checked in; they were discovered to have economy tickets and the economy class was full. They were requested to pay some money in addition and they said they could not afford to pay. They were arguing when I came and I said whether they paid or not, we must take them. First, they saw our advertisement. They could have returned via the Ethiopian Airline, but out of patriotism, they opted for our airline. The manager said they could not accommodate them, but I said I›ll sign their tickets, adding that if the company wanted to bill me, I would pay. I signed all their tickets. When we got to Nigeria, they wrote to Nigeria Airways, thanking us for what we did and the Nigeria Airways too praised me for what I did.  The Bishop turned to the lady and said, surely, this is your husband. I was shocked because that was not my mission. He just took the phone and said to my wife›s father in Ilesha that the man the daughter brought was her husband. To the glory of God, she has been with me for 25 years.
How about your social life?
My social life was fine. I tried all I could do. I was in Lagos Country Club, I served well; I was in Lagos Island club, I served well. I was also a member of Association of Friends in Maryland. I am a member of Abeokuta Club and the Sports Club. I became a member of Abeokuta Sports Club as a result of what happened to me. My father died on December 21, 1981. I was not around, I was away in Jos. My friend, Dr. Ore Falomo, who died recently, called to inform me that my father had died and that he had given my wife an ambulance to take the corpse to the morgue. The village people felt slighted that my wife took the corpse away. I drove straight to Abeokuta to discover that the hospital had refused to give him a space in the morgue. A friend felt it was an outrage and followed me to Dr. Majekodunmi, who was the president of Abeokuta Sports Club as well as the chief surgeon of the hospital. I told him what happened. He just followed me in his pajamas' to the hospital. He showed me 12 excellent spaces that were vacant and available; and got my father well preserved. My plan was to come to the office on Monday to seek a N5,000 loan. But my friends rallied round me. One of them bought a casket while others brought money. Before I left the office that day, I already had N35,000 on me. To cap it all, on the day of the burial, I was somewhere and heard drummers praising Chief Abiola. He asked where I got money from, saying I must have incurred debt. They were five: Mrs Simbiat Abiola; Mrs Oyagbola, a minister of the Federal Republic; Dr. Wahab Dosunmu, also a minister and Ben Cashman. Chief Abiola said the envelope he brought could not be useful any longer and asked Ben to bring the briefcase with him. He told me they had spent a little from the money in the brief case, but that what remained there would still serve a purpose. Apart from that, he enjoined those that accompanied him to give me gift and they all acted accordingly.