Olakunle Adewale Joel, in this interview by RONKE SANYA, tells his tale of how he rose from the status of a dull and seemingly hopeless Mushin boy to become a mentor, teacher of young children and creative artist of international repute.
You are many personalities rolled into one. How do you combine all these responsibilities of being a poet, publisher, writer, public speaker, art analyst, graphics designer, creative writer, and being the creative Director of Tender Arts successfully?
This can be said to be as a result of the fact that I am very passionate about what I do. Everything I do is centered on arts. I discovered my passion for writing, talking, drawing, and designing and I gave it much attention. Being talented calls for a serious responsibility and giving attention to achieving desired results within the time frame. This involves being serious minded. Focusing on one thing at a time has really helped me in achieving milestone achievements. So through self-discovery and set goals, I have been able to strike a balance and achieve success in what I do.
You seem also passionate about teaching children arts, most especially the girl child.
Oh yes! Heaven knows that I love children. Maybe it is one of the traits I inherited from my late dad who was so popular for his love for children and youths in the neighbourhood. I am very passionate about teaching children creative arts because arts and artists are not given much regards to our society. Artists are considered failures and unserious set of persons, this is why I am so involved in helping children to develop their artistic skills to achieve greatness with their God-given talents.
Interestingly, while I was still in full time art teaching, some of my pupils achieved a lot as budding artists. I always inspire them to be the best as young artists. They have participated in local and international art competitions and exhibitions and have won national awards. One of them is 10-year-old Ayomikun Omoyiola, who was in 2014 invited by the Federal Government of Nigeria to receive a Peace Award through an art work she did.  It was a great moment for me to see her being given a national award as a young artist. Ayomikun is one of the young artists I have trained who has excelled at what she does. I felt fulfilled that my efforts were not wasted. For me it was also a validation of advocacy for art education.  This gave me the privilege of meeting the former President of Nigeria, Dr Goodluck Jonathan and also the President of  the European Union,  Manuel Barroso. There is no limit to what a girl can achieve if she is empowered and given the required back-up to achieve greatness.
I have come to a realise that we have a world that treats girls as second class citizens. We must get rid of behaviours and attitudes that put girls in a tight corner from fulfilling their God-given potential.  Any society, organisation or individual that does not provide opportunities for girls to learn is a disappointment to humanity. We must not be afraid of what girls can become if we give them the right tools and access to learning. I see girls who will contribute to national development and the progress of Africa as artists.
Other competitions which my protégés have participated and won include David Shepherd Wild Life Art Competition and Exhibition, United Kingdom, Nigeria Centenary Painting and Poetry Competition, among others.
You have been involved in numerous art education, art advocacy, charity art exhibitions among others, what inspires you and motivates you to be involved in all these health-related activities?
My dream is become the biggest inspiration to African children and youths by giving hope and inspiring change in communities. I believe that art is a tool for social transformation. I want to help young people become the very best in life, have hope and reason to live. That is why in recent times I have been very much involved in ICEHA's Healing Through Art (art therapy) for survivors of Boko haram insurgency in the North East of Nigeria, Also children and young persons living with the sickle-Cell anemia, children and young persons living with cancer and Down syndrome.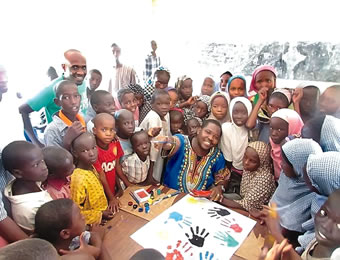 You were nominated for the global teacher prize in 2014, an award-winning programme organised by Varkey GEMS Foundation in United Kingdom and was recently nominated sickle cell international ambassador, what other international recognition has your artistic adventure gained?
In 2015 I had the privilege of meeting the President of the United States of America, Barack Obama, through the Mandela Washington Fellowship Award. I also received a special recommendation on my Creative Arts engagement from Smithsonian Institution, Washington D.C. I was named young Africa ambassador for arts and culture by the Arts Council of New Orleans and also, I am a scholarship recipient of Arts in Medicine, College of Arts University of Florida.
Tell us more about Olakunle Joel?
I am the ninth child in the family of 14 children. I was born and brought up in Mushin, Lagos. I attended Mainland Model Primary School, Mushin; St. Joseph Boys Secondary School, Surulere; Auchi Polythecnic, Auchi, where I studied painting and general arts and Obafemi Awolowo University (OAU), Ile-Ife, where I specialised in art history and painting. I also attended Tulane University, New Orleans, USA, where I studied civic leadership. I started serious art during my teenage years working on comics, Bible characters and creative writings. I am a native of Abeokuta, Ogun State.
I do share this testimony at every given opportunity to challenge and inspire young people that I wrote the West African School Certificate Examination (WASCE) seven times in seven years before I made it to the university, but now, I have to my credit the Mandela Washington Fellowship Award and have received special recommendations for my creative arts engagements.
My mother was a food vendor by the road-side. I grew up hawking kerosene, sachet water and nylon bags to assist her. Unfortunately, I lost her three months after I graduated from OAU. I have worked as a labourer at construction sites, I have been a bus conductor, newspaper vendor, among many others. I never imagined that I could ever go beyond the secondary school level. I am grateful to God for the privilege of being a better man today. Today, I am happily married to Mopelola.
Words of advice for young Nigerians hoping to make a breakthrough someday.
Take responsibility for your future, if you don't want to end up as a failure. Stop blaming your past, start blessing you present so that you can be a blessing in the future. You can make it only if you dare!