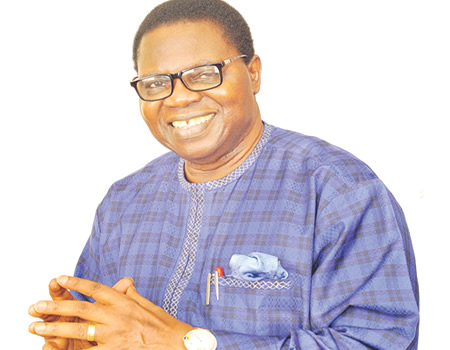 From playing at Ambassador (Dr) Olatokunbo Awolowo Dosumu's 40th birthday, her daughter's naming and wedding ceremonies, and today, at her 70th birthday celebration, music icon, Evangelist Ebenezer Obey-Fabiyi, has proved over the years that he is, indeed, an evergreen musician. He tells SEYI SOKOYA how his music made him a favourite of Chief Obafemi Awolowo, and his enviable relationship with the Awolowo family.
As a renowned music legend, who has become the toast of prominent personalities, how have you been able to achieve this, even at old age?
I see whatever I have become in life today as a privilege.  It has been the grace of God to still be relevant in the industry, even in the present generation. I don't have a special way I do this, other than working hard to fit into the different generations. When it comes to music, I don't joke with my fans; I respect them a lot and maintain a mutual relationship. I don't discriminate against people. I show love and respect to both the old and young; influential, average or those in the lower class. I see all my fans as the same. I have a distinct way of sustaining relationships with people and that has affected my life positively. Lovers of Obey's music, who have been following me for long, still love to listen to my music and invite us to perform at their events. This is why some old generation musicians are still active in the system and have become the toast of high society personalities. In fact, I am proud to be the band musician of some notable personalities in the country, such as the Awolowo family.
Can you recall how you sealed the bond with the Awolowo family?
My bond with the family started when I was at the elementary school. Papa Obafemi Awolowo brought free education. When I was promoted to Standard Four; this meant I needed to be in Standard Five and conclude my elementary education in Standard Six. Firstly, it was a great relief to parents and secondly, a leap for me. So, instead of passing through Standard Four, I was promoted to Standard Five and I later proceeded to primary six, and that was how I concluded elementary school. I am a person that thinks deeply and I appreciated all the things Baba did, especially in education, free health care services and other several things he stood for. He was instrumental in the provision of roads across the Western Region. I also witnessed the construction of a bridge he built across the Yewa River in Idogo. I appreciated all those things and I became not only his admirer; I loved Baba. I remember in those days when secondary schools were jampacked and it was becoming difficult for pupils to gain admission, he introduced Secondary Modern School, which also created employment for teachers and made things easy for students. This was how I fell in love with the family.
ALSO READ: Awo's free education brought more women into the education system —Professor Ogunseye
At what point did you become the family's band musician?
When Papa was imprisoned in Calabar, I started waxing songs as a youngster to remind the public, especially the masses, of the good things Papa Awolowo had done, noting that he didn't deserve being imprisoned. This I did till our prayers were answered and he was released. The first thing I discovered about Papa Awolowo is that he was a special human being. I learnt that someone played all the records I did for him when he came out of prison. On a particular day, my phone rang. I picked it and asked who was speaking. I heard a voice at the other end saying, 'Hello, Chief Obafemi Awolowo lo n soro oo. Ebenezer, emi ni mo n soro.' I was shocked and prostrated even though it was a phone call. I responded with repeated greetings. He said, 'I want you to come and play for me at Ikenne on my birthday, March 6.' I appreciated him for the honour and sealed the date instantly. I told him that we would be there on March 5 to set the stage. He then asked how much he would pay, but I insisted that he should not bother about the payment and that I would come and play for free. 'I have to pay, because that is your source of livelihood,' he responded. Then, I told him that I would appreciate any amount and he paid me 10 pounds. Another thing that surprised me about him was when he held a meeting where he said he wanted to appreciate people. He acknowledged may personalities from within and outside Nigeria and lastly, he called me out and said: 'I want to specially thank Ebenezer Obey in the presence of everyone. You told me not to pay when I called you to perform at my birthday celebration, but I insisted. I want to thank you for allowing me to pay the price of my choice.' I was astonished and tears flowed freely from my eyes, when I was returning home as a result of Papa's compliments. I saw this as an encouragement and from that time, I discovered the kind of person he was. Our relationship eventually became solid and I became the family's band musician.
How did you feel when you first saw Papa Awolowo face-to-face?
I was extremely glad to meet the man of great wisdom in person. I was happy that he came out of the prison alive, because the whole nation was shaking when he was in prison. The words that came out of Papa's mouth were words of wisdom. If he said   something, watch it. Despite the fact that there was much opposition, Papa remained focused and proved that he was a special being. His foresight and vision was second to none. He brought the first television station to Africa. Papa Awolowo has been into agriculture that people are now embracing  today. He was a special human being sent by God to deliver people, especially the masses, from wretchedness and suffering.
How has the experience been since you became the family's band musician?
It has been interesting. The relationship kept developing; Mama became my mummy and Papa loved me dearly. The late Chief Wole Awolowo and Aunty Ayo, Ambassador Tokunbo Awolowo Dosumu and the other siblings are my friends. I remember that I played at Ambassador Awolowo Dosumu's 40th birthday, as well as her daughter's naming and wedding ceremonies. So, the experience has been awesome and I can never forget the Awolowo family. I am happy that the children are keeping the flag flying after Papa and Mama left.
How did you compose the special songs dedicated for Papa and the Awolowo family?
I sang many songs for Papa and they are still fresh in my memory, because he is special to me. I released 'Awolowo oo baba wa ti de, Awolowo oo baba wa ti de, ko so risa ti o se bi Ogun; Baba Olayinka…' when he came out of prison. Another one is 'Oba to je ta ye roju ati eyi to je ti igba ko sunwon, e wo ni ka gba mu…' I did series of songs for Papa and the inspiration to compose them usually came  freely. I also did 'Ko ni le gbe le, ye ko ni le gbe le, ibo ote yi le la le ju, ogun curfew, ko ni le gbe le…' when he was in prison and the momentum was high. I was just doing my own quota, because of the things I benefited as a youth. Mind you, while I was doing that, I made people realise that I was not a politician or hired to work for Papa. I did them because of my love for him and all the good things he was doing to develop Nigeria. In fact, I played for all political parties then, including my friend, the late Chief MKO Abiola, who came on the platform of NPN, but I didn't hide my love for Papa Awolowo, because of what he stood for and his passion for the masses. My dear Seyi, I am glad to let the world know that my love for Papa has not changed a bit.
Do you view the fact that you are the family's band musician as divine?
Due to Papa's position in the country, other musicians lobby to play for the family whenever they have events, but they are always usually told that 'we have called Ebenezer.' Papa was a principled person. It is not that he didn't like other musicians; he loved everyone. But there have never been two bands playing for the family except me. So, I can see how they reciprocate my love for them. The family can have about six or more bands at their large events, but I would be the one to play for Papa. The joy is that the children followed in the footsteps trait when Papa and Mama left. I have a smooth relationship with all the children, from Reverend (Mrs) Tola Oyediran to Ambassador (Dr) Awolowo Dosumu. I believe the bond is divine, and it can never break. I am happy that people still talk about the good works of Papa and that the children are protecting the good name.
How would you describe Ambassador (Dr) Olatokunbo Awolowo Dosumu, who has witnessed your musical performance from one generation to another?
It is a good thing, because this is a typical example of the popular adage that says: 'the young shall grow.' We celebrated her when she was 40, and we were part of every other thing that she did. So, we need to give thanks to God that has brought us this far. We will be glad to celebrate her as she celebrates her 70th birthday. I pray that as Ambassador (Dr) Olatokunbo Awolowo Dosumu celebrates her 70th birthday, the Lord will give her long life and that she will celebrate more years in sound health in Jesus' name. I also celebrate with the entire family. I recall that I also performed at Olusegun Awolowo Jnr's wedding.