How hydro-power saved Nigeria from total darkness —Osibodu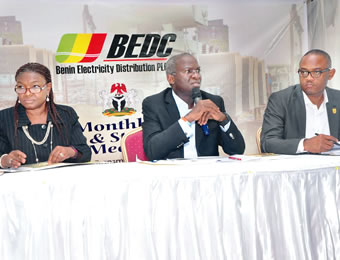 The Managing Director of the Benin Electricity Distribution Company (BEDC), Mrs Funke Osibodu, has disclosed that but for the rise in water level that has increased hydro-power generation in the country, the nation could have been put into darkness by militants in the Niger Delta region, who have continually blown thermal power facilities in the area.
Mrs Osibodu said as part of efforts to resolve problems associated with billing of power consumers in its area of operation, namely Edo, Delta, Ondo and Ekiti states, the power distribution company would be releasing about 100,000 pre-paid meters to customers.
The BEDC boss, who spoke through the Edo State head of the BEDC, Mr Fidelis Obishai, during the seventh monthly meeting of stakeholders in the power sector held in Benin City, said total power generation in the country dropped to about 1,000 megawatts from an all time peak of 5,000 megawatts due to the activities of militants before hydro-power installations came into the rescue.
She said the BEDC had distributed 315,000 pre-paid meters across the four states of operation, adding that the BEDC inherited 888,000 customers when it took over from PHCN and after a baseline study, some ghost customers were weeded out, leaving their customer figure now at about 745,000.
She said that the BEDC has about 2,000 pre-paid meters already paid for in its possession, remarking that improper addresses given by customers was responsible for the problem and that the company was on the trail of the customers in order to deliver the pre-paid meters to them.
She pointed out that the BEDC was working hard to ensure that 45 days after payment is made for pre-paid meters, customers get them, adding that the BEDC was doing this in order to ensure proper and accurate metering for its customers.
"Recently, we are all aware of the story of the Niger Delta Avengers which has affected gas pipelines. In the past two months after we made 5,000 megawatts in this country, from the month of March, April, May, generation dropped to 1000 megawatts because the water level in the hydro stations reduced, while the gas pipelines were blown off," she said.
"But the three hydro stations we have today are pushing out generation even in the absence of gas pipelines. We do not store power, BEDC is a distribution company, we distribute what is generated. If there is no generation I have nothing to distribute and that is the improvement we have seen in some states. And our prayer is that the improvement will be sustained.
"Every Nigerian wants light, but it is important we add that this country is over 160million people. Today the latest available for generation is about 3,000 megawatts. For 160million Nigerians, that is a far cry for our requirements."