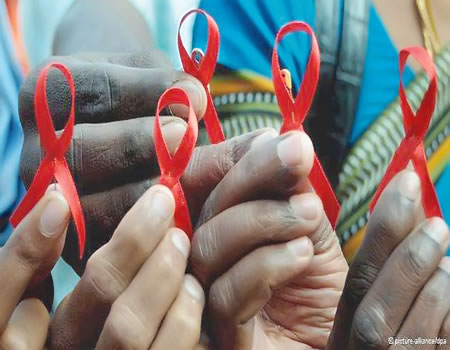 BAYO ALADE reports that 30 years after the World AIDS Day was celebrated, people's attitudes against patients of the disease have scarcely changed and a majority of those living with HIV/AIDS have remained walking corpses, despite global efforts to make them live a good life in spite of their status.
Jessica (not real name) has been a long-standing member of an association of people living with HIV; in fact she is a full-time worker in the association. Though she is enjoying the job, she never imagined she would one day end up in that line of vocation or career.
Narrating how her ordeal started, she said it was after she paid a visit to a dentist several years back. At that time, she was a teenager and was having problem with a tooth. When she could no longer bear the pain she decided to visit a dentist who removed the bad tooth and did what he thought was professionally right to do then.
Months passed and Jessica began to have one ailment or the other until she was advised to seek further help with a blood test. It was then that her life changed dramatically as she was diagnosed to have contracted HIV. Her world crumbled before her as she came to the realisation that she would have to live the rest of her life with the virus.
According to her, she was a virgin at the time and could not have contracted it through sex. Investigations would reveal later that she might have contracted the HIV from the dentist's place. She accepted her fate and moved on. Today, she is working with other people living with HIV, helping them to live a normal life without being hampered by the disease.
There are many Nigerians, like Jessica, who are living with the virus or enduring the traumatic effects of full-blown AIDS through no fault of theirs.
Yesterday, December 1, the world marked another World's AIDS Day, with the theme Know Your Status. It was the 30th annual celebration of the day. Since the day was first marked in 1988, significant progress had been made in the area of response to the disease. Part of the success story is that today, millions of people living with HIV are leading healthy and productive lives despite their status.
Unfortunately, lots of grounds still need to be covered as, according to Joint United Nations programme on HIV/AIDs (UNAIDS) reports, about 9.4 million people worldwide living with HIV are not aware of their status and that is why attention is shifting back to encouraging people to know their HIV status, hence this year's theme.
Still, some of the obstacles preventing people from knowing their status include stigma, discrimination and access to confidential HIV testing, among others. Many people like Jessica mentioned above get tested only after becoming ill and symptomatic, leading to late treatment of the virus by which time full-blown AIDS might have set in.
Becoming a burden
Like Jessica, Emeka (not real name) is a PLHIV. Having contracted the disease years back, his physical health is obviously not in the best shape but he is coping with the rigour of living with the disease. While sharing his story with Sunday Tribune, Emeka said the stigma attached to his condition had made it very difficult for him to get a job. According to him, getting a job had not been easy and the finance to set him up in business had been far beyond his reach. The effect is that he has been living from hand to mouth and depending on kind-hearted people to survive. Most times he goes hungry.
"I was attending a church before and they used to give us foodstuffs and other things. But as times went by they began to give us one measure of rice, beans and garri each, every quarter. How can one survive on that for three months? It is not possible. So I have to look elsewhere for help. Most times I beg in the street to survive. I can't pay for my own house rent and take care of my basic needs without relying on other people. This is not a life," he lamented.
There was also the story of a legal practitioner who contracted the disease years back. He was Emeka's friend. According to Emeka, when the virus began to take its toll on his friend's state of health, he could no longer attend court proceedings and take briefs from clients. Soon he began to depend on friends and family members for survival. The fear of stigmatisation prevented him from coming in the open to admit his HIV status. He could not attend clinics to collect his drugs. It was a matter of time before the end came. He did not wait to be killed by AIDS; he took his own life because he felt he was becoming too much of a burden to all around him.
Life of discrimination
One of the problems still militating against the eradication of HIV/AIDS is discrimination and stigmatisation, a condition which patients terribly fear. According to a Benin-based medical practitioner, Dr. Maxwell Majirie Ebueburho, who spoke with Sunday Tribune on phonefrom Benin, the general public still views HIV/AIDs patients as promiscuous and infectious.
"HIV/ AIDS is perceived as a death sentence by a large percentage of the population due to lack of proper education. This perception causes patients to be ostracised by family and friends, leaving them lonely. Stigmatisation results in patients not telling anyone, even their spouses of their illness which causes them to hide to take their drugs or not even take at all.
"Some will not even attend clinic because they don't want anyone to know of their predicament. This leads to full blown AIDS and death. If the patient is the breadwinner of the family, the family is bound to suffer in several ways," he stated, adding that government could do more by educating the larger segment of the society on the diseases and how everyone could play safe
Dr Ebueburho told the story of a woman who had HIV but did not disclose her ailment to those close to her. The condition was developing into full-blown AIDS when she eventually reported at the hospital. When she was asked if she had done a test before, she answered in the negative. Further investigation revealed that she had actually done a test before which turned out positive but she refused to tell her people for fear of stigmatisation and/or  isolation.
It was a lost case. She had actually lived on the fast lane and despite warnings and disapproval of her lifestyle by family members and friend she refused to budge until she began to fall ill. All through the time that she was living in denial, the virus had spread into full blown AIDS and she died later.
Lending his voice to stigmatisation and other issues faced by AIDS patients, Dr Victor Adeyefa, an Ibadan-based medical practitioner, described those who stigmatise AIDS patients as ignorant, suggesting that government could dispel the general ignorance through public campaigns through agencies like National Orientation Agency, Ministry of Information at state and federal levels stating why people should stop acts of stigmatisation.
Dr Adeyefa explained that the fear of stigmatisation was borne out of fear by people that AIDS could spread through different means like mosquito bites, handshake. He added that not even Ebola could be contracted through a handshake.
"When HIV/AIDS broke out more than three decades ago, laymen spread rumours that it could be contracted through mosquito bites, handshake etc. naturally, people would be afraid because they are very easy ways to contract any disease.
"So it is an error to be fearful of HIV victims just because they have it. Those who are afraid are unnecessarily afraid because one can only contract it through blood, seminal exchanges. Whether in public or private organizations, HIV victims should be treated with respect and dignity. What shocks me most is that those who are educated enough to know that it is safe to relate with victims are among those who vilify them." Dr Adeyefa explained.
However, as deadly as HIV/AIDS could be that is if an infected person does not know his or her status on time, there are many new opportunities to expand access to HIV testing. Some of these opportunities include self-testing, community-based testing services and multi-disease testing which are helping people to know their HIV status anytime they want to. This basically why the theme of this year's celebration is: "Know Your Status."
The irony, however, is even if these new opportunities are brought closer to the doorsteps of millions of people, many people, especially in this part of the world, would still not take advantage of the opportunities because they believe that they are invincible against any disease.
—Additional stories by Tade Makinde and Seun Oyebanji