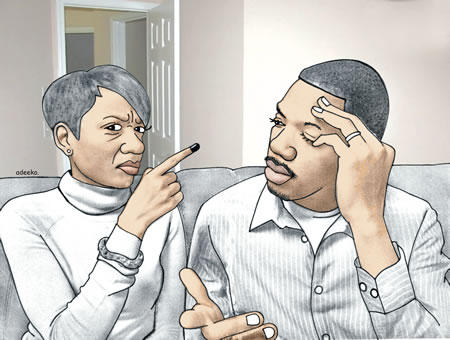 A woman, Bukola Adejare, has told Oja Oba/Mapo Court C Customary Court, Mapo, Ibadan, Oyo State, she's fed up with her husband, Taoheed Adejare and therefore prayed that it dissolves their 12-year-old marriage.
The plaintiff, in her divorce suit, accused her husband of always being suspicious of her. She added that he constantly beats her.
Bukola as a result of these prayed the court to dissolve their matrimony, grant her custody of their two children and make him responsible for their upkeep and education.
"I've come to court today in order not to die before my time, "Bukola stated before the court.
"I'm tired of my husband's beatings. He has turned me into his punching bag because he feels jealous and threatened any time he sees me with other men. He's always accusing me of sleeping with these men.
"He's always suspicious of my movements because early in our marriage, one of his friends lied that he saw me being given a ride by a man who eventually took me to a joint.
"He took in all his friend told him, hook, line and sinker, and beat the hell out of me.
"Another of his friends who now resides abroad likewise told him he once slept with me. He went irate and beat me to a pulp. He also broke my arm and I was incapacitated for a month.
"My lord, I went for a course and took a picture with a male colleague. He came across this and hell was again let loose. He said he was one of my lovers and dealt me heavy blows. I fainted and bled from the inside, "the plaintiff said.
"He monitors my movement but fails in his responsibility as father. I've been solely responsible for our children's upkeep and education. He cares less about these, "she added.
"I don't admit to claim, "Taofeek told the court.
"I still love her and can't bear that she leaves me.
"I decided to train her in school because of my love for her. I impregnated her as a student but had the pregnancy aborted because I didn't want to disrupt her education.
"My lord, I monitor her movement because she is beautiful and men get easily attracted to her. She loves to be in the company of other men but she's obviously not proud of me.
"She stopped me from attending events or socials with her. The last time we both attended the burial rites of a relative of hers, she treated me shabbily, "he stated.
"My lord, I'm a responsible man. I constantly provide for our children's needs and train them in school.
"I didn't break her hand while we were fighting as she stated. She hit it on the door, "he said.
Giving his judgment after listening to the duo, the court president, Chief Ademola Odunade dissolved their union and granted custody of their two children to the plaintiff.
Odunade further ordered the defendant to take up the responsibility of their children's upkeep by giving them N4, 000 each every month through the court.
The duty of paying their children's school fees was also assigned to the defendant and likewise their health care.