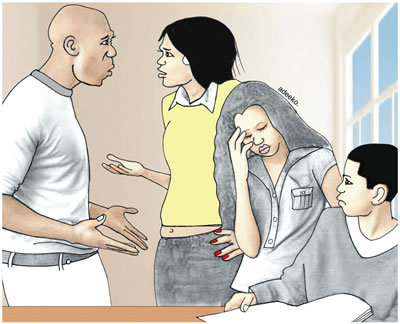 Ile Tuntun Customary Court, Mapo, Ibadan, Oyo State has adjourned a divorce suit brought before it by a woman, Sukurat Abiala against her husband, Kasimu Abiala.
Sukurat had described her marriage as hellish and void of peace while she also accused her husband of constant battery.
She, as a result, prayed the court to declare their marriage as ceasing to be.
"My marriage to my husband has brought me no joy or peace. What I have been experiencing so far is horror.
"He's less concerned about my feelings and welfare neither does he give our children the necessary attention.
"We once had a misunderstanding and he beat the hell out of me. I left for my parents' home with our four- month- old baby and was there for a while. He came to beg me and I moved back to his place.
"I came home late from my shop one day around 10:30 pm and he started giving me punches right on the Okada that brought me not minding that our baby was on my back. I was then carrying our second's child's pregnancy.
"My lord, he denied being responsible for the pregnancy.  I reported him to my family members and his and a meeting of the two families was held in order to settle the issue but he still insisted the child was not his.
"I went back to my parents' when he made our home too hot for me. He refused to carry out his duties even towards our first child he believed was his,  "the plaintiff said.
"I was later delivered of a baby boy and he was informed by my mum. He stated again that the baby was not his and asked her to burn it.  He added that we can use the placenta for whatever we liked.
"He made no arrangement for the baby's naming ceremony. We held the ceremony at my uncle's place to cover the shame his attitude brought to me and my family.  The child is presently two and a half years old and he has not spent a dime on him, " Suliyat told the court.
"She can't claim her second child is mine because I slept with her only once after she moved back to my place.  The child, therefore, can't be mine.
"My lord, I beat her when she returned late from shop because I was pushed to the wall. My wife is troublesome and promiscuous and wants to bring another man's child into my home. I have told her to take the baby to his father.
"She accused me of not caring for the first child and came to drop him in my house while I was not at home. She left the child there under the rain. I came to meet him there shivering and hungry, "Kasimu told the court.