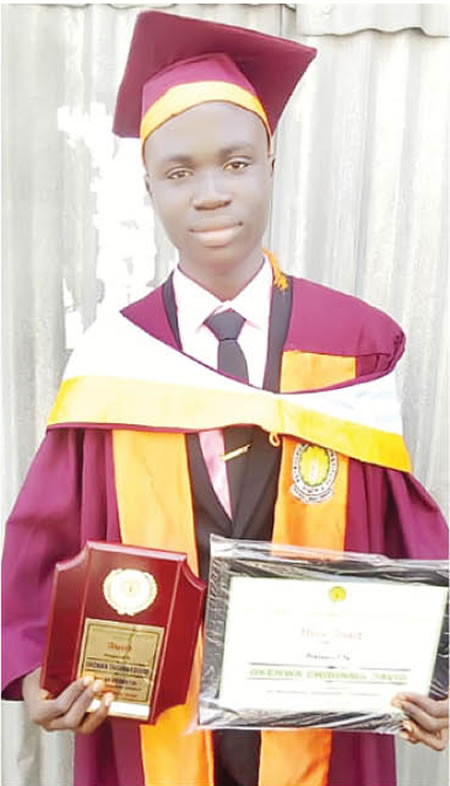 Okenwa Chidinma David emerged the overall National Diploma (ND) best graduating student of the Petroleum Training Institute (PTI) from the Mechanical Engineering with a CGPA of 3.88. At the recent 2018 convocation of the institution, the 18-year-old spoke with EBENEZER ADUROKIYA on the secrets of his success.
How does it feel emerging the best graduating student at PTI?
I am very happy and excited seeing everyone, all my family members are happy. I'm very happy and honoured.
 Why did you choose Mechanical Engineering as a course?
From when I was a kid, I usually made toy cars from sardines tins and milk tins, using strong brooms as the handle. And then, when I saw a beautiful car passing by, I would tell my friends that I would buy that car when I grew up; but I later realised that it's not only possible to buy the car, but it's also possible for me to make such car. Then I later discovered that the discipline concerning this is mechanical engineering in particular. The passion for engineering was also strengthened in my secondary school. I love science courses, calculation courses, mathematics, physics and the rest of them; and I was the president of Junior Engineers Technician and Scientists (JETS) Club in my secondary school and these are some of the things that made me love mechanical engineering.
At what point did you notice you would come out as the best graduating student?
I got the conviction that I would come out the best with the first result that came out. I was the best with CGPA of 3.90 and that was my first year, first semester.
 What forms of personal discipline did you subject yourself to?
I planned and I tried as much as possible to follow up these plans. In every subject, I have a list of courses which are 10, maximum 11, that I offered in each semester and I went through them once a while, maybe twice a week, to see how well I was doing in them. One thing is consistency; there are some persons that will say they are good at calculation courses and not at other courses like General Studies. I tried, as much as possible to be prepared and to follow up my plans in all courses.
Was there anytime your goal of coming out as the best student was threatened?
There was a very big threat; one of my fellow students as at our second to last semester overtook me and I took it as a personal challenge; and by the grace of God, I took over back.
What's your family background like?
I come from a family of four. My parents are Mr. John and Mrs. Helen Okenwa. I have two older brothers and a younger brother, and I'm from a very humble family background.
 Social media addiction has become a big problem to young people these days. How did you cope with that?
If I want to read my activities on social media during my school days, I don't know if I should put it at five per cent. I didn't allow that to interfere with my studies at all; for whatsapp sometime, but for Facebook, no; I hardly joined Facebook.
Looking back at your journey through this institute, what vital lesson would you say life has taught you?
I learnt a lot of lessons from my days of study at the Petroleum Training Institute. First of all, I learnt that hard work pays. When you work hard and apply discipline, by the grace of God, things come out successful. I also learnt that hard work will beat talent if talent refuses to work hard. So, at every point in time, you ought to work hard no matter how talented you are. The person who is very determined and work hard beats a talented person who refuses to work hard.
I learnt that at no point in time is it over. It's not over until it is all over; so don't give up thinking that it's over, that you have lost it; and don't be relaxed thinking that you have gotten there. Those are the few things that I learnt from my two years of study.
What's your advice to the youth, especially students?
The first thing for a student who wants excellence is to be determined and to be enthusiastic about it; because to go through the first year to the final year, you need determination to put you through. Next, you must be disciplined. I have seen a lot of determined students who did not read because they were not disciplined. You hear them say they are very determined; they want success; they want to achieve greatness, but in the end, you find out they don't study hard.
I also recommend focus: one thing is to be disciplined; another thing is to be focused. First of all, you are focused generally on your goal in the school where you study. And then, when you are studying, with focus, what an unfocused person will cover in six hours, a focused person can go through it in two hours. As a student, there are times when you don't caution yourself to be focused, you can be reading something and by the end of 15 minutes, you will find out that you've not read anything and you will start all over again. Why? Because of lack of focus. You have to be focused while studying. Remove every form of distraction. Some people are easily distracted by their cell phones; so when you are reading, you take away your cell phone and avoid any place of distraction. Then, delivery. Many students have planned, they have studied, but in the exam hall, tension comes in; that's when you start hearing of examination fever.
Some go into the hall with tension and when they see the questions, some will go to the last number saying or thinking that if they start from the last number they will remember everything. So, one thing every student needs to know is self-comportment. When you are comported, you believe that you have studied and you will just stay and remember everything. And when you are answering your questions, you just don't tell the lecturer that you know the answer; you have to let them know that you know what you are doing, so that they will not think twice to give you the grade that you deserve.