Growing up in 'terror area' known as Mushin made me to endure any threat —Banire
Immediate past chairman, Asset Management Corporation of Nigeria (AMCON), Dr Muiz Adeyemi Banire, is both a lawyer and an academic. He told the story of his life to TUNDE ADELEKE.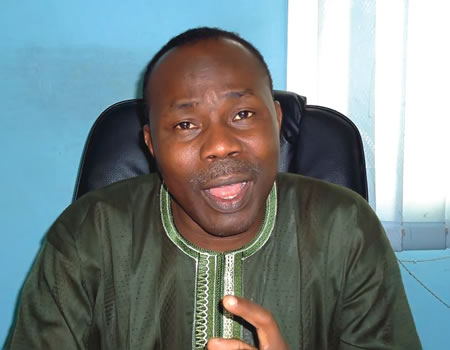 YOU were a commissioner in Lagos State when you obtained a doctorate degree in law. What informed the decision at that time?
I was already doing the doctoral studies before I came into government, I only concluded it during that time. As someone with academic background, the ultimate had always been to earn the doctorate degree.
So, you actually had the ambition of going into full-time academics?
I have always enjoyed it and there I was before I came into public service. I was already a lecturer in the Faculty of Law in the University of Lagos then. I still enjoy doing it. That is why you see me writing a lot of law literature regularly.
How has it been training young lawyers?
Teaching is something I enjoy doing. So, a lot of those that passed through here will tell you that they enjoyed their stay because it's something I have passion for and I enjoy doing it. It is a great thing bringing others up.
How rampant was sex-for-mark at your time?
I can't deny that it didn't exist during our own time, but it wasn't as pronounced as it is now. It was done with impunity these days. Some of the people that were involved then would bury their heads in shame. It was done in very remote manner, because they were things that they naturally would never be proud of.
From experience in the United Action for Change, you seem to command a large following across the state. What is the secret?
There is no secret. You know, if you have passion for people and they see the genuineness of your heart, they naturally will gravitate towards you. I believe in passionately sharing my knowledge with people and I try to identify with those who share qualities so that we can continuously make impact in the community. That informed our gathering from Egbe Alatunto to the UAC. Essentially, we discovered we are there. We contribute our money and our sweat without expecting any reward from any quarters. It's just to say that without public office, we can still add value to our society, improve the lot of the people.
How was your growing up?
I grew up like any other child, except that I grew up in a very hard area. When I say hard area, I'm using the word in a loose manner, I mean area that people regarded, and possibly still regard, as terror area, which is Mushin. The good thing about Mushin is that you can't grow up there and not be courageous. You can't be intimidated by anybody. To that extent, I think I enjoyed my growing up. I am proud that I grew up in that area because I have a large capacity to endure any form of threat. In fact, I call it a colony on its own.
How about your educational background?
I grew up in a middle-class family and was able to attend a nursery school because not many people had that opportunity. From there, I went to public schools all through, right from St. Jude Anglican Primary School to Archbishop Aggrey Memorial Secondary School, through Federal School of Art and Science and to the university. Most of the schools I attended, coincidentally, were in Mushin and have all become extinct now. The nursery school, now extinct, was in Mushin; St. Jude is still in existence, also in Mushin; Archbishop Aggrey is now dead in Mushin. There is this fun by my friends that the university I attended was in Mushin because it has a campus in Mushin – UNILAG, Idi-Araba campus where you have their College of Medicine.
How was life in the UNILAG during your time?
It was very exciting. We belonged to many groups; progressive and social and personally, I enjoyed myself all through the societies and associations I belonged to. To the best of my knowledge, we had the best of education, we had excellent lecturers in UNILAG.
What major challenges have you had in life?
I have had challenges and challenges are meant to be confronted from time to time. So, I can't say this is the major one. Regularly, I see them. But for me, I never consider them as challenges maybe because of my spiritual understanding that you must come across them from time to time and that they will fizzle out with time. So, I have never seen anything as a major challenge, maybe as a challenge, but not major one. Everything is a challenge.
What were the qualities you were looking for in a woman before you met your wife?
Industry, dedication and loyalty. When I was going to marry, I was out for a Lagos girl because I was not ready, and still not ready, particularly in these days of kidnapping, to leave Lagos to look for in-laws outside Lagos. I don't think I have the capacity or interest at all. My wife is from Ikorodu.
How has it been with her as your spouse?
She has been marvelous. Without her, I don't know how much I could have done with raising the children. She has devoted herself to the upbringing of the children. And she is a conservative person by nature. She is not extravagant. I was joking with somebody recently and I said I could not remember when my wife asked me money for jewellery. What most people run after mostly is gold and bag. So, I am lucky because she is not a materialistic woman.
Can you give us an insight into your career as a lawyer and as a politician?
I hate to be called a politician. I simply describe myself as a professional in politics and not as a professional politician. Professional politicians don't have alternatives, they have no other jobs, they are ever desperate for political offices because they have no other thing to do. They are so lazy and weak. That's my position. I believe professionals in politics are those who are just interested in good governance because they can't just leave the ring for them, otherwise they will collapse the system if there are no other people to check them. That's why some of us are in it. Moreso, we want to good governance. I get impressed when I see people governing well. So, for me, we are there because we want to see things work the right way. As for career, to God be the glory that we are not doing badly. I am into active practice, beyond the fact that I have my background in the academics, which I'm still pursuing, but largely, I am into professional practice of law now. Again, with gratitude to God, I would say I have reached the peak of the practice itself in all ramifications. So, it's just for us to continue to train younger ones that will eventually end up greater than us. That is the greatest joy we derive now. Quite naturally, I have ventured into a lot of philanthropy, a lot of mental, particularly in terms of association – United Action for Change, and my wife has a non-governmental organisation too for rhesus, through which she alleviates the suffering of people with negative rhesus factor. I think that's the whole essence. At this stage now, what one looks forward to is how to serve humanity in whatever capacity one has.
What are the things that give you joy?
That is seeing other people's lives and smile. I hate seeing people being in pains and I hate injustice. I believe that people must be able to have a true society at all times.
Can you remember your saddest moment?
My saddest moment was when I assisted one of my friends, who happened to be a judge, with N500,000 when he was burying his mother and there was the insinuation that I went to bribe him because he was a judge. The good news then was that I never appeared before him. I never did anything officially before him. I never saw him for almost 13 years prior to that time. That dampened my spirit of philanthropy up till now. People that I have assisted by transferring money to then, I'm always hesitant; it dampens one's spirit. That's what I regard as my saddest moment.
What about your happiest moment?
I am always a happy person. I can't say something particularly made my happiest moment. What makes me happy today, with all sense of responsibility, is that I have the fear of God and I have an idea of how God works. That makes me happy compared to what others do. Nothing bothers me. I am ever a very happy person.
Looking at the society, what are the things you would like to see changed?
There are many things – our ethics and morals need to change fundamentally and radically. They have collapsed. At a lecture I attended yesterday, I told some of my colleagues that we needed to develop a code of national ethics to move Nigeria forward. The sense of right and wrong is a relative concept – what is right to you may not be right to me and vice versa, so we must aggregate opinion to develop what we call ethics. We always assume that people know what is wrong and what is right and you'll be shocked that even within my own nuclear family, my children argue with me about what is right. So, until we are able to have an aggregation of opinion on issues to know what is wrong and what is right, then we can start to move forward. We can then start to think that we need to have credible leaders that have the fear of God. When such a leader wakes up, he doesn't know what might happen to him by afternoon, so, when he gets to office, he is always conscious of what he does for others. He is not likely to misappropriate or do things that are outright wicked. For me, these are some of the things to develop when you have credible leaders.
How is your social life like?
I am not sociable. Even the clubs that I belong to, some of them will tell you they have not seen me for 15, 20 years. Even parties, I attend as a matter of necessity. In fact, some people have known me for that and if you are not careful, I can disappear from your party under 15 minutes. I don't know, maybe because I don't take alcohol and I don't do what most people do. I interact, of course, I enjoy company of people, intellectual discussions, that's what I enjoy.
When you look at the society today, a lot of marriages have collapsed and are still collapsing. What do you think is responsible?
If you have a good upbringing, the possibility of your marriage breaking up is remote. The factors responsible for marriage failures are many now: Is it economic factor? When the man cannot fend for the family, he becomes inconsequential at home, he has no control, he himself is also tired, he can't assert what is right or wrong again, and if he's unfortunate to have a wife that is garrulous, problem will start at the home. There is also the issue of fear of God. How many people have the fear of God? There is the career aspect of it. Most women want to pursue their careers, so there is competition there. There is also the societal pressure – that one that has not given birth, the society puts pressure on the husband and before you know it, the marriage collapses. There is the issue of morals and virtues. Morals have collapsed. So many factors
How would you describe yourself as a family man?
Well, I love my family. The only regret is that I don't think I have enough for them. But they know I love them and I create enough opportunity to interact with them and give a sense of direction.
What is your best music?
The only person I respect and enjoy listening to is the late Ayinde Barrister.
Why?
I enjoy his music, it's highly philosophical. It guides my life correctly – what to do and what not to do, and even substantiate it with examples, illustrations and narratives and from the historical perspective.