Professor Tinuade Jolaade Afolabi, a lecturer at the Department of Chemical Engineering, Ladoke Akintola University of Technology (LAUTECH), Ogbomoso, Oyo State, is the pioneer chairman of the Association of Professional Women Engineers in Nigeria (APWEN), Ogbomoso chapter, a member of the Nigerian Society of Chemical Engineers and a host of other professional bodies. In this interview by TAYO GESINDE, she speaks about working in a male-dominated field and the most defining moment of her career, among other issues.
Growing up.
I think the most beautiful part of my life was my childhood. I grew up in a family of seven; my parents and five children. I am the only girl, so I grew up in a sheltered environment. I didn't understand what life was until I left home and started working. My mother was a teacher while my father is a surveyor. My mum being a teacher had time to stay at home with us and used to organise lessons for us even during the holidays. By the time school  would resume, we would have been prepared for our next class. She taught us to write, read and understand what we read. Being the only girl in the midst of four boys things I knew were how to climb trees, play ball, so my parents insisted I go to a girls' only school,when I got to  the Federal Government Girls College, Oyo, the challenge I had was  knowing how to behave among girls. After my secondary education, I was admitted to Obafemi Awolowo University (OAU), Osun State, where I bagged my first and second degrees and PhD in Chemical Engineering.
What motivated you to go for chemical engineering?
I very good at mathematics, physics and chemistry. When my dad and I sat down to fill my JAMB form, It was Chemical Engineering that I found to be appealing. Though, when I finished 100 level, I wanted to change to Electrical Engineering but my father advised me against it. I thank God I heeded his advice and that is what has made me to be a professor of chemical engineering today. Chemical engineering is about turning raw materials into useful product for human use. A chemical engineer can work in any producing company. With it one can work in a textile company, food and beverage company and so on.
JUST IN: Police uncover torture centre in Ibadan, rescue 200 inmates 
Why did you decide to go into academics when you can work in any of the companies you mentioned?
As a very young girl going to secondary school, one of the questions they asked me during the interview was, what do you want to become when you grow older? I told them I wanted to become a teacher because of the way my mother had time to take care of me. When I got home and told my mother, she responded that if I was going to be a teacher it won't be in primary school like her own. When I finished my first degree, I was initially romancing the idea of working in an oil company, but when I thought of a career that would give me time for my family, I opted for academics so I went back for my master's degree.
What were the challenges you faced while climbing the ladder of your career?
Doing a master's and PhD in engineering is not something that is easy to do in Nigeria. It takes time. I started my master's in 1992 but finished in 1997 because we were waiting for chemicals and things like that. I started my PhD in 1997 and finished in 2007 because there was no access to equipment and softwares, in order to make my PhD easier for me, I didn't do practical; I did programming, simulation and modelling; it was not easy getting the data and the software to use. Another challenge was in academics, the focus is on doing research and writing quality papers. If you are not going to do plagiarism, you have to do original work. Getting to do original work is a major problem and if you are not publishing in journals, you won't get promoted. The fact that I didn't finish my PhD on time delayed my promotion. Years later when we had internet facilities and data on our phones, it became easier.
What has your experience been like working in a male-dominated field?
Where I work, engineering field is male-dominated but my upbringing prepared me for it. Growing up amidst four brothers prepared me for my future because I could relate with anybody, unlike some of my peers. They had problems relating with our male colleagues but I didn't. Till date, I relate with my male colleagues as brothers.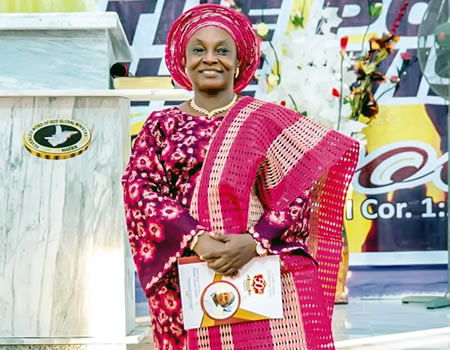 What are the most defining moments of your career so far?
I won a Commonwealth scholarship in 2017 and when I came back last year I went for an inaugural lecture. While there, it occurred to me that I would be 50 this year and I could plan my inaugural for that time. So, I worked towards it and I did. In the process of gathering information on all I had done since I started working in 1995 till 2019 when I did my inaugural lecture, I realised that consciously and unconsciously, I was forced as there was a pattern. When I saw the summary of all I had spent years doing I was happy. So I presented the 33rd inaugural lecture series of LAUTECH and the first in my department in September 2019, the month I clocked 50, five years after I became a professor. It was a defining moment for me. Another defining moment was that being the most senior in my department, I had to shoulder a lot of responsibilities. I was made the coordinator of my department and I had to look into the welfare of staff and also set a template for running the department. Also, winning the Commonwealth award was a defining moment. I had access to recent softwares, books and journals related to my work.
How were you able to combine the home front with your career?
What I learnt early was that there are different phases of life and I made sure that was what I needed by each phase I was able to supply. As a PhD student, I did simulation and modelling so I could have time for the home front. As a career woman, I plan my time so that my career will not affect my home and family. I was also not too ambitious. I have come to realise that there are different seasons in life so I waited for my season.  I didn't want everything at a time. Some people rushed and now they are idle.
As a pastor and mother. How can one raise godly children in this day and age?
I am a firm believer in starting early. A lot of parents don't start early. By the time it dawns on them, it is too late. My principle that I teach is that we are tripartite being; we have body, soul and spirit. Most parents are concerned with the body and the soul but they neglect the spirit. In fact, some parents make church optional. By the time they want to focus on the spiritual side of the child, it is too late. When it comes to spiritual things, you cannot sit on the fence. When you are not doing anything, somebody else is doing something, either among their colleagues or their teachers. So, the solution is for parents to start early. The Bible says: 'Train your child the way he should go and when he is old he will not depart from it.' Instill the fear of God in them. Teach them to read their Bible so that they can have the scriptures in their hearts. If you don't prepare your child well, any force that is around will take over. That is why some children do things that they don't want to do. Also, I believe what a child wears is the parents mind, especially that of the mother because it is what you provide that is chosen from, so, what type of clothes is your children wearing?  We should give our children a good foundation that they can build on.
What advice do you have for the girl-child?
I am a staunch Christian but I realised that a lot of Christians don't have a correct perspective. It is true that we are Christians but there must be a platform for us to make an impact. If you are a child of God and you don't have a platform, there is no way you can show who you are. When I was aspiring to be a professor, I wanted to be a Christian professor so that I can influence certain things. For instance, at one of our Senate meetings, the medical sciences brought a list of their master's students for approval for M.Sc and someone got 59 point something and I stood up and said if you don't have 60 points you cannot do PhD, so why was this person given 59 point something. They told me that was what the Medical Board did. I felt it was not fair knowing how rigorous it is to do a master's in Medicine. I spoke so much that they got tired of me that later I heard that the person was given 60. If I didn't grow to that platform I won't have the opportunity to influence that decision. The girl-child needs to have the knowledge early in life that she needs a platform to make an impact in life. The platform must be well defined and whichever one you choose, be qualified and exemplary and be determined to get to the peak of your career. That is the only way you can make an influence. So, as a girl, your focus should not just be to get married and have babies, but to also get quality education and have a platform so you can influence your generation.