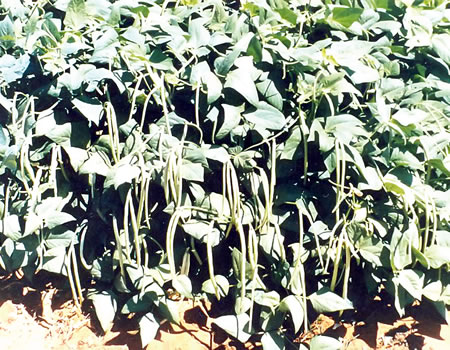 Cowpea is considered the most important food grain legume in the dry savannas of tropical Africa where it is grown on more than 12.5 million hectares.
It is rich in quality protein and its energy content almost equal to that of cereal grains; it is a good source of quality fodder for livestock and provides cash income. Nearly 200 million people in Africa consume the crop.
Many factors both biotic and abiotic have been reported to have greatly reduced cowpea productivity in the African farming systems.
The pod borer (Maruca vitrata) which perennially damages cowpea pods in the fields is among the major constraint faced by African in cowpea production. 70-80 percent damage is recorded in severe infestation.
Farmers in Africa have not adopted the use of insecticide method of controlling the pest due to financial constraints, as the chemical is expensive for the farmers to purchase.
Control through spraying with insecticide has not been widely adopted by farmers due to its prohibitive costs.
Meanwhile, it was learnt that the farmer who have adopted the insecticide or chemical control method have been exposed to serious health hazards.
The deployment of a cowpea product that is capable of protecting itself from attacks by Maruca will make it easier and cheaper for farmers to produce cowpeas in areas where this pest is a problem.
The goal of the Pod-borer Resistant Cowpea Project is to develop and disseminate farmer-preferred and locally adopted Maruca-resistant cowpea varieties in Sub-Saharan Africa.
The Pod-borer Resistant Cowpea Project is a Public Private Partnership coordinated by African Agriculture Technology Foundation (AATF) to promote technological interventions that will optimize cowpea productivity and utilisation in Sub-Saharan Africa.
The partnership bothers on developing and testing cowpea varieties with a genetic trait that would make the plant resistant to the borer and at the same time provide farmers with an alternative to costly and hazardous insecticide spraying.
The project further aims at transferring the BT gene, which confers resistance to the pod, into improved cowpea varieties.
Currently, the project is being implemented in three countries in sub-Saharan Africa which includes Nigeria, Burkina Faso and Ghana.
As at 2014, confined field trials for testing the efficacy of the BT gene in controlling the Maruca had been successfully conducted in the three countries and Nigeria and Burkina Faso have progressed into multi-locational trials.
The project is also conducting studies on safety for food, feed and environmental risks assessments for regulatory approvals in the target countries before them seeds are released to farmers.
In rice, Sub-Saharan Africa has for the last two decades been experiencing a continuous increase in rice consumption driven mostly by a shift in consumer preferences, urbanization and rapid population growth.
It was gathered that annual consumption of rice in Sub-Saharan Africa stands at 24.3 million metric tons while production is estimated at 12.5 million metric tons of milled rice, most of which is produced by smallholder farmers.
With the exception of few countries that have attained self-sufficiency, rice demand exceeds production in most of Sub-Saharan Africa and large quantities of the grain continue to be imported to meet local demand.
In overall, imported rice accounts for about 40 per cent of sub-Saharan Africa local rice consumption.
This development is not good for Sub-Saharan Africa, as they will continue enriching farmers of exporting countries while the farmers in the region keeps being poor because they were unable to improve their yield.
It is at this backdrop that the AATF is currently working with partners to introduce and disseminate the Nitrogen-Use Efficient, Water-Use Efficient and Salt Tolerant (NEWEST) rice.
Soil nitrogen deficiency has been cited as a major constraint to rice production. Nitrogen deficiency is mostly acute in the highly weathered upland areas where an average yield of only one ton per hectare, which is about 25 per cent of yield potential, has been recorded.
Also, nitrogen is difficult to retain when applied in lowland areas due to floods and flowing water that characterise such areas.
A major concern that constraints rice production in nitrogen deficient soils is the inability of farmers to buy fertilizers to address this constraint, and when they buy, they can hardly afford the required rate for optimal yield.
The goal of the Nitrogen-Use Efficient, Water-Use Efficient and Salt Tolerant (NEWEST) rice project is to develop and disseminate farmer preferred and locally adapted rice varieties with enhanced nitrogen-use efficiency, water-use efficiency and salt tolerance.
AATF is working with partners to develop and disseminate this farmer preferred rice varieties with enhanced nitrogen-use efficiency, water-use and salt tolerance.
AATF coordinates project activities throughout the entire product value chain, ensuring that activities are carried out as planned.
The benefits of NEWEST rice project includes production of additional 1.3 million tons of rice in Africa each year, reducing the current deficit by 10 per cent, food self-sufficiency in rice will redirect limited foreign exchange used to import rice.