Girls are becoming endangered species —Foluke Ademokun
Foluke Ademokun, a human rights activist is the Executive Coordinator of Ajoke Ayisat Afolabi Foundation (AAAF), a Non Governmental Organisation that is promoting the empowerment of girls and women. In this interview by TAYO GESINDE, she talks about the cost of being an activist, her concern for the girl-child, among other issues.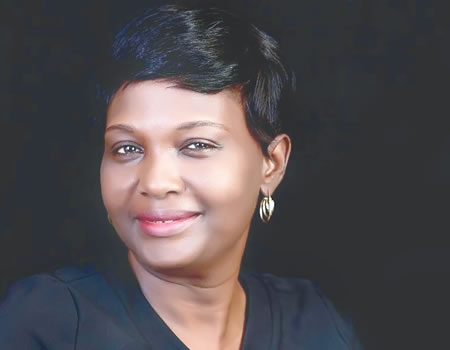 Can you give us brief background information about yourself?
I hold a post graduate degree in public administration and have been involved in the civil society sector for over two decades. I am passionate about community development and my involvement with the grassroots may have been influenced by a pedigree of volunteerism at community and church levels stretching back to family generations. My education, experience and expertise in development have been useful to my coordinating and monitoring of projects. I am privileged to work with women and children, promoting their empowerment process and advocating on their issues.
 What informed your choice of career?
I am a people's person and quite happy enhancing the voice of vulnerable persons. I like to bridge the gap between people and policy in a way that offers a human face to programmes. My work exposes me to the grassroots and I am excited listening to the concerns of vulnerable persons and following through their issues not by enforcing my perspectives but by enhancing the capacity of vulnerable persons to make informed decisions
 What price did you pay to get to where you are today?
The civil society sector is largely nonprofit. So, there are financial costs to working in the sector. Much as it is not well paying, I also invest my personal earnings to getting trained and keeping myself abreast of development in the sector. Processes are tedious and time consuming, so work in the sector takes a lot of patience
 What motivated you to start an ngo and why is your focus on the girl- child?
Girls are becoming endangered species with the increasing rate of violence and insurgency in Nigeria. I am an employee of a non profit organisation and my concern for the girl-child is founded on the need to give a voice to the girl-child and empower her to overcome socio-cultural biases and gender-based violence. If we were able to empower the girl-child, she would have been equipped to make informed decisions. This would reduce gender inequalities significantly. Girls bear the brunt of conflicts and are largely excluded from social protection strategies. For instance, government invested in the food programme to increase enrollment of children in primary schools but data suggests that girls more than boys drop out of school. So, my interest is to help policy makers adopt gender perspective to programming particularly girls. For instance having sanitary towels supplied to female primary 6 or junior secondary school students may contribute to retaining girls in school longer.
 What are some of the achievements you have recorded since you started the NGO?
In the course of working in this space, I have been able to highlight the importance of dealing with vulnerabilities rather than poverty. I have supported the process of increased income for more than 50 widow-headed households through a range of vocational skills training process. Over 300 students, particularly, girls are enrolled in primary, secondary and tertiary education.  Beyond payment of tuition fees for students, we commenced the provision of infrastructure, such as computers and water for schools
 What are some of the challenges you have been facing?
Funding and a weak institutional environment constitute challenge to the operations of ngos in Nigeria. As an organisation working with widows, I have observed that lack of infrastructure for post-trauma management and housing for widows is a serious issue. Poverty alleviation programmes have no consideration for vulnerabilities. Widows are largely vulnerable due to stigma, poor education, skills and social network as well as the large size of households.
How do you think we can tackle the issue of rape in our society?
The first thing to do is create massive awareness on the consequences of rape. We must highlight the trauma to reset the mindset of Nigerians. There is a need to educate people to unlearn the false teachings they have imbibed. Parents need to be educated to teach both boy and girl children the role of discipline from the home. Sometimes, we erroneously think our children are disciplined because we make them do what we want when we are around. If you want to know whether or not your child is discipline,  give him or her freedom and see what they do when they are outside of your view. Presently, families invest so much time training the girl child than the male. You teach them how to talk, sit and act like ladies! It is now time to start teaching the boys the same thing. Let everyone know that the society is guided by laws and there are consequences for bad behaviours.
We must begin to popularise our laws and make them count to strengthen institutions.
We need to create a system that works for our institutions and must be structural about it. I recommend a social landscaping that will engage relevant key stakeholders on specific aspect of our laws. For instance, I expect that certain categories of professionals such as teachers, doctors, the military clergy, human resource practitioners, lawyers, employers etc. Should have been broadly engaged on the Violence Against Persons Prohibition  (VAPP) Act not just to popularise but to kick start informed dialogue on the act. That way, we will nip in the bud all parochial sentiments across board.
I will also suggest we activate the rape offender register fully. When people know what they do now will affect their future, if they are reasonable, they will rethink. The register shouldn't be for public shaming but should be a tool for denial of certain privileges for life!
The media also need to step up reporting and follow up with rape cases. We need the media to monitor and publish data on offenders , legal and judicial processes.
 It is believed that running an ngo is one of the easiest ways to make money in Nigeria today. What is your take on this?
I think this perception is unsustainable and wrong! You will be successful in the ngo sector if you have clear vision, and attainable objectives. Operators of ngos should be passionate about making impacts
  How have you been able to juggle your career, running the NGO with the home front?
Work life balance is a priority for me and I am grateful my professional and personal lives align
 What is your philosophy of life?
Life is about opportunities, make use of them when they happen to you
   What advice do you have for young people?
Every young person should learn to add value. People pay for value, not for products. Rather than focus on being tools in the hands of unscrupulous persons, young people need to landscape the nation's value chain process and implant themselves at the a position they are most competitive.