Friends, coursemates mocked me for packing wastes on Lagos streets —Olulade
Honourable Segun Olulade was a two-term member of the Lagos State House of Assembly between 2011 and 2019. SUBAIR MOHAMMED listened to his story of little beginnings.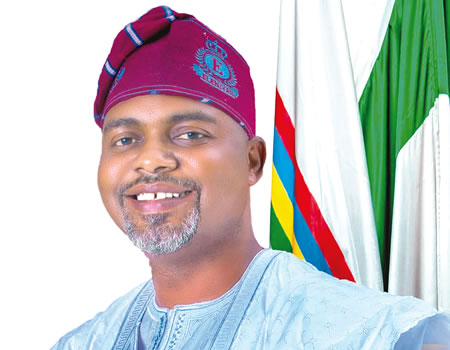 HOW was Epe of your younger days?
It was very interesting and full of many adventures. l enjoyed coastal life in Ejirin, Epe community. The social and economic life too was amazing. My siblings and myself were fond of our mother. We spent a lot time with her, helping her out in her trade. I helped in the sales of drinks. As a pupil in RCM primary school in Ejinrin, [now Ikosi/Ejinrin LCDA], Epe, Lagos. We were not taught the art of reading alone, we were also taught moral values and discipline. Teachers were highly revered that parents saw them as moral agents with exceptional principles. They instilled morals in us. The combination of the training and disciplines at home, and that instilled in us by our teachers made me what I am today.
You once collected waste on the streets of Lagos. Why?
I opted for waste collection in Lagos because I wanted my dignity to be intact. It has nothing to do with poverty. At a point, I needed to be employed and I saw an opportunity in waste collection. Waste management then was a great menace in Lagos, so I decided to provide solution to it, by picking waste from one street to another for free. However, many people were amazed that a young man could engage in such act, so they expressed gratitude by parting with some money.
Was your family in lack?
I told you that I was adventurous. I am open to many things as long as it is within the confines of moral and human dignity. My family did not lack anything. Although I came from a humble family, we were very content. I chose to pick waste out of my decision to do something extraordinary and my determination to succeed in life. I have had it at the back of my mind to become a lawmaker because I knew that someday, my efforts as a waste carrier would not go in vain and to the glory of God, I have been rewarded accordingly by the people that elected me as their representative at the Lagos State House of Assembly.
Can you recollect the first day you went out for the free waste loading and your experience?
It was an exciting experience. I felt no shame at all. Rather, I felt fulfilled. I felt I was doing something great and unique for the community.
Weren't you mocked for it?
Yes, I was. I could recall some of my course mates at the Lagos State University (LASU) were in a public bus and they saw me packing waste by the road side. They told our friends that they saw me clearing waste. Looking back today, I would say it was worth the while.
What was your parents' response to this?
The funny part is that they were not aware of my decision to go into waste clearing, but by the time they got to know about it, something good had started coming out of it. People mocked me and some praised me, but my conviction kept me going. I concluded that there was no going back. The lesson I took away from it is, believe in yourself and be committed to your chosen profession. Often, people's reactions were not encouraging. You encountered those who were not as educated as you or as old as you, yet they talk to you rudely.
How much of tertiary institution life did you enjoy as a young man?
I didn't have a social life as a growing young man. All through my stay on campus, it was either unionism or my Christian life. I didn't engage in anything outside of union and going to church. I was a bit mature before going to the university.
Did you go down on one knee to propose to your wife?
No, maybe for the renewal, but not on the very first day.
How did you propose to her?
I told her straight away that I wanted to marry her. From the day I met her, I knew she was my wife. Although she was unyielding initially, I give glory to God for having her as my wife eventually.
Successful politicians like you get free pass from the opposite sex, whether interested or not. Can you share your experience?
Women would throw passes, but it is for you not to give in to such advances. One has to remain focused and to know what one is doing.
Let's talk about vices, which one is yours?
I don't womanise neither do I engage in vices. But the only addiction I know I indulge in is my family and work. I have passion for winning, but not to the point of causing injury to others.
Between your father and mother, who would you entrust with a billion Naira business?
Both of them are late. But I can go to sleep if it is my mum.
Why?
The two of them were honest people. My father served his community in honesty. He was very transparent. But I will go for my mother because of the bond we shared.
How did your political journey begin?
When I came in contact with the first executive governor of Lagos State, Lateef Jakande, when he was the governor of the state. He came to Ejirin and I had the privilege to get close enough to get a handshake. I was influenced by his handshake and leadership acumen. Since that experience, I lived and acted like a leader to the point that whenever I wanted to go outside of the moral terrain, my mother would say, 'I thought you wanted to be like Jakande.' Hearing this, I would adjust and focus on my studies. Another governor of the state, Sir Michael Otedola, was also a great motivation in my political journey. I had been involved in local politicking before I gained admission to LASU where I also partook in Student Union activities. I was already a politician before student unionism. I was also influenced by the late Senate President, Chuba Okadigbo, and the All Progressives Congress (APC) national leader, Bola Ahmed Tinubu who was a senator of the Federal Republic of Nigeria between 1991 and 1993. Their contributions to national issues made me adopt their style at the parliament. When democratic rule began in 1999, I quickly pitched my tent with Tinubu during his campaign for the governorship election. I was one of the youngest in his campaign team. To further prepare myself for legislative tasks, I visited the Lagos State House of Assembly in 1999 to monitor proceedings. The knowledge provoked me to take a shot at the Lagos State parliament.
Your association with Tinubu must have been beneficial
Definitely.  Tinubu is my political leader, father and mentor of all times. My failure to clinch the House of Representatives ticket had nothing to do with him, neither did I aspire for a third term. In fact, in my constituency, no one has ever been elected twice, but I broke that jinx. At the expiration of my tenure, I was asked to return, but I said I was not going back.
So, your not returning had nothing to do with your support for the former governor, Akinwunmi Ambode?
No! It was absolutely a matter of choice. I didn't run for House of Assembly. I contested for House of Representatives and I wasn't given the ticket.
Why?
That's past. But I would say all things work out for good. That my people wanted me could be seen all over, but when the party spoke, it was final. Why should I be angry? The party is supreme. Some people might not be comfortable with my relationship with Ambode, but that does not suggest that I had issues with the party. The record is there for everyone to see. I work very hard for the party. I have been a beneficiary of the party. If I am now the victim, why won't I support the wish of the party? It is not about the office because it's temporary.
How would you describe your first experience seeking political office?
It was not palatable but to God, be the glory. I was also told to step down for someone after the primaries and I contested in 2007. I won and represented my constituency for two terms from 2011 to 2019. I recorded many firsts as a lawmaker. I was chairman of the committee that made the emergency lines of 112 and 767. I was also chairman of the committee that enacted the School of Nursing law. I was the first lawmaker in Nigeria to move a motion in an indigenous language. I realised that Yoruba language is being relegated in many homes. The language is going into extinction. So, I felt that if the assembly could adopt Yoruba as language of communication on the floor of the House, it will go a long way to institutionalise it. Apart from that, I was the first lawmaker to start a radio programme as a feedback mechanism. I was also the first lawmaker to move a motion for the immortalisation of the late Fela Anikulapo-Kuti, among others.
How is life outside of the Assembly?
I now have a lot of time for myself and family. I have all the time to catch up with what I have missed and denied myself in my eight years as a lawmaker. I am presently on sabbatical leave.
What happens when you return from sabbatical?
My next step is to seek an elective position. What I will be contesting, I don't know, but it won't be less than the House of Representatives.
Any regrets so far?
I don't have any regret as a politician. Being a politician has availed me of the opportunity to impact positively on the society, more than I could have done outside of politics. Although there are times things won't go your way, but you have to give thanks to God for the opportunity to serve the people. If it is not about service to the people, then it's a noisy disturbance.
What are your memorable days?
The day I moved my first motion in the House of Assembly, which was good, and the day I was called that houses were being demolished in my constituency, which was my saddest day as a lawmaker.