Freedom Park clocks 10, promises to do more
The popular space reaffirms its commitment to the promotion of quality artistic enterprises and rolls out the drums as it clocks 10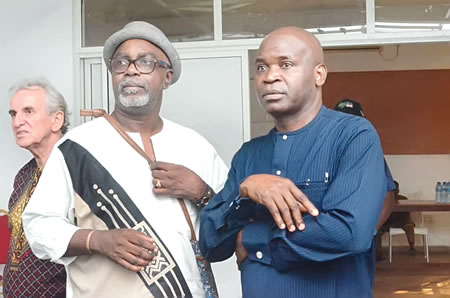 TEN years after emerging from the ruins of the old Colonial Prison to become a celebrated arts and culture space, Freedom Park, Lagos Island is set for greater exploits.
When ex-Governor Babatunde Fashola inaugurated the park in 2010, no one imagined it would become a favourite watering hole of creatives and the public in 10 eventful years. It has been growing in stature since then and has recorded some milestones. Freedom Park got the Trip Advisor Certificate of Excellence in 2015 and hosts nothing less than 12 festivals in a year.  It has also remitted N50 million to the coffers of the Lagos State Government in just a decade. Despite these achievements, the Management says they are just getting started.
During an interaction on the park's progress with culture journalists Friday last week, the Chief Visioner, Architect Theo Lawson, and Chief Operating Officer (COO), Ms Iyabo Aboaba, disclosed that more innovations were underway.
Aboaba, who spoke first at the occasion where the 10th-anniversary logo was unveiled, recalled the park's humble beginnings and periods of experimentations.
"We started not knowing what Lagosians would want. We tried all kinds of things, plays, music, book readings and poetry. Over the years, we figured out what the people liked the most, which is music. Of course, there was food at the park.
"People come in, take a space and make us proud. The most developed part of our programmes was Afropolitan Vibes. Also, we had the festivals: iREP, Lagos Book and Art Festival, Lagos Theatre Festival, Felabration, Jazz Fest and Lagos International Poetry Festival, among others."
She added that although the park which offers a serene environment, away from the usual bustle of Lagos Island has stabilised, it needs more support from corporates.
Lawson, whom some jokingly call the Chief Warder because of Freedom Park's history as Nigeria's first colonial prison, also recalled the early days.
He said: "We just thought we could have a space carved out of the congested Lagos where people can breathe and enjoy some sanity away from the traffic. To make it thrive, we invited the art community and were happy to have Jahman Anikulapo. We reached out to Segun Adefila and his theatre group. Crown Troupe was one of the first theatre troupes to occupy this space. When we started, we had no chairs. However, we have now built a name for Freedom Park. We are in the top ten places to visit in Lagos."
The achievements notwithstanding, Lawson disclosed that the park has some challenges. "The partnership with the government was that we would run it. We didn't want it to be an event place for weddings, birthdays and stuff. We wanted it strictly for the Arts. But the infrastructure is becoming extremely difficult to maintain, and we also have parking issues," he said.
The head of LORK Enterprises LLP, the special purpose vehicle that birthed the park, also disclosed that there are pressures to commercialise it by bringing in premium music stars against fledging talents currently being promoted.   There is, he added, even a suggestion to turn it into a hotel.
But despite this, there are also opportunities. "There is an increasing need for authentic tourism sites, and Lagos has much to gain in sustaining this centre. The nearby Isale-Eko and Ekotedo Community are a repository of information on the history of Lagos that can be researched and archived. The importance of the attachment of Prof Wole Soyinka to Freedom Park cannot be downplayed. His influence has helped to secure international funding and partnership."
Lawson then unfolded measures aimed at increasing revenue. "Going forward, we are attracting more daytime traffic by expanding the variety of food available at the park and providing day time entertainment.
"We are also looking at those who will come here for lunch, exhibitions and visit the museum. We will provide accommodation for resident artists. We are working on creating more dedicated parking space along Campbell Street and having community outreach programmes that target Lagos Island communities.
"We want to use mentorship programmes to help the youths to find some outlet for their energy. We also propose a gym. We hope to be in the frontline of arts, live music and social engagement. These are the plans we have to upgrade the Freedom Park."
Lawson also said Management was looking at installing a retractable roof over the amphitheatre for better use during the rainy season, and improve lighting and water features around the park.
On the accommodation in the park, the architect who also designed and built the Fela Museum in Ikeja said it would be in the form of a pod hotel.
A children's arena that provides adequate and comfortable space for children during visits is also on the schedule as is various partnership opportunities, including tourism.
"We will create a unique tourism experience with a tour-specific special viewing experience that uses film to present a digital 3D tour of Lagos State, history, monuments, sites and governance structure.
"We will aim to operate a tour bus as well with a route that showcases the beauty and grandeur of our city. It will be for foreign visitors and persons from outside the city.It will be jointly designed, operated and owned by our company and Ministry of Tourism, Arts and Culture," he said.
There is also a new membership scheme to ease entry into the park for visitors. The membership categories are Ambassador, VIP, Regular, Artiste and children. Each has exclusive benefits including free entry with three guests, special discounts on use of facilities and purchases, members lounge, quarterly members' night and magazine and discounted services in the lounge.
Two days ago, the park hosted an all-female concert tagged 'I am Amazon' dedicated to the womenfolk.  It featured Adunni & Nefretiti, Illest Nana of Afrika, Temidayo Abodunrin, Gloria Ibru, B Magnifica, Oyemi, the Bandittude. Singer, Ego, hosted the gig. More musical, theatrical, literary and visual art events are lined-up monthly to the end of 2020.