FOLLOWING a torrential rainfall in Lafia, motorists were left stranded for over several hours along a Federal highway in Shabu town Lafia local government of Nasarawa State.
The rain which started at midnight on Thursday 19th and lasted midday Friday left many travellers waiting for the flood to subside before continuing their journey.
Mohammed Abdukadir (wakilin Tsarkin Lafia) complained that the rainfall has already disrupted his activities for the day, pleading with the government to quickly intervene on the situation.
"As the resident of Lafia, I have never seen such incident in this area. And I know that the present government will soon do something about it so that such would not repeat again.
" I want to call on irrigation farmers to avoid farming on waterways, it is the cause of the flood, and government must take measure on such people, " he said.
Mr Wilbaforce Alaku said "I am going to Abuja, but because of this flood I m here waiting for over an hour now, even though I came and met some people.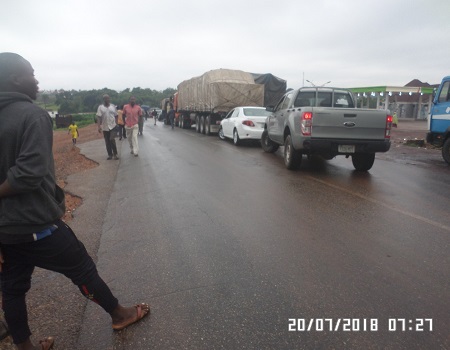 "This has never happened in this place, we want the government to at least create a bypass road for any eventuality that may happen again, it would serve as an alternative".
Also, Rev. Stef Shama described the incident thus: "Well, it is a very tragic and pathetic situation, the federal government should do something about it otherwise, people would be trapped down here.
"I am going to Abuja and here for over two hours no way to pass."
Another traveller named, Mr Joshua who is also travelling to Abuja, said he has never seen such thing before. He urged the government to do something about the bridge.
"In this kind of situation, houses can be carried away, I'm sure the bridge is not enough to contain the water flowing, that is why is flooding.
ALSO READ: Benin city residents protest death of infant in flood
"So, I'm soliciting with the government to come to the aid of these people by making a better bridge in this area", he reiterated.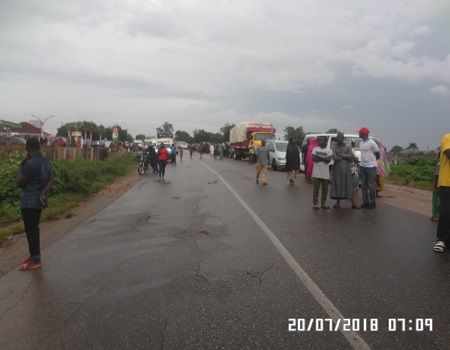 In March this year, NIMETH predicted heavy rains around the coastal areas and warned residents to relocate to avoid flooding of the area.