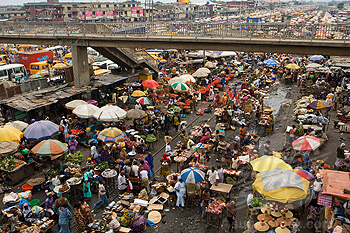 The Federal Government in collaboration with the UN Population Fund (UNFPA) will launch a roadmap on demographic dividend in July to achieve sustainable growth and development in the country.
Mr Dasogot Dashe, an official of UNFPA, said this at a meeting of the National Task Force on Partners in Population and Development (PPD) for Mainstreaming Demographic Dividend into Budgeting of MDAs, on Wednesday in Abuja.
Dashe said that UNFPA had been working with the Federal Ministry of Budget and National Planning to host a National Summit on demographic dividend.
Demographic dividend is the economic growth that may result from changes to a country's age structure.
Achieving demographic dividend requires sustained multi-sectorial investments in health, education, young people, aged, employment, women and girls, trade and industry economic growth as well good governance.
According to him, the Acting President, Prof Yemi Osinbajo, will launch the roadmap for the country at the summit.
"The roadmap is a guide from the Africa Union; the AU has been very instrumental; it adopted the demographic dividend which was put in the Sustainable Development Goals (SDGs).
"With the initiative of the late Executive Director, Prof Babatunde Oshotimehin, the Africa Union was able to develop deliberate programme including a roadmap for Africa to achieve demographic dividend.
"It is directed at all African countries to put in place country level roadmap.
"Many countries have already launched theirs and Nigeria is the giant of Africa, so the country also needs to launch it," he said.
Dashe advised the stakeholders from relevant Ministries, Departments and Agencies (MDAs) to budget for programmes that would contribute to achieving demographic dividend.
"You need to have in mind that we need to influence our population structure in such that there will be more quality people in order to contribute to the development of this country.
"We need to implement programmes that will create jobs for our youths to increase the size of people working, otherwise we will not be able to achieve demographic dividend.
"For us to increase the number of people working, their age is very important.
"We need to invest in the health of people across board, health of women, health of girls; for them to be able to be healthy for them to go to school, to be able to get jobs and contribute to the economy," he said.
According to him, one of the critical components of health is family planning and that it is a key intervention that can influence the population structure.
The official said that intervention on family planning would help people to give birth responsibly and to provide for their children to contribute to the economy.
Dashe said that the second pillar of demographic dividend was on education, adding that the country needed quality education for its citizens, children especially women and girls.
"Everybody deserves quality education so that they can contribute to the economy.
"We need to build the skills of women who are involved in agriculture to diversify.
"Stakeholders in education sector; please, when you are intervening, ensure that everybody has access to quality education so that they can contribute meaningfully to the economy.''
The official explained that the third pillar was on economic growth, adding that the country needed to implement policies that will make would provide jobs, especially for the youth.
"Agriculture is key to the economy because the sector was the mainstay of our economy in the 60s, we need to diversified and go into industrialisation to be able to create jobs for young people.
"If you make farming lucrative young people will definitely do it.
"The fourth pillar is good governance, while we are ensuring that the country grows its economy, it needs to ensure provide good leadership and governance for young people to emulate.
"We need to ensure rule of law, ensure equality among sexes (male and female), we need to reduce the quantum of corruption in this country so that the money will be available for other things,'' he said.
He, however, urged the stakeholders to rise up to their responsibility to enable the country harness its demographic dividend.
"It starts now, if you don't put in place activities that will create an enabling environment, it will be difficult to achieve the roadmap so let us work together in order for the country achieve the feat," the official said.
Dr Emem Omokaro, the Executive Director, Dave Omokaro Foundation, underscored the need for the federal government to develop a policy on ageing.
Omokaro said planning and including ageing population was a matter of human right, adding every person aged 60 and above counted in population census should be catered for.
She said that older population were entitled to welfare package as enshrined in the constitution.
"Therefore, there is necessity to extract from the constitution and deliberately plan to see how to translate this right through policies to implementation.''
Omokaro, however, said that ageing cut across all the sectors and urged stakeholders to work in together to support ageing in the country.
The News Agency of Nigeria (NAN) reports that the meeting discussed issues relating to planning and budgeting for population management and development in line with the Economic Recovery and Growth Plan (ERGP).