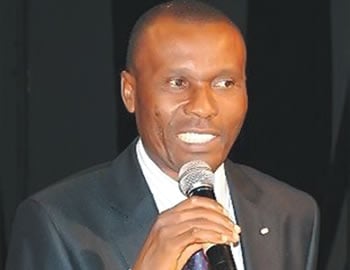 In an effort to encourage private sector involvement in the revival of moribund industries in the Niger Delta region, the Federal Government  has made available a facility of   N15 billion through the  Bank of Agriculture, Bank of Industry, Nigeria Export-Import Bank and New Partnership for Africa's Development.
The facility, which is to be accessed by qualified investors, is part of efforts to diversify the nation's economy: create job opportunities and revitalise the economy through improved productivity of the nation's industries, agricultural and manufacturing sectors.
The Minister of Niger Delta Affairs, Pastor Usani Uguru Usani disclosed this in Imo State when he led a delegation of the Presidential Economic Diversification Mission of the Niger Delta region to the state.
Usani disclosed that the initiative was not  just for the Niger Delta  but that the region was a litmus test for the viability of the initiative before it is extended to other parts of the country.'
He charged investors to take advantage of the various business opportunities the initiative presents as government is committed to making the business environment conducive for them as there will be no government interference, except where and when necessary.
He added that the role of the Federal Government was to facilitate the success of the programme, the state governments were to create enabling environments for the investors while they are to take advantage of the business opportunities that would be created.
In his remarks, the Governor of Imo State, Rochas Okorocha, expressed delight at the initiative as it will help reduce poverty level in the state. He added that he would ensure that bureaucracy was eliminated to ensure the success of the programme.
The Governor enjoined the investors to invest massively in the agricultural sector as the soil was fertile. He also called on investors to invest in the state's huge gas deposits.
Princess Gloria Akobundu, the Chief Executive Officer of New Partnership for Africa's Development expressed hope that the government of Imo State would leverage on the opportunities of the Mission by ensuring the  right investments,  especially in the rural areas.
Akobundu stressed that if jobs were not created, the country would continue to experience youth restiveness and thereby urged the Governor to set up a technical team to 'work on what was said today in order to make Imo state a better society.'
Chief Executives of various companies, local and foreign, indicated their willingness to get involved with the initiative after a tour of moribund factories, farms and industries in the state.
Some of the moribund industries to be resuscitated in Imo State are: Imo Modern Poultry, Imo Oil Palm Plantation, Imo Rubber Plantation, Imo Cashew Plantation, Cassava farms, Acharaubo Farm, Imo Tiles, Imo Clay Products, Imo Standard Shoe Company Limited.