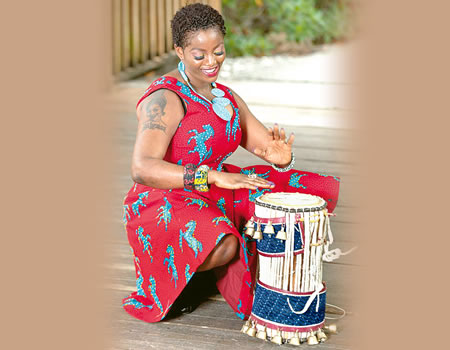 LEADING female talking drummer, Tosin Esther Olakanye, popularly known as Ayanbinrin, has released two new singles titled Mama Afrika and The Sojourn.
Released on the artiste's Mother Drum Entertainment label, the tracks were recorded and produced by sound engineer, EkundayoAfolabi of Colourful Productions in the United States of America.
The singles, however, are just a tip of the iceberg as the talking drummer is currently recording more tracks for her sophomore album due for release in quarter two of 2018. Her debut album, Unveil was released in 2009.
While Mama Afrika highlights the pride of womanhood and fuses elements of Highlife and Afrobeat to create a modern sound, The Sojourn is a reggae song that dwells on our experiences as we journey through life. The videos of both tracks available for download on several online platforms are in the making.
Speaking on her art and aspirations for this year, the talking drummer, who holds a degree in Chemical and Polymer Engineering from the Lagos State University, said she was set to take the talking drum to an unprecedented height in Africa and across the world.
"It has always been my dream to use the arts to celebrate and promote the cultural heritage of the black and African people as well as to foster unity across the globe," added the leader of the seven-person Origin Band.