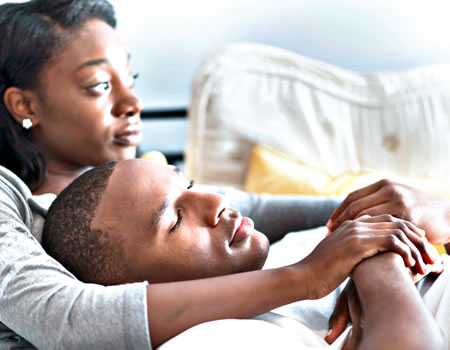 Below are some of the points that can make or mar effective communication in marriage. I hope it will be of help to our esteemed readers on this platform.
Impatience
A lot of people are not patient enough in communicating with their spouses. Before you call Jack they will just take off.This does not make for effective communication. Let us learn to be patient to hear what our spouse wants to say before jumping into the discussion. Many a times, partners in marriage have things to discuss with their spouses, but have been cut off by their partner's. Some complain of tiredness, others of "don't worry, we can talk about it later", while some will just simply say they are not interested in discussing, or not in the mood for discussion. At such moments, opportunities to reveal a tempting situation, confession of an act of unfaithfulness, of an internal conflict have been lost. What many people don't realise is that when such things happen. It gives room for the other person to find an alternative listening ear, and usually,it is always a wrong person who will do more damage to the marriage.
Communication gap
This has to do with the couple not creating time to discuss issues in their marriage. They fall among the group who always say that issues will resolve itself over time. So, many issues are left pending.that will eventually snowball into irreconciliable differences. We need to realise that a stitch in time can save a very bad situation.  Communication gap can result from keeping malice, or due to insensitivity of partners. So, for marital relationship to be successful, communication gap must be closed.
Gender biases
This centres around "this is the way men behave.Or this is women for you". So, they already have ready-made responses for the moves of their partners to communicate.  Whether it is men's stuff, or women's manners, the fact that you are married demands that you create time to discuss the details of the matter.
Poor listening ability
Some people are just poor at listening to others. Before you finish a statement, they are ready to respond to what you are saying.It can be so bad  to the extent that they are acting on half information. And we all know what acting on half information can lead to. It's like a man who has half education, the damages he does are better imagined than experienced. It reminds me of a night guard at a hotel who was trying to inquire of our mission in  the premises by saying "who book you in." My husband and I just spared him of the embarrassment by approaching the receptionist who came right on time to save the situation.
Deceptive mind set
This is a serious one in that it always about concealment of the truth. Here communication is for the purpose of deceiving the other party. It's like you are trying to cover your track. Usually, the story doesn't add up easily. So, you leave your partner wondering exactly what you mean or what point you are making. Deception must be avoided if marital communication will be effective.
Assumption mode
This is a terrible point in any communication. But when it is repeatedly in manifestation in a marriage, it does more damages. Unfortunately, it is one of the high points in conflicts occurrence in marriage. We assume we know ourselves so we'll feel that we can read our partners' mind all the time. We make assumptions based on precedence. We think he/she is coming from the other angle based on that precedence. We preempt our partners moves and jump into conclusion, while he/she is still talking.Many times, my husband and I have had to tell ourselves," please hold on and hear me out." Our discovery in such instances are an eye opener for this point. So, instead of making assumptions, allow your partner to finish what he/she is saying, before you " bury" him/ her. I have realised that there is great wisdom in doing that.
MY BOOK, ENJOYING GREAT SEXLIFE, IS A MUST READ RESOUCEFUL MARITAL MATERIAL.FOR DETAILS OF HOW TO  BUY THE BOOK, CALL 0812658560.