Expert charts new paths for higher education in Africa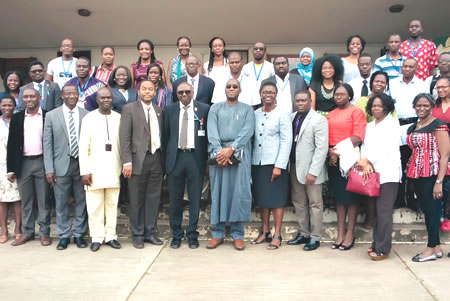 DIRECTOR-GENERAL, Nigerian Institute of Social and Economic Research (NISER), Ibadan, Dr Folarin Gbadebo-Smith, says the African and, in particular, Nigerian higher education system, needs to think more in "complexity mode" in igniting and sustaining its education value proposition.
Dr Gbadebo-Smith stated this while delivering a public lecture as the guest speaker at the Consortium for Advanced Research Training in Africa (CARTA) of the University of Ibadan.
He said this could be achieved by creating an atmosphere of experimentation, reiteration and competition.
ALSO READ: FRSC announces 18-week closure of Sagamu-bound lane of Lagos-Ibadan Expressway
The topic of the lecture was 'Broken Links' in the Chain of Development: Higher Education in Nigeria and Africa, a Complexity Theory Perspective,' and it took place last week Thursday, at the Paul Hendrickse Lecture Theatre, College of Medicine, UCH, Ibadan.
According to him, financing of higher education has to be smarter and more targeted, regretting that till date, there has been no public private partnerships in the higher education, while government sees private universities as a necessary evil to be tolerated.
Gbadebo-Smith noted that the issue of poor academics would be no more if "faculty remuneration is such that the higher education system attracts and is capable of retaining Nigeria's best, while training and continuous assessment of it is done by external bodies."
He suggested that the tertiary-industry interface be strengthened, while the country needs to develop an independent system of doing both.
He, therefore, called for a more flexible, adaptive, responsive and industry-led higher education curriculum, coupled with an aggressive technology adoption and deployment as a tool of instruction, as well as incorporation of a much younger cohort in the decision making and curriculum development process.
Speaking earlier, the deputy vice chancellor (Administration), Professor Kayode Adebowale, who represented the vice chancellor, Professor Idowu Olayinka, reiterated the place of sustainable funding regime in the university system.
"There is no way government alone can fund universities; therefore, we need to revisit some of the policies that we had in the past and modify them," he said.
He lauded the collaboration and activities of CARTA with the institution, which he affirmed resonated with the vision of the university to build a 21st century university that is geared towards meeting societal needs.
Speaking about CARTA and the 6th public lecture, the focal person for UI CARTA, Professor Akinyinka Omigbodun, said it was meant to address an important challenge facing the African academy: the scarcity of a robust research and training infrastructure capable of offering the type of vibrant and sustainable doctoral training necessary to attract train and retrain the continent's brightest minds.