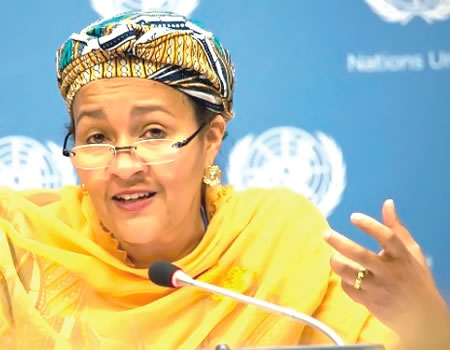 THE Federal Government, on Monday, stated that the immediate past Minister of Environment, and now the Deputy Secretary-General of the United Nations (UN), Mrs Amina Mohammed was not under any probe whatsoever over any purported wrongdoing whether locally or internationally.
It also dismissed the reports being circulated in the media (not Nigerian Tribune) alleging that the ex-minister was involved in wood export racketeering to China.
In a statement issued and signed by the Minister of State for Environment, Alhaji Ibrahim Usman Jibril, a copy of which was made available to Tribune Online in Abuja, the government said the report was a pure misrepresentation of facts, baseless and intended to smear not just Mrs Mohammed, but the Nigerian Government.
According to the statement, the ex-minister acted within the ambit of the law of both the Federal Republic of Nigeria and the protocols of International Environmental conventions while in office between November, 2015 and February, 2017.
"For clarity, the processes involved in issuing approvals for Convention on International Trade in Endangered Species in wild Fauna and Flora (CITES) are potential exporters required to apply to the ministry; inspection of factories and premises for compliance by wood experts; qualified exporters are issued letters of support; invitation of the ministry by the exporter for the stuffing of the containers; as well as exporter applies for CITES permit and Granting of approval.
"The ministry states clearly that all the CITES permits signed by the ex-minister was done in line with stringent guidance and procedures. Specifically, Rosewood (Kosso) is under CITES Appendix II which allows sustainable trade to improve the livelihood of people in line with International best practices
"For the records, the CITES permits signed by the ex-minister were in batches from August, 2016 to January, 2017. In line with established Public Service norms, the ex-minister continued to perform her duties diligently up to the last minute of her last day in office on February 24th 2017.
"It is important to state that Mrs Amina Mohammed during her tenure as Minister of Environment carried out far-reaching reforms in the Environmental Sector, particularly in bringing Rosewood from the unguided trade of CITES Appendix III to Appendix II which sanitised the Wood industry in Nigeria.
"In addition, she led the Review of Endangered Species Act, Convention on International Trade in Wild Fauna and Flora and duly signed by the President of the Federal Republic of Nigeria, on 3oth December, 2016", the statement explained.