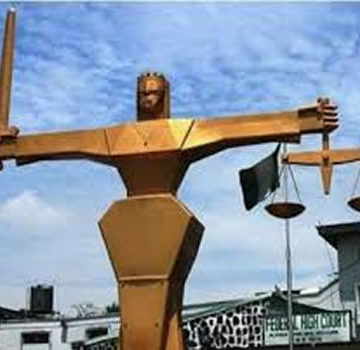 THE Chief Magistrates' Court Ilupeju-Ekiti, in Oye Local Government Area of Ekiti State, on Thursday sentenced an ex-convict,  Tope Awopegba, 25, to two years in prison for stealing N21,000.
The Chief Magistrate, John Ayodele, sentenced the convict without an option of fine after the court was convinced of the evidence against the convict.
ALSO READ: Man in court for alleged theft of pump action rifle
"The accused person is hereby found guilty as charged and he is convicted thereof.
"Tope Awopegba is hereby sentenced to one-year imprisonment for each count, however, the jail term is to run concurrently," Ayodele ordered.
Earlier, the Police prosecutor, Sgt. Adeniyi Famodimu told the court that the accused used a duplicate key to unlawfully enter the house of one Francis Agbetuyi, with the intent to commit a felony.
The prosecutor added that the accused stole N21,000 belonging to Agbetuyi when he entered the house located at J34 Egbe Quarters, Ire-Ekiti, on Feb. 4.
The offence committed contravened Sections 412 and 390 of the Criminal Code Volume 1 Cap C16 Laws of Ekiti State 2012.
Famodimu had tendered in evidence before the court the statement of the accused and the recovered duplicated key.
He added that the accused had once been sentenced in a case bordering on stealing by the court in 2017.
The accused who was not represented by a counsel had pleaded guilty to the two-count charge.