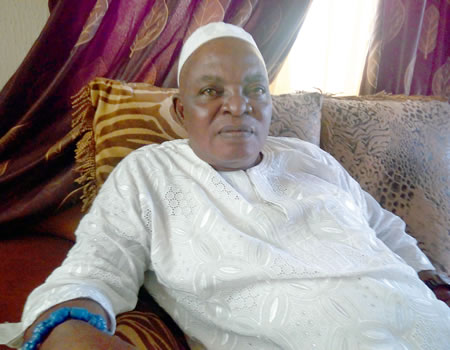 After the passage of Oba Williams Ayeni, the Orangun of Ila, Oba AbduWahab Oyedotun succeeded him in May 2003 in a contest which had 12 princes vying for the throne. Despite the tempo of the contest, Oba Oyedotun told TUNDE BUSARI he was sure of emerging because his mother, on her sick bed, had earlier told him to prepare for the throne when the transition of Oba Ayeni was announced.
Ila-Orangun has a peculiar history not known to many. Could you explain this?
Contrary to some distortions that Fagbamila Oranmigun was one of the sons of Okanbi, I am saying here that it is not true. Okanbi is a brother to Oduduwa. I am in the best position to tell this story and those who know history know what I am saying. The Alaafin of Oyo, Oba Lamidi Olayiwola Adeyemi once shocked my people here when he came to town and publicly told them about the relationship between the Alaafin and Orangun. According to history, Oduduwa was told by Ifa divination that Okanbi, his only son, would not live long. He was then told to encourage Okanbi to have as many children as possible. I am again telling you Orangun was not one of his sons. The woman that later gave birth to Orangun was discovered by the palace servants at Eshinmirin river on Ife-Ilesa road. She was Adetirindeorie,a very pretty woman. She got married to Oduduwa but suffered envy among other wives, a situation that led her and the little Orangun to relocate to Ipetumodu where the mother and son spent 22 years. Oduduwa gave him a crown and many beads, which they eventually brought to Igbo Ajagunla, our first settlement. It is about 20 kilometres away from here.
What are the distinct features of an Ila indigene?
Ila indigenes are not difficult to identify among other people if one is very observant. We are very firm and blunt people who would not be seen where they are twisting the truth for selfish interest. I am not surprised by this attribute because that is the same quality with which our forefather Orangun had. The history of Ila Orangun is the history of bravery. What I am saying is that we are noted for our strength of character. Apart from Ajagunla, our forefather, we still have some important sons and daughters also known for the same attribute. Everybody knows Baba Bisi Akande, the former governor of Osun State. He is known for living above board right from the beginning of his life up till where he is today. When his wife passed away recently, Nigeria came to Ila Orangun. Big names from far and near travelled down to greet him. He is our pride for being such a big figure in the society. Regardless of the lies they fed the public, the former Inspector General of Police, Tafa Balogun is also our pride. He is also fearless and a man of integrity. We are very proud of him and he is our hero who loves Ila-Orangun. He is such a patriot.
Who were you before May 2003 when fate elevated you to the throne?
I was a school teacher in Osogbo. I spent my pre-palace years in Osogbo. In fact, during the contest, some contested my origin because they were not sure based on my long stay in Osogbo. In fact, the day my name was announced after the selection had been concluded, I was in Osogbo. But I was directed to travel down to Ila so that the crowd that would rush to my house upon announcement would meet me at home.And that was what happened. If I had left Osogbo after the announcement, it would have been difficult to enter Ila. The crowd of enthusiastic people was too huge. At a point, I shed tears of joy seeing a sea of heads all hailing and cheering me. I had to move out of the house to the veranda upstairs where everybody saw me.
How many of you contested for the throne?
We were 16 in the race but two died and two withdrew, leaving 12 of us.
Was your selection influenced by anyone or what would you say aided you?
Don't forget that I said some people even claimed I was an Osogbo indigene because they did not know me.How can you now reconcile that to anybody influencing my selection? I believe the process followed natural course and the kingmakers were transparent. In fact, it shocked some people in the town that I emerged the ruler. One thing went went in my favour was that I was not desperate throughout. I remained calm and worked as I should. But I must say that my late mother gave me confidence that the contest would be fierce but I would be selected.
How did you mother come up with that when she wasn't a prophetess?
Honestly, it was funny and shocking to me on the day she uttered that statement. I went to her to break the news of the passage of my predecessor, Oba Ayeni. She was sick then. As soon as I told her that Oba Ayeni had passed on, she asked me to go and prepare. I asked her: 'Prepare for what? Didn't you hear what I just said, mama?' She said she heard me and repeated again that 'go and prepare, you are the next Orangun'. She then said that the contest would be tough because others would contest the throne with me. She maintained that in the end, I would emerge. Unfortunately, she was not around again when I was selected. She was late.
In the panegyrics of Ila include a statement linking Ila people with palm-wine. In fact it is said that palm-wine is the only drug that cures ailment here.
It is true. The statement was coined based on long observation of the people. It is not depicting us as drunks. It shows that we are a group of hardworking people who, after each day on the farm, would take palm wine to relax.
Your town has a college of education. How has this impacted on your people?
It is good to have the college here. The name has been changed to Adeyemi Oyedotun College of Education in honour of my brother whose daughter was murdered in Ibadan during the military regime in 1978. The college is a blessing to us in this town because of different impacts it has on our life. As I speak, there is no compound where you don't have a minimum of NCE holder. Those okada riders and drivers you see on the streets have NCE (National Certificate of Education) certificate. On economic impact, the students and their lecturers including non-academic staff come to our markets and patronise our traders. Also, our property owners also make money from house rent to the students and staff of the college.
Aside the college, there still is a police college here. Of what significance is the college too to the town?
The presence of the police college here means that Ila-Orangun is already in the world map. Officers who want to rise to the pinnacle of their career now pass through here. They are trained in Ila. Officers from other West African countries also come here for training. This is a blessing to my town and we give credit to our son, Tafa Balogun for always being proud of Ila Orangun. If you visit the college, you will see that the location is appropriate for training of police officers and other security agents.
You have earlier told me what you were involved I before you became a traditional ruler. What has changed since you became a traditional ruler?
Isn't it right for you to ask the public about who I am? Well, I am the 34thOranagun of Ila succeeding Oba Williams Ayeni in 2003. I am an easy-going traditional ruler. I told you that my contest for the throne was not a do-or-die affair. I never saw it that way. I was cool and calm believing that God would do what he had destined to do for me. I carry the same attitude to the throne. I operate an open-door policy in the palace. I don't surround myself with an unnecessary aura that makes people be scared to approach me. I am free with everybody, old and young rich and poor. I am not given to the ephemeral things of life.
What do you think your town and people are lacking?
It is electricity supply.
But that is a general problem?
I know but it is more biting here. I want government to look into that. The town is always disturbed by the noise of electricity generators. Every house now uses it without taking cognizance of the cost on their health regarding the danger of fuel, the noise and the smoke.