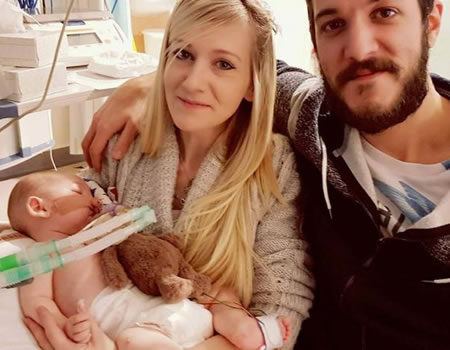 The European Court of Human Rights on Tuesday said that British Authorities should not end life support for Charlie Gard, a 10-month-old with a rare disease and brain damage.
The court asked the British authorities to extend the life support until at least June 19 to allow his parents time to apply to it for a ruling.
Chris Gard and Connie Yates last week lost their fight in Britain's Supreme Court to take their infant son, whose rare genetic condition caused muscle weakness and brain damage, to a therapy trial in the US
The Supreme Court had upheld lower court judgments saying that the infant's life support should be ended so that he could die with dignity.
Specialists at London's Great Ormond Street Hospital in London, where the baby is being treated, had said the therapy proposed by a US doctor was experimental and would not help, that life support for the child should be stopped.
The Strasbourg-based court on Friday issued initial instructions to the British authorities not to end the child's life support on the basis of a request from his parents.
The Gards have not yet made a substantive application to the court for a ruling on the merits of the case, the court clarified.
Tuesday's interim ruling applies until midnight on June 19.
If at that point the Gards have applied to the court for a ruling on the merits of the case, it would remain in force until that ruling is issued.