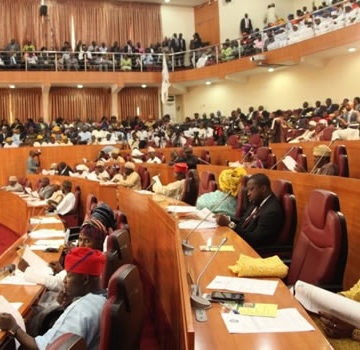 A social-cultural group of the Esan speaking people of Edo Central Senatorial Zone of Edo State, the Esan Youth Movement (EYM), has called on the state governor, Godwin Obaseki, and the leadership of the All Progressives Congress (APC) in the state to prevail on members of the state House of Assembly to immediately elect a lawmaker from the Edo Central Senatorial Zone as speaker of the Assembly to ensure fairness and federal character.
The group which is an umbrella body of Esan youths also described the impeachment of the former speaker of the Assembly Hon Justine Okonoboh, as unacceptable, unceremonious, acrimonious and unjust.
The group while reacting to the impeachment of the former speaker, said they were shocked and disturbed when they received the news of the impeachment and suspension of the speaker along with those of the former deputy speaker and majority leader, Mrs. Elizabeth Ativie and Mr Foly Ogedegbe respectively.
The statement signed by the President of the EYM, Mr Kingsley Ohens, noted that the inclusion of the principle of federal character assured all participants of equitable participation and just representation in the workings of governance at the executive, legislative and judicial levels.
He said. "the essence of these provisions entails that no ethnic, religious or geographical group dominates the reins of government to the exclusion of the other components parts/units," adding that in Edo State in particular, "care has been taken over the years to strike a delicate balance in the distribution of elective/appointive position among the three senatorial districts, down to local governments, where applicable.
"It was therefore with utter shock that we received the disturbing news of the impeachment of the Speaker of the Edo State House of Assembly, the RT Hon Dr Justine Okonoboh, by members of the House of Assembly on Monday, 14th August, 2017.
"The full import the unceremonious and acrimonious removal of Okonoboh as the Speaker of Edo State House of Assembly is that the people of Edo central senatorial district have been completely and unjustly shut out of the topmost leadership positions across the three arms of government at the state level, namely executive, legislative and judiciary."
"If for whatever reasons, majority of the House feels that Hon Okonoboh is no longer competent to lead them, it behoves them to elect another member from Edo central in the House to take over the baton of leadership.
"We are gratified to note that Edo central boasts of five other eminent members from that district currently in the House."