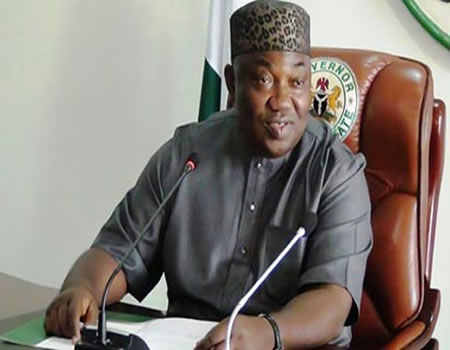 No fewer than 25,000 entrepreneurs in Enugu State have received support services on entrepreneurship and enterprise development in the last two years from the state enterprise center.
Funds were also provided to additional 800 Small and Medium Enterprises (SMEs) same period by the Enugu State Small Medium Enterprises Center in collaboration with the Central Bank of Nigeria (CBN) and the Bank of Industry.
Gov Ifeanyi Ugwuanyi disclosed this on Monday in Enugu on the occasion the 2017 Democracy Day celebration at the Michael Okpara Square.
Ugwuanyi said that the scheme which covered both women and youths had created thousands of direct and indirect jobs to members of the public.
"Our drive for investments has been yielding desired dividends with the influx of both foreign and local businesses.
Among the latest is Air Peace, which recently decided to build an aircraft hangar in Enugu while also making the state its regional hub for local and international flight operations," he said.
The governor said that the first two years of his administration had been remarkable.
"It was also within this period that a historic international cargo flight touched down the Akanu Ibiam International Airport, Enugu.
"We also performed the ground-breaking ceremony of the ENPOWER Free Trade Zone which was licensed by the Federal Government in Dec. 2015.
"These are great indicators that the state is the hub of business activities in the South-East," he said.
Ugwuanyi commended the Enugu State Economic Advisory Committee for efforts to attract investments and stimulate development in the state.
The governor said that his administration would always work for the common good of the people.
Ugwuanyi said that the primary responsibility of every government was the welfare of the people and security of lives and property.
"Recall that on this day in 2015, I sincerely acknowledged the fast depleting revenue profile of the state owing to the slump in oil price and low internally generated revenue.
"I had assured you that my team would harness and apply every available resource with utmost transparency, honesty, prudence and equity to the benefit of the ordinary man," Ugwuanyi said.
The News Agency of Nigeria (NAN) reports that the event was attended by members of the National Assembly from the state led by the Deputy Senate President, Dr. Ike Ekweremadu and members of the state assembly.
Some members of the clergy and political stalwarts in the state including a former governor of the state, Mr Onyebuchi Chukwu was also in attendance.
Highlights of the ceremony were the match-pass by officers of the Nigeria Police Force, Enugu Command and cultural displays by troupes.