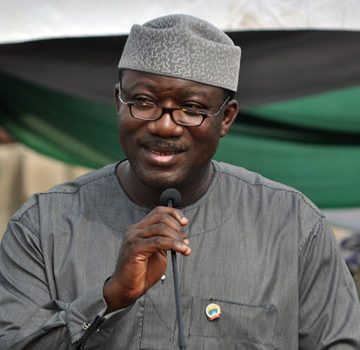 GOVERNOR Kayode Fayemi of Ekiti State has announced that his administration would hand off all commercial ventures of the state and hand them to professionals to manage.
Governor Fayemi, who spoke to newsmen during the continuation of his tour of project sites and infrastructure in the State, also promised that his government would soon commence work on all abandoned and dilapidated projects in the state.
He lamented the sorry State of virtually all legacy projects that are supposed to be the pride of all Ekiti people adding that all the projects were in full operation before he left office four years ago.
Specifically, the Governor said Fountain Hotel would soon bounce back as his administration will soon embark on the rapid rejuvenation of the facility to return its old glory and position it as a profitable venture.
     ALSO READ: Ekiti govt seals buildings allegedly owned by Fayose
He wondered why a government that claimed to be people's government would allow projects that belong to the people to almost go to extinction within his watch.
Fayemi said, "All these things, we are going to fix, but it is important for Ekiti people to know the type of leadership that just left office in our State because these facilities were in full operation when I was governor up to the last day I spent in office.
This facility was one of the sought after facilities for use, because it is attached to the hall that provides very good use for public and then the 32 rooms that are here are always almost fully booked, so for me to see it in this state, I just ask myself, its not rocket science to manage public property. You really need to think of yourself, how do you manage your own property at home. At the last time I checked, governor Fayose manages his private properties very well, so it means that public properties mean nothing to him, that is why he would allow this to be destroyed like this.
"We would revive it, we would rejuvenate Fountain Hotel and then let it out to professionals to manage. What this also proves is that we really need to get government out of managing commercial ventures in our state, because the government would come and go, but the properties would still be here, and they are legacy properties. All of us should see them as a source of pride to Ekiti people, most people who came to Ekiti about one decade ago, this is probably the only hotel they would know. But look at this place now, this is a shadow of itself, this is a ghost town."
Fayemi said the purpose of the tour was not to witchhunt or cast aspersion on anyone but to have on the spot assessment of the information he received through the ministerial briefings from the MDA's.
According to him, "The purpose of this assessment is not even to pass blame or cast aspersion on anybody, it is to just see what the officials have told me during the briefing by MDAs. I did not want to go by what the MDAs have told me, that is why I am out to examine all these things myself and to form my own judgement about how our state has been governed and what we need to do as people collectively to ensure that never again should we subject our state to people who neither know anything about governance nor development."
Other project sites visited by the governor in Ado-Ekiti, the State capital are the Ekiti Parapo Pavilion, Adunni Olayinka Civic Centre and Oja Oba.