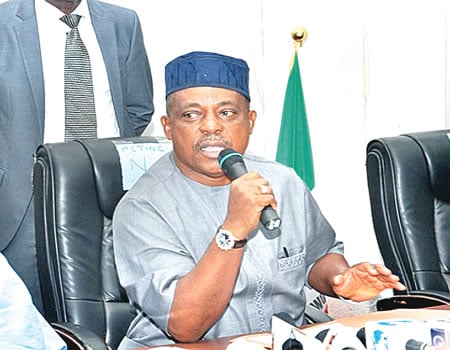 THE national leadership of the Peoples Democratic Party (PDP) has alleged that the siege on Ekiti State Government House and physical attack on Governor Ayo Fayose on Wednesday was part of a plot by the ruling All Progressive Congress (APC) to assassinate him and rig Saturday's gubernatorial election.
The National Chairman of the party, Prince Uche Secondus, who made the allegation at a press briefing in Abuja on Wednesday, said Ekiti people will resist any attempt to test their will.
Reiterating earlier accusations that some officials of the Independent National Electoral Commission (INEC) were working with the APC, he condemned the action of security agencies, warning that there will be consequences if the will of the people is subverted.
He warned that all thugs who have been exported to the state with the aim of rigging the election are there at their own peril.
The party boss called on the international community to take note of the situation in Ekiti State
On the attack on Governor Fayose, Secondus stated: "This, we have been informed, is part of the order from above, in line with the earlier boast by the Buhari-led APC, to 'cage' Governor Fayose ahead of the July 14, 2018, Ekiti governorship election day, so as to grant their agents a field day to rig the election.
"In fact, we have been made aware that the invasion was a plot to assassinate Governor Fayose and blame it on accidental discharge by one of the policemen.
"The PDP marks this siege on an elected governor and a government house as a recipe for violence, a complete attack on our democratic order and a direct assault on the corporate existence of Ekiti and her people as a federating part of our nation.
ALSO READ: Ekiti guber: Printed materials not ballot papers but specimens to educate illiterate voters —Fayose
"We know that this is part of the desperate effort by the APC Federal Government to intimidate, subjugate, frighten and overawe the people and unleash a rigging machination for the election. Information available to the PDP reveals that part of the rigging plot includes the deploying of an APC state governor in each of the local government across the state to coordinate the APC rigging plan.
"We also know that the APC rally on Tuesday, which, was boycotted by the people of Ekiti State, was a gimmick to import thugs from neighbouring states."
Secondus noted that the party supporters who have been placed on red alert and are ready to take their destiny into their hands on the Election Day and "no bullet or oppressor's whip can stop them."
He informed that the PDP had set up adequate monitoring instrument at all polling stations, collation centres and all entry and exit points, saying that it will use all available Democratic instrument to thwart any attempt the rig the election.