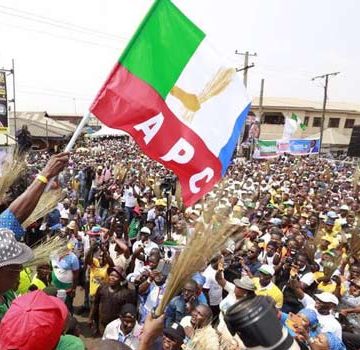 THE first woman has formally joined the governorship race in Ekiti State on the platform of the All Progressives Congress (APC) and said it was time for the women to take charge "to bring things back to normal."
This is just as the APC in the state has condemned people it said were with the "erroneous impression that the 2018 governorship election was not an auspicious time for a woman to be elected governor of the state."
The deputy chairman of the APC in the state, Chief (Mrs.) Kemi Olaleye, gave the charge in Ado Ekiti on Thursday while receiving Dr Christiana Yaya-Kolade at the party's secretariat in Ado Ekiti, when she visited to declare her intention.
The party blasted the opponents of gender inequality in the state, particularly those that were subjugating the voices and chances of women in political appointments, saying women shall take their destiny in their own hands in the July 14 election.
Mrs Yaya-Kolade, a medical doctor and the 31st aspirant to declare the interest in the Ekiti governorship, promised that her government would deal with rapists and those subjecting minors to all forms of abuse to sanitise the state.
Speaking at the event held at the party's secretariat in Ado Ekiti, the APC Deputy Chairman, Mrs Kemi Olaleye, urged women to support female contestant during the primary.
"If you check the political history of our dear country, you will see that women like Mrs Biodun Olujimi and Mrs Remi Tinubu have done us proud with their contributions on the floor of the Senate, so it was wrong to say women lack the capacity to govern.
"At the international scene, Liberian President, Mrs Johnson Sirleaf, Queen Elizabeth of England and many others also confirmed that women can do it better.
ALSO READ: 2019: Enugu pro-buhari group faults national assembly on election time table amendment
"I appeal to you to support Dr Kolade. She has the experience, exposure and academic attainments to lead Ekiti well as a trained Nurse, Pharmacist and Medical Doctor", she said.
Dr Kolade promised to ensure that no child in Ekiti is subjected to any form of abuse like rape, hawking and slavery with her in the saddle of governance in Ekiti.
"It is no gainsaying the fact that Ekiti is well-educated people, but no industries for them to work and this is sad. I will revamp our moribund industries to serve as an impetus to our youth to go to schools.
"Our health system is bad, even the best hospital in Ekiti has very few skilful personnel and equipment. All these we shall correct using our connections and expertise.
"I am not comfortable with 45 years life expectancy for Ekiti women. We shall put the right health interventions in place to tackle infant and maternal mortality and fight incommunicable and communicable diseases.
"We shall make farming very attractive to our youths by giving them loans for commercial production of cassava, yam, rice, cocoa for Ekiti to attain food security status," she said.