Easter: AAC candidate congratulates Christians, Ajimobi, Makinde
...Pledge support for Governor-elect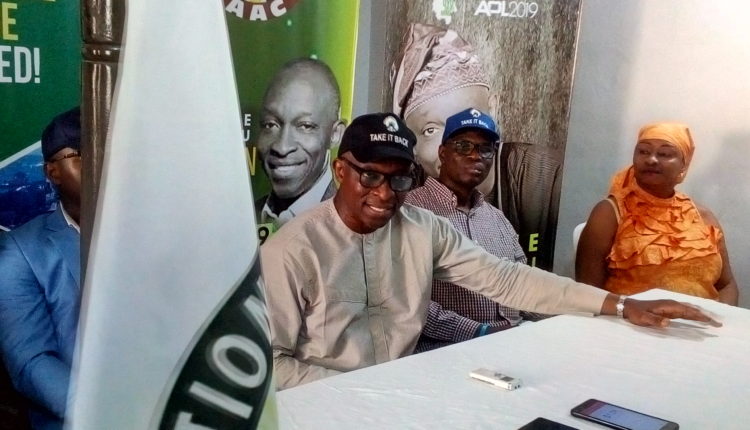 The candidate of the African Action Congress in the 2019 governorship elections in Oyo State, Engr. Akinwale Laosun has congratulated the people of the state and Nigerians, especially Christians on the successful completion of the Lenten season and the opportunity to witness another Easter season.
Engr Laosun in a statement on Sunday, urged the people, particularly Christians to emulate the virtues of the sacrificial nature of Jesus Christ who laid down His life for the salvation of mankind.
He enjoined the people of the state to show love towards one another and be ready to work for the peaceful mutual co-existence of the fellow mankind and the state as a whole.
The AAC candidate enjoined people not to be carried away with the celebration and appealed to the people to also use the period to offer thanksgiving prayers to God for the successful conduct of the general election while also praying for the peace, development and prosperity of the state as it prepares for the May 29 change of leadership baton.
While congratulating the outgoing Governor of the state, Senator Abiola Ajimobi on the successful completion of his eight years as the states helmsman, Engr Laosun also congratulated the Governor-Elect, Engr Seyi Makinde on his victory at the polls.
ALSO READ: S/West PDP petitions Lagos CP, DSS over Adewale, declares him non-PDP member
He called on the Governor-Elect, to as a matter of importance remember all his campaign promises and ensures they are fulfilled in order to ensure that the people who entrusted him with their votes are not disappointed.
He pledged the availability of his support to the Governor-elect and the incoming administration only if the new government would make the welfare of the people and the development of the state his priority.
Laosun also used the opportunity to celebrate and thank traditional rulers, religious leaders, community leaders and well-meaning Nigerians from all walks of life for supporting his ambition to serve the people of the state during the last general elections while also praying for the continued peace in the state and the nation at large.