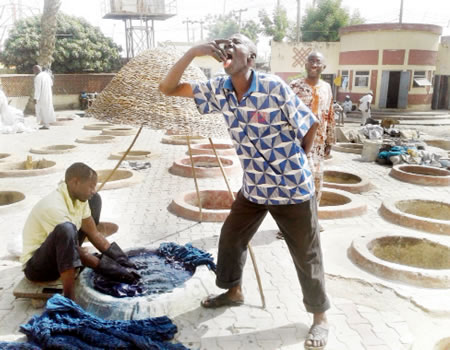 Though the dye pits of Kano have endured centuries of existence things have remained the same despite efforts to bring back the good old days. KOLA OYELERE reports that the pits are currently running at half capacity, even as its products face stiff competitions from foreign textile materials and modernity.
THE dye pits of Kano have survived for five centuries, almost 520 years to be precise. The pits, popularly called Kofar-mata dye pit, were started by one Wali dan Marna. He later migrated to Katsina, leaving the pits for his descendants who continued the textile dyeing till date with other people joining them in the business.
Located at the centre of Kano city, it was originally an open space with no walls or fence. But over time that changed. At some point, the dye-pit's fame spread across West Africa up to the north of the continent. According to some of the artisans who operate in the market, patrons  still come from Niger republic, Senegal and Mali.
Products from the dye pit are a set of uniquely designed textile materials that come in four different colours. They could be blue, light blue, navy blue and black, depending on how long the fabrics are processed while being dyed. The textiles are used for ceremonies and are also designed for everyday use. The dyeing method is still majorly conservative.
Mallam Lawan Kofar–Mata is a long-time practitioner in cloth dyeing. Speaking with Sunday Tribune, Kofar-Mata disclosed that  he inherited the vocation form his grandparents who in turn inherited it form their own parents.
"I have been in this cloth dyeing profession for the past 52 years. I inherited it from my grandparents who equally inherited it from his father. Whoever you see doing this business must have inherited it from his great grandparents," Mallam Kofar-Mata.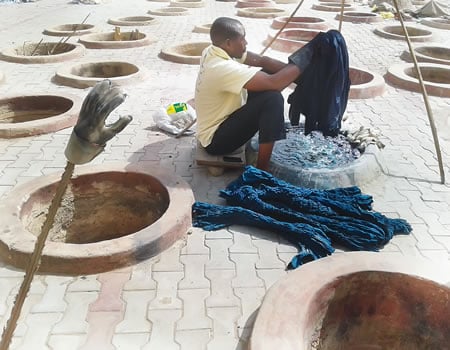 However, the modern day practitioners are not only those who inherited the business from their forebears. Some, out of passion for the profession have undergone training to acquire the skill and are now actively involved.
Production process
Mallam Ismail Kofar -Mata, another professional in the business told Sunday Tribune that there are different stages involved in cloth dyeing. According to him, at the initial stage, «we pour 1,000 litres of water inside the dye-pit, and then add 36 buckets of ash to the water.
"We leave it for three days and then pour two bags of indigo of about 50 kilogramme, which we also leave for another three days. After three days, 16 buckets of potassium would be poured inside the pit and then we leave it for another three days," he explained.
In the course of adding and mixing all these materials in the pit, it must remain covered with raffia basket, but not permanently, to prevent unwanted material from entering. After a total of 12 days, a locally-made stirring rod is used to mix the solution adequately for another three days.
By now particles and other dirts in the pit would have come to the surface as the dye solution begins to attain its desired colour. By the 30th day, the fabrics which had been tied into desired patterns would then be brought for dyeing. The tying of the cloths into patterns is another aspect of the dyeing process which is sometimes contracted out to people who specialise in doing just that.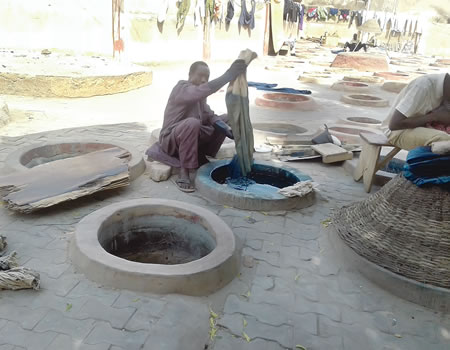 According to Ismail Kofar-Mata, the cloths must not be dropped inside the pits and left there permanently. The fabrics must be dipped in the pit and brought out again several times until the dyer is satisfied that the desired pattern and/or colour has been achieved.
The fabric, apart from having a desired colour, begins to shine as it gets drier. Mallam Ismail added that the type of indigo used would automatically determine the colour that comes out.
"We can get light black in one and a half-hour of processing, while navy blue colour takes three hours. Black would take four hours and navy blue six hours," he explained, adding that using potassium in the dye solution would ensure that the colour does not wash off, while ash would make the cloth bright.
After dyeing, the clothes are traditionally ironed in a process referred to as bugu. This process is handled by many people as the clothes are hit with wooden mallets on another piece of wood. As this is done, the clothes come out smooth and shining as if they had been ironed with an electric iron.
Sourcing for materials
One of the major ingredients of dyeing is indigo and it can be sourced from local farmers, while ash, another ingredient, can also be easily sourced. Potassium is also not difficult to get as it is a recycled product.
At the end of the dyeing process, the dye solution is evacuated from the pit. At the bottom of the pit is an accumulation of dust and particles. These would be removed, dried and baked and eventually be reused as potassium for the next round of dyeing.
Many pits, many cloths to dye
There are roughly 113 pits at the Kofar-mata, but, unfortunately, only about 50 are currently being used. This was even achieved as a result of intervention by the state tourism board, an indication of the parlous state of the business and its receding patronage.
Although science and technology have brought innovations into every aspect of human life, things are not really changing that fast at Kofar-mata's dyeing pits. The dyeing process has not really changed from what it used to be centuries back.
Mallam Ismail also agrees that things are changing fast in the society with the Kano dye pits lagging behind in the quest for modernity.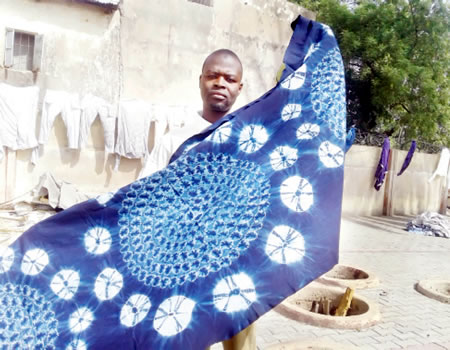 "Why I say that things are changing is the fact that, nowadays, people are no longer interested in local clothing made from dye-pits. That is the more reason owners of dye-pits have to look for part-time occupations to supplement their income. To compound the existing problems dye pit owners face, government has failed to provide subsidy for our members or to even encourage us to boost our morale.
"As I told you earlier, only 50 men are engaged in dyeing in this Kofa-mata, despite the fact that there are about 113 dye-pits. Although there are few women, they work from their homes," he said.
Some of the assistance that dye pit operators expect from government include intervention through provision of soft loans, and encouraging more patronage of fabrics produced from the pits, "otherwise," says Mallam Ismail, "this trade would just die off."
Other dye pit practitioners who spoke to Sunday Tribune argued that the materials used to produce the cloths at Kofar-mata are not injurious to health. Rather they are medicinal.
"Everything that we added together to produce dye-cloth are not harmful, they are medicinal. You can see how I dipped my hand inside the dye and I put it inside my mouth. It can never do any damage to me, rather it would make me healthier," said one of the workers at the dye pits who would not want to be named.
The problems are not limited to the production aspect. When the products are ready and get to the market, the problem continues. Patronage is low and the traders could be discouraged except those who have seen it all and are determined to continue the business.
ALHAJI Sale Kurmi, (89) is one of them. He has been in the business for almost 80 years selling dyed cloths at Kasuwar-Kurmi. According to him, despite the threat and competition coming from imported fabrics, the traditional ones still thrive.
"Buyers still come from Niger Republic, Mali and Central Africa Republic to buy from us in large quantities. It is because of these buyers from these countries that we are still in business. Most of our people normally go for foreign clothes and this has impacted negatively on our sales," Alhaji Kurmi noted.
When challenged on whether the low patronage recorded at home is not as a result of exorbitant prices of their products, Alhaji Kurmi explained that the cloths are not expensive.
"Two yards make a wrapper, which attracts a sum of N1,000," he said, adding that he makes daily sales ranging from N50,000 to N70,000 when buyers came from outside the country. However local sales is always low and he may not make more than N10,000 daily, while women make the bulk of his customers.
As practitioners at the dye pit wait for on government for a turn-around in their fortunes, another major challenge to their products are those produced by the Chinese which are cheaper and far more affordable to buyers.
However, modernisation must be brought into how things are done and the industry itself must be protected from foreign competitors. It is then that government intervention may be seen to be on the path of bringing the Kofar mata dye pits back to their glorious days.