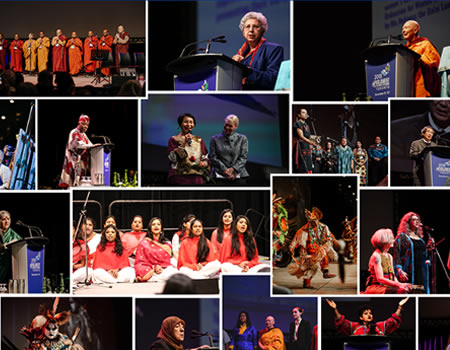 A Nigerian, Dr Isaiah Dada, recently attended the Parliament of the World's Religions in Toronto, Canada, and shares his experiences, in what he titled: "Awakening of the World Spiritual and Religious Leaders
The city of Toronto in Ontario, central Canada, hosted the Parliament of World's Religions from November 1-7, 2018. The Parliament of World's Religions is the oldest, largest, most diverse and inclusive Global interfaith event. "The Parliament of the World's Religions was created in 1893 to cultivate harmony among the world's religious and spiritual communities and foster their engagement with the world and its guiding institutions in order to achieve a just, peaceful and sustainable world." The theme was "The Promise of Inclusion, the Power of Love: Pursuing Global Understanding, Reconciliation and Change." This year, 50 different faiths from 80 different countries came together to feature more than 500 programmes and events across six major tracks:
Over 8,000 persons of good faith came together to think about concrete actions to reduce human-caused greenhouse emissions and to find solutions to the inescapable consequences of the changes humanity is imposing upon the planet. The religious and spiritual leaders and many more grassroots practitioners shared their visions and pearls of wisdom in supporting women seeking greater voice and authority within their traditions including breaking the "stain-glass ceiling," overcoming patriarchal bias in attitudes and practice, mentorship and networking, and building coalitions for change. The Parliament has also chosen to continue to find solutions to those scourges of humanity: hate, violence and war.
The 2018 Parliament of the World's Religions also provided a platform for Indigenous Peoples to exhibit the Indigenous wisdom traditions so as to take their place alongside the world's religions in order to share Indigenous Traditional Spiritual Knowledge that may provide inspiration and sacred guidance for humanity as we grapple with the challenges of climate change, violence, war, genocide, economic disparities, food shortages, the disappearance of reservoirs and extinction of species. The parliament also acknowledged the urgent need for interfaith engagement and the preparation of a religious leadership to be equipped with knowledge and understanding of the plurality of faith traditions in the contemporary world.
These leaders and grassroots faith-based actors came together in order to contribute their quota to the transformation of the world and the empowerment of the next generation as well as to focus on the importance of inclusion and change to the livelihood, dignity, relationships and equality of humanity.
As a spiritual health practitioner this was a most powerful experience because I interacted with inspiring people, resulting in the building of relationships that helped me discover how spiritual and religious leaders and grassroots actors were working together to dignify differences, to bring change, peace, justice, love, healing, dignity, respect, thus going a long way towards improving our human relationship with each other and with God/Divine. Religion/spirituality leaders are awakening again to break down all barriers and bring a new hope to humanity.
[1] www.parliamentofreligions.org
[2] https://www.parliamentofreligions.org/parliament/2018-toronto/2018-toronto