Did We See Ronaldo's Final European Championship Appearance?
Despite finishing in third place during their Euro 2020 group stage, Portugal had done enough to qualify for the final round of 16, with considerable thanks to star man Ronaldo for supplying his team with five goals. But, throughout CR7's efforts, it wasn't good enough to contend with Belgium when Thorgan Hazard delivered a blistering strike to score in the 42nd minute. Cristiano Ronaldo levelled the goal-scoring tally of Ali Daei, who owns the highest number of international goals. Still, Ronaldo's hunt to make the history books was ended by the Red Devils, with a relentless style of play that assisted them in defeating the Portuguese outfit.
Ronaldo's Final European Championship?
Ronaldo, aged 36, doesn't have time on his side. The worlds most popular and arguably most talented player has achieved everything in the footballing universe. The work ethic and consistent evolution of Ronaldo into his later years is what makes him one of the top players ever to grace the beautiful game.
The five-time Ballon d'Or winner captured his first international trophy with Portugal in the Euro 2016 competition, followed by the UEFA Nations League cup for good measure. As the 2022 World Cup approaches, Ronaldo will undoubtedly need to remain devoted to the game to find his first World Cup success, and we should expect his appearance in next year's tournament.  The question is, can he return in another three years to attend the Euro 2024 in Germany? Fitness levels that Ronaldo has maintained should give his fans confidence, and if any player aged 39 can make one last run, Ronaldo is that guy.
Ronaldo has remained at the highest level, always peaking his performances when competing for his country. The now Juventus forward debuted in the European Championship in 2004, where Portugal reached the final but lost a surprising battle to the Greek squad. Ronaldo was in tears, but twelve years later, the more experienced and a veteran version of CR7 assisted Portugal in winning the 2016 European Championship.
The Euro 2020 tournament was Ronaldo's chance to defend the glory of 2016; unfortunately, it wasn't meant to be. Following the defeat to Belgium, Ronaldo aggressively removed his captain armband, triggering the football world into believing it could be his last.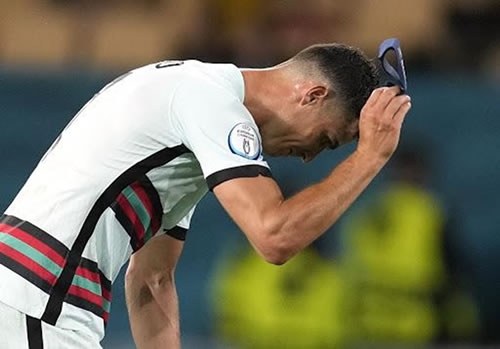 It's intriguing to know what decision CR7 will make, but when considering his Euro 2020 performance, he's undoubtedly capable of making another appearance on the international stage.
Ronaldo bagged five goals during the Euro 2020 group stage. The goal scored against Hungary in the competition opener made him the highest-scoring player in the history of the Euros. He has scored a total of fourteen goals in European Championship tournaments and is currently tied for the international record of most goals scored in men's professional football. He does hold the record for most European and World Cup championships combined (21), a record where he overtook Miroslav Klose. The best sports betting apps often support Ronaldo in his efforts to score, providing lower odds than what you'd usually see from knowing his goal-scoring potential.
The frustration that Ronaldo expressed was understandable. Belgium only managed a mere one shot on target throughout ninety minutes of action, whereas Portugal racked up twenty-three shots but only four on target. Ronaldo dropped into midfield during the second half with attempts to breakthrough, but their efforts came up short on the night.
Ronaldo's freekick was a close encounter; Raphael Guerreiro's attempt that struck the post and Reuben Dias' header were all great chances for Portugal to equalize. Portuguese coach Fernando Santos said, "I think it's unfair, but this is football. If you score, you win; they scored, we didn't." This statement bluntly summed up Portugal's night; they didn't score, which meant they didn't win.
Having been drawn into the so-called "Group of Death", in hindsight, the teams involved weren't that deadly – as France, Germany and Portugal were all eliminated from the tournament. Before the tournament, these highly touted squads were all considered amongst the top five most favourite teams to win the competition. And since drawing into the same group, it became known as "The Group of Death".
It's hard to know what's exactly on the mind of Ronaldo, but knowing his willingness never to give up – we should at least expect a World Cup 2022 appearance just 12 months away. But looking three years into the future is impossible; Ronaldo may very well have retired by this time, and Euro 2020 could've been the final time he appears at an international European Championship.