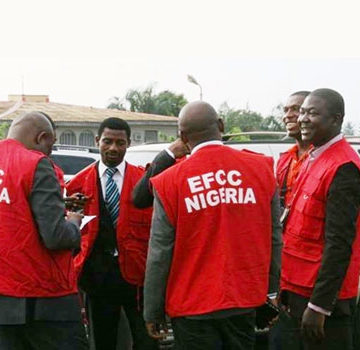 A Federal High court sitting in Awka, Anambra state, presided by Hon Justice I, Gafai has adjourned till February 15th the case of fraud and money laundering filed against Engr Nnaemeka Nwawka by the Economic and Financial Crimes Commission(EFCC).
After due consideration of arguments, Justice Gafai called on all the counsels to reach a compromise and agree to a more convenient date for the commencement of trial, leading to the acceptance of February 15th as the next adjourned date.
ALSO READ: N500m money laundering: Belgore, former Minister docked by EFCC
The charge number FHC/AWK/C/92/2017, was instituted on behalf of the federal government by EFCC against Nwawka, Jude Cyril Aniekwe, Agbaim Nwachukwu and the registered trustees of  Sage Nebeife Foundation as defendants, and presided over by Hon Justice I Gafai, yesterday in Awka and later adjourned till February 15th.
In the matter presented against the defendants, 10 count charges listed read in part; "That you, Jude Aniekwe Cyril on or about the 20th July 2012 in Anambra within the jurisdiction of this Honourable court did make cash payment to the tune of N15,100,000 which exceeded the stated threshold without passing through financial institution to Agbim Nwachukwu, and thereby committed an offence contrary to section16(1)(d) of the money laundering act 2011 as amended in 2012, and punishable under section 16(2)(a) of same act.
"That you, Nnaemeka Nwawka the registered trustee of Sage Nebeife foundation and Jude Aniekwe Cyril sometimes between 23rd April to 21 December 2012, within the jurisdiction of this honourable court directly or indirectly took control of the aggregate sum of N110,332,670 which was transferred from Velberg international limited account domiciled at Standard Chartered Bank account no. 0000777216 into the account of Sage Nebeife Foundation domiciled in First Bank account no. 201745211. You know that the funds formed part of unlawful activities of Engr Nwawka to wit, fraud and hereby committed an offence contrary to section15(2)(d) of money laundering(prohibition) act 2011 as amended in 2012.
The charges further show that within the period, Nwawka and his fellow defendants took control of the sums of N110million and N42million respectively, which were alleged by the EFCC to be acts of money laundering.
When the matter came up yesterday, AC Ogbuodudu who was counsel to the 2nd and 3rd defendants, pleaded for time to study the matter, saying that he recently took over from a previous counsel to the defendants.
However counsel to EFCC, Victor Ukagwu argued against the adjournment of the matter,  insisting that Ogbuodudu ought to have been adequately briefed before assuming the mater, especially as the mater had taken some time. He also informed that his two witnesses, Chief Cletus Ibeto and Chidi Nweke were in court, ready to testify, as he prayed that the witnesses be given time to testify, while cross-examination could be deferred to a different date.
After presenting their arguments, Justice Gafai adjourned the matter to February 15th for a further hearing.