Coronavirus: Sanwo-Olu, Hamzat visit isolation centre
• Decry panic buying, exploitation by traders in sanitisers, others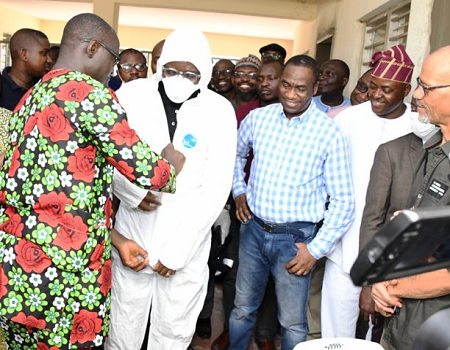 Lagos State governor, Mr Babajide Sanwo-Olu, on Sunday, paid a visit the isolation centre where the index case of coronavirus is being managed, calling on Nigerians not to panic but maintain and sustain personal and environmental hygiene at all times.
The governor, who was accompanied by his deputy, Dr Obafemi Hamzat, expressed displeasure over the report that some traders and marketers were using the opportunity of the current situation to exploit residents by jacking up the prices of hand sanitisers and other disinfectant commodities.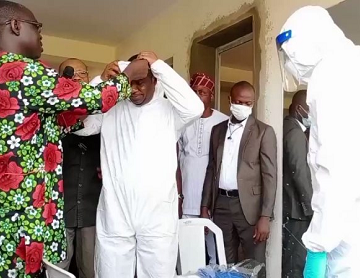 Speaking at the Biosecurity Laboratory and the Infection Containment Isolation Facility at Yaba, Sanwo-Olu, who was also briefed on the management of the scourge by the Deputy Incident Commander on the coronavirus at the situation and incident room, said that "the current situation is not laughable" but calls for concern from all Nigerians to be united in managing the situation.
"It is very unfortunate that people, Nigerians are taking advantage of a very unfortunate incident. I think it is condemnable. People cannot because this incidence do such, it is not the means to enrich yourself. It is unfortunate and we need to speak to ourselves. People are just abusing a rare opportunity. This is something that is not laughable. It is not what anybody wishes for and in the event that people are hoarding it or selling over 600 or 500 per cent above what they used to sell about 2-3 days ago. We should be our brothers' keepers," the lamented.
He, however, expressed satisfaction with the level of arrangements made so far on the preparedness to tackle the scourge, adding that the health professionals and other members of the incident room and biosecurity laboratory must be commended.
"We have just gone to the biosecurity lab which is the second to none in Africa. It was built in collaboration with the Canadian government. I'm excited with what I have seen. It is a facility that has four levels of power. It has solar energy. The roof you are seeing is all 60KVA solar panel. It has an inverter, it has its own standby generator. It is also on the grid.
"You can see it is a facility that light certainly shouldn't go and the level of research analysis and laboratory activities going on there is comparable to anywhere in the world. They are working in a very safe environment. The staffs there working in the containment environment are very safe. There are biosecurity experts there and professionals of international repute, all working there," Sanwo-Olu said.
The governor, who was also dressed in protective gears alongside his deputy, added that the public would be informed as the event unfolds, assuring Nigerians and Lagosians in particular that everything was being put in place to ensure the scourge was contained as quickly as possible.
"But in the vent that we need to deal with it, we are ready, we have all the machinery, we have all of the skills to be able to deal with it at this level. We will continue to advocate and scale-up advocacy tomorrow and next tomorrow for all the stakeholders that need to be aware," he said.
On personal and environmental hygiene, the governor said: "It's about time we take all these very seriously, it should become part of our life, it is not when we have incident like this or crisis that we will begin to learn how to wash our hands and keep safe, secure environment and how to live healthy."
Sanwo- Olu, while harping on the readiness of the state government to expand the centre when necessary, said: "We have 100 beds here in ward 1, 2 and 3. And in the event it scales up, we even have tents that we can immediately deployed. We also have containment in 5 of our big General Hospitals that we are going to be prepared in the event that we just have a wider number of patients that we need to deal with."
The governor disclosed that the state was collaborating with WHO, UNICEF and other international donor agencies, saying that research would be carried out in the laboratory for the possible discovery of the cure for coronavirus.