Since 2015, residents of at least six areas within Saki metropolis in Saki West Local Government Area of Oke-Ogun, Oyo State have, been experiencing strange sounds like the blast of a rock. The incident became worrisome around two months ago when its timing increased. Chief Reporter, TUNDE OGUNESAN, who visited the scene of the incident, reports.
FOR close to two months now, most residents of Salam Salam, Balako, Ogbooro road, Abimbola layout, Medina area, veterinary and Daresala areas in Saki town, Saki West Local Government Area of Oke-Ogun, Oyo State have been living under palpable fear of an unexplainable sound within the areas.
The sound at the moment which is being linked with earth tremor that reportedly occurred for the first time sometime in 2015, around Veterinary area of Saki. Then, those who first experienced it could not explain what it was. Ironically, their stories, which seem "unbelievably" died a natural death.
In a crude manner, the only explanation they could mum up was that the strange sound usually comes like that of the blast of a rock. The affected residents however have different accounts to give. Their wives and children who spend more time at home had more gory stories to share.
In their separate narrations, they said series of researches had taken place. Nigerian Tribune gathered that the residents, in their opinions, attributed the probable causes to too many boreholes in the area. Others informed that they were told that it was as a result of hot water generated by heat, before rain, from their boreholes. But during the rainy season, they said it subsided, lending credence to the fact that heat might have something to do with it as speculated.
In contrast, few weeks after the rains, the sound re occured, forcing the residents to turn to God for divine intervention. Since then, the residents have been living in fear, with the belief that it will subside naturally, relying on the spiritual power of prayer.
To them, God has been answering their prayers, especially when the "mystery sound has become a general problem", but on the evening of Tuesday June 21, around 7.40pm, nature, itself granted the power by the same God came alive again. And this time round, it became unbearable as the sound became louder and heavier, thus causing more fear in the residents.
According to one of the residents, who is also the Chairman, Muslim Hospital Area II, Rasak Akande, a.k.a Show them, in an interview with the Nigerian Tribune,the sound was thunderous.
Mr Akande informed that at the initial stage, they mistook the sound to that of bombs mostly used by miners to blast rocks. But he said they were amazed because the miners usually come to inform them before they embark on such exercise, and was quick to add that its re-occurrence showed that they were wrong.
According to Akande, "We were proved wrong at the initial stage because we thought it was that of rock blasting, but it came out not to be. The first thing we noticed was that it happened in the dead of the night. I have had more than four experiences and the sound travels more than a kilometre. At the initial stage, we used to run out of our residences to confirm where the sound was coming from, only to discover that same thing applied to other neighbours. At that point, we knew that something was wrong.
"With that experience, we took our case to Saki Parapo Association, which in turn as a mouth piece of all Saki people and residents, took a save our soul message to the office of the Caretaker Committee chairman of Saki West Local Government, Alhaji Kareem Adegoke, who in turn reported the matter to the state government," he said.
Furthermore, Messrs AbdulRazak Agbede, Gbadamosi Jimoh who is a retired Permanent Secretary, Teaching Service Commission  (TESCOM) zonal office Saki and now Chairman Afote area and Baale Abimbola area, Fatai Mopelola all corroborated Mr Akande's story. However, they added that the incident had become a source of worry for the residents.
A housewife living within the axis, who had been living in the area for over nine years, Mrs Aolat Gbadamosi revealed that when the sound first started, it almost turned the neighbours against themselves, especially those living in storey buildings.
On his experience, Alhaji Mohammed Ahmed, a panel beater said the Tuesday, June 21 experience left his family members scampering for safety.
He said "On that day, I wanted to switch off my power generating set when the sound came again. Despite that I was closer to the generating set, the sound was louder that I couldn't hear that of the generator again. And before I knew what was happening, my wife and children who were already asleep had woken up and were running helter skelter. So far, we've experienced the sound over 50 times. And you know the most bizarre thing is that it's spreading to other areas now. It started around Veterinary area, in 2015. And whenever it occurred, you will feel the vibration while standing on the ground while some houses on the rock do also vibrate."
Before June 21 strike, it was gathered that both the Deputy Speaker, Oyo State House of Assembly, Honourable Abdulwasi Musa and a member, representing Saki West/Saki East and Atisbo at the House of Representatives, Olajide Olatubosun, FCA, had presented the case at their various assemblies.
Olatubosun, in a letter dated June 9, 2016, addressed to the Speaker, House of Representatives, Honourable Yakubu Dogara and titled "matter of urgent public importance (standing Order VIII rule 46) urgent call on the federal government to investigate the persistence earth tremor currently being experienced in Saki, the headquarters of Saki-West Local Government Area of Oyo state.", called the attention of the House and federal government to the "persistent vibrations/tremor in Saki."
He also alerted that "anytime the earth vibration/tremor occurs, the building and other physical structures in the affected areas will shake violently and has created a large army of Internally Displaced Persons (IDPs) who had vacated their homes, farmland and their places of business.'
He further added that the "attendant social dislocation has brought untold hardship on my people as thousands of people are already cut-off from their homes and sources of livelihood."
In his appeal to the House and committees affected, Olatubosun wants the House to "M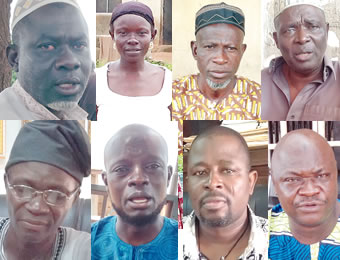 andate the National Emergency Management Agency (NEMA) to urgently provide Camps and relief materials for the Internally Displaced Persons so as to ameliorate their suffering; urge the Committees on Emergency and Disaster Preparedness and Environment and Habitat to liaise with the Federal Ministry of Environment and other relevant Agencies to investigate the immediate and remote cause(s) of the earth tremor and conduct an Environmental Impact Assessment in the areas affected by the tremor and report back to the House within one week for further legislative action and urge the Committee on Legislative Compliance to ensure that the above resolution(s) of the house is complied with."
Irrespective of the technical analysis of the situation, the situation had already had victims. A woman, Alhaja Wulemotu Ayinke, around Salam Salam area, who was reported to be hypertensive was alleged to have died as a result of the incessant sound. Furthermore, a house along Abimbola layout had also collapsed halfway.
One of the occupants of the house, Mrs Ajara Ahmed told our correspondent that she was already preparing to move out of the house. She said since "the sound has refused to cease and nobody has come out to tell us any tangible story, and with the status of our house, we're ready to leave this house."
The incessant sound was also confirmed by Alhaji Razak Agbede at Ogbooro road, who revealed the various steps so far taken by various heads of the affected community to help the situation.
The Caretaker Chairman, Saki West Local Government, Alhaji Kareem Adegoke noted that "in the first place, the local government made official report to the state government while the state emergency team sent a team to investigate. The team came and conducted an inspection around the places with an equipment to detect what was happening. Also, they invited the National Emergency Management Agency (NEMA) and inspected the place. But during their five-day visit, the incident did not happen. Immediately they left for Abuja, the sound persisted up to five times a day."
Before the June 21, it was gathered that a team of experts, among led by Dr Abraham Adepelumi from Geology department, Obafemi Awolowo university, Ile-Ife, Osun state, Oyo State Emergency Management Agency and NEMA from Abuja/Lagos came to inspect and conduct a preliminary investigation on what is actually happening in Saki, but within the two weeks that they were in Saki, nothing happened.
The Bagi of Saki, High Chief (Alhaji) Abdur-Rasheed Ghazal Adegoke Olasunkanmi, Adekilutoro, said the matter became worrisome when residents started relocating from their original residence. He however appealed to the people of the community to put their trust in government's word at being on top of the situation.
The residents further informed that few days after they had left, the sound then returned on Tuesday June 21, a situation which warranted a state delegation paying a facility visit to Saki 24 hours after, by the newly appointed Commissioner of environment and Water resource, Chief Teju Ishola.
During the visit, Chief Isaac Ishola visited the scene with some experts from the ministry on an on-the-spot assessment facility visit. He appealed to the residents to remain calm, assuring them that all hands were on deck to avert any environmental hazard in the state. He said "Let me assure you that this visit was to have an on-the-spot assessment to ascertain the earth tremor and proffer adequate solution to forestall hazard in the zone. Let me tell you findings so far by the experts revealed that the sound is just a fore-shake which cannot lead to earthquake. Please, be calm as both the state  and federal governments are working to put things under control."
But some of the residents were of the opinion that government had been slow in its approach. To them, their lives were taken for granted when they learnt that the seismic machine to determine the actual occurence cannot be purchase by the state government.
Alhaji Keulere Ojuolape of Salam Salam area, Ogbooro road while corroborating the tremor sound validly declared that the sound had been on for over five years, but said they never knew that it was such an alarming case. He however fumed at the explanation on the purchase of seismic machine as he was told was mentioned by the state delegation team.
However, the leader of a Geodesy and Geodynamics and Geodesy (CGG), Toro, Bauchi State's team to Saki, Dr Adepelumi Adekunle Abraham, said the tremor was a signal to an impending disaster of an earthquake in four year's time, precisely before 2020, in South Western Nigeria.
Till date, Adepelumi has three recent reports on earthquake analysis which has called the attention of the authority to an impending danger in South-West region within the next four years.
First is a "preliminary interpretation of the September 11, 2009 earthquake in Abeokuta environs with Mw =4.2"; submitted on September 29, 2009, a "Short-term probabilistic forecasting of earthquakes occurrence in South-western Nigeria", and a Preliminary assessment of earth tremor occurrence in Saki area, Saki West Local Government, Oyo State."
He has also co-authored two other articles on earthquake published by International Journal of Scientific and Engineering research, volume 5, issue 10 in 2014, published in an open journal of Geology also in 2014. The two articles are "The review of seismicity of central mid-Atlantic fracture zone" and "An evaluation of September 11, 2009 earthquake and its implication for understanding the seismotectonics of South-Western Nigeria" published online on www.scrp.org in 2014.
In a preliminary report of the tremor in Saki, submitted to the Director, Center for Geodesy and Geodynamics and Geodesy (CGG), Mr. Yakubu Tahir Abubakar, and titled "Preliminary assessment of earth tremor occurrence in Shaki area, Saki West Local Government, Oyo state", Dr Adepelumi  said "Our findings show that the earth tremor that was experienced in the Shaki area is a series of fore-shock, main-shock and after-shock of a small scale earth-tremor with local magnitude 2.5 on the Richter scale that originated along the Ifewara, Romanche and Charcot fault system in the atlantic ocean that passed through Saki town.
In his position, the Head of Department of Geology, University of Ibadan, Ibadan, Nigeria, Professor Moshood Tijani called for international collaboration, especially with the United States geological survey for proper monitoring of the situation.
Professor Tijani said "I know US Geological survey if there is any earthquake in any part of the world, no matter how small those small movement is, they have an instrument that will pick it in US – that at a particular time, something shake the ground."
He said that the situation in Saki is that "there is a fracture zone that passes through Saki which we know before and terminated around Iseyin areas. And that is why there are some special types of rock in that area environment that is not in other parts of the state which we call sienite rock, so we think the tectonic favour that one. And most of these fault lines they are fault lines that are deep seated in the ocean. We have about three or four of those fault lines. Our suspicion is what is happening is like a reaction to something happening in the ocean. And those fault lines extend inland, even to part of Ijebu-Ode and part of Abeoukuta which was a reason for that time Ijebu-Ode tremor and sort. It is like something is likely to be happening in the Atlantic Ocean and when something happen, you have the shock wave and the shock wave will move outward. If there is no any brickwall that will stop or return the shock wave, it is the weak zone that transmits shock wave. So, we feel those fractures are shock wave are dissipating through the fault zones and causing that noise below as if something is trying to move. To me, it is still a low level of movement that has not triggered to the level of tremor.