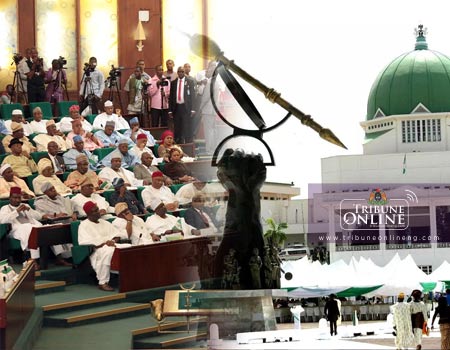 A political scientist, Dr Gbade Ojo has remarked that the National Assembly might be creating more problems for the nation with the ongoing constitutional amendment, describing the exercise as putting the cart before the horse.
Ojo who rendered this view while interacting with Tribune Online, argued that the ongoing review should have been preceded with the lawmakers convening an open forum where constituents, informed experts and other stakeholders identify the key issues in the constitution that should be addressed.
Speaking on the need for devolution of powers, he noted that the reassigning of responsibilities from exclusive to concurrent or residual list should be backed by a review of the revenue allocation formula.
He decried that the federal system being operated in the country was over-centralised, asking that primary education, harnessing solid minerals be the exclusive preserve of state governments.
This is as he said that scrapping the State Independent Electoral Commission and tasking federal government with the duty of conducting local government election would further centralised the nation's system.
"This is the only country where the federal government is interested in primary education, through the Universal Basic Education Commission (UBEC). What is the business of the federal government about the number of primary schools in my locality or state?"
"But devolution of powers goes beyond moving items from the exclusive to concurrent or residual list. The basic rule in a federal system of government is that when you move from exclusive to either concurrent or residual, it must be with financial backing."
"For any tier of government that new responsibilities are reallocated to, that tier must be given more money, in terms of adjustment to revenue allocation formula, or more power to generate revenue. If you do not adjust revenue allocation formula, power has not been devolved."
"So, devolution of powers is ideal, but we should tell our parliamentarians that you must not devolve power without devolving finances."
---
Speaking on local government autonomy, Ojo expressed fears that the third tier of government would still be unable to fulfil its duties such as payment of teachers' salaries and pensions, infrastructure, refuse collection, running of clinics, despite autonomy.
Furthermore, Ojo said the local government system was immature for autonomy, could not generate enough Internally Generated Revenue (IGR) hence would collapse in six months.
According to Ojo, abrogation of Joint Account Allocation Committee (JAAC) was not solution to the functionality of local government but that statutory allocation to states and local government.
"When local governments become absolutely autonomous and more so, they cannot generate enough Internally Generated Revenue, the system will collapse within six months. Cancellation of JAAC is not the solution but adjustment to statutory allocation."
"We have a lot of problems confronting the local government system that should interest the National Assembly than rushing and giving half-hearted solutions. They should not create more problems than they are trying to solve."
"The Nigeria Union of Local Government Employees (NULGE) needs more enlightenment before calling for autonomy. Today, local government are entitled to just over 20 percent of the statutory allocation and we have 774 local government areas in the country, and they are expected to perform all function of local governments, without sufficient allocation."
"What I can say is that by the time it gets to States Houses of Assembly, it will be extremely difficult for the National Assembly to get two thirds of the state houses of assembly to cooperate. This is because there is no state governor that does not know the hell they pass through in running local governments." "However, if JAAC is abrogated and local governments are given absolute autonomy, good luck to the local government system. If JAAC is allowed to continue, the fear in some quarters is that state governments abuse the funds of local governments, which I find it difficult to believe," he said.