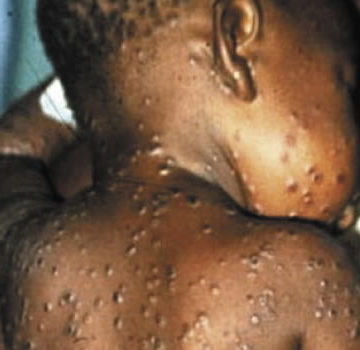 THE World Health Organisation (WHO) Regional Laboratory in Dakar, Senegal has finally confirmed three cases of Monkeypox virus in Nigeria; the Minister of Health, Prof, Isaac Adewole revealed on Monday.
The three confirmed cases were from the 17 cases reported from Yenagoa Local Government Area in Bayelsa State. Two of the 17 reported cases were still awaiting confirmation, while 12 have been confirmed negative.
Giving an update of the outbreak in Abuja, Prof Adewole said a total of 43 other suspected cases have been reported from eight other States; out of which four from Lagos State have also been confirmed to be negative for Monkey pox virus.
With the laboratory evidence, he stated that many of the cases being reported from other states in Nigeria are not caused by the Monkey pox virus.
The Minister said: "On the 22nd of September 2017, the Nigeria Centre for Disease Control (NCDC) received a report of a suspected case of Monkey pox virus disease from the Niger Delta University Teaching Hospital (NDUTH), Okolobiri, Bayelsa State. The Bayelsa State Ministry of Health initiated an outbreak investigation and response, supported by a team from NCDC, which was immediately deployed to the state.
"As at 13th of October 2017, there were 17 suspected cases reported from Yenagoa LGA in Bayelsa State. We have received laboratory confirmation for Monkeypox virus from three of these cases from the WHO Regional Laboratory in Dakar, Senegal. Samples from 12 other cases from Bayelsa were negative.
"With these results, three suspected Monkey pox outbreak in Yenagoa has been confirmed with laboratory evidence. The most likely source of infection is a primary zoonotic transmission, from an animal, with secondary person-to-person transmission.
"Since our initial announcement, a total of 43 other SUSPECTED cases have been reported from eight other States (Akwa Ibom, Cross River, Ekiti, Lagos, Enugu, Nasarawa, Rivers, and FCT).
"Of these, four cases from Lagos have also been tested and confirmed to be negative for the Monkey pox virus. We expect that many of these cases being reported from other states in Nigeria are not caused by the Monkey pox virus, but we will continue to investigate all those cases that fit the case definition."
He, however, stated that further laboratory tests using whole genome sequencing are being carried out by the Africa Centre for Genomics and Infectious Diseases in Redeemers University Ede, Ogun State.
"Monkey pox is largely a self-limiting disease, from which all suspected patients that have been reported to date are doing well clinically. Even before this confirmation, all the necessary public health measures have been put in place and will continue to be implemented.
"The Federal Ministry of Health through the Nigeria Centre for Disease Control has established an Emergency Operations Centre and will continue to co-ordinate the response across States and test samples from other cases.
"NCDC will also continue to support all states in their response and will keep the public informed as the situation evolves." The minister added.
According to him, measures that can be taken to prevent infection with Monkey pox virus include avoiding contact with squirrels, rats and similar animals, especially when these animals are sick or found dead in areas where the Monkeypox virus is circulating.
He advised Nigerians to always wash hands with soap and water after contact with animals or when caring for sick relatives.
On the symptoms, Adewole said: "The Monkey pox begins with fever, headache, muscle aches, and exhaustion. Monkey pox causes lymph nodes to swell (lymphadenopathy) and the incubation period (time from infection to symptoms) for monkey pox is usually 7-14 days but can range from 5-21 days."
He also advised Nigerians to remain calm and supportive of public health authorities, avoid self-medication and report to the nearest health facility if feeling unwell or notice any of the above symptoms in anyone around them.
He added: "It is important to note that there has been no confirmation of Monkey pox in any other part of the country, and it is likely that many of the other cases being reported are not caused by the Monkey pox virus. Nigerians should continue to be vigilant at all times.
"Health care workers are strongly advised to always practice universal precautions while handling patients and/or body fluids at all times. They are also urged to be alert, be familiar with the symptoms of Monkey pox and maintain a high index of suspicion."
He advised that all suspected cases should be immediately reported to the Local Government Area or State Disease Surveillance and Notification Officers.