Clerics must be spirit-filled, always careful—Akinade
Pastor Joseph Akin Akinade is the assembly pastor of the Christ Apostolic Church (CAC), Lion of Judah, Ibadan, Oyo State. In this interview by SEYI SOKOYA, the cleric, who just clocked 50, speaks on his greatest achievement in life and take on Christianity in Nigeria.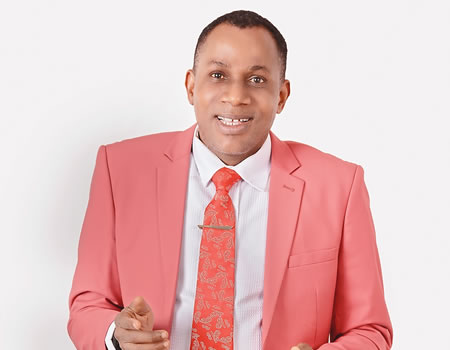 You just clocked 50, going down the memory lane, what is your experience like, in life and the vineyard?
I thank God for everything and His grace upon my life, family and the ministry. I am grateful to Him for the grace to attain age 50 in sound health. It is a good thing to celebrate God's faithfulness in one's life, but I am a freak for tying age to achievements. I believe in the grace of God. I am contented with what God has done with my life. My greatest joy is that I am in peace, and I have a peaceful home and the work of God is flourishing. I have seen and encountered a lot of things in the last 50 years. The journey has been interesting; I have had the good, the bad and the ugly. My life, as a husband, father and cleric has been a successful one through divine grace. I never knew I would end up in the vineyard, because the humanness in us is  our ignorance of God's plan for our lives. I cannot thank God enough for making me one of His vessels in the vineyard.
What is your experience so far in the vineyard?
There is no cleric that would not have something to say about this. Mark you; we should not forget that we are all human. The church is a collection of different individuals from different families and tribes. People are unpredictable, so, clerics need to be very careful and always be spirit-filled. It is a good thing that Christianity in Nigeria is doing great. We are a great influence towards the progress and unity of the country. Nigerian Christians are known to be the leading firebrand and we have numerous signs that show that God loves this country. We will not relent in our efforts for God to take full charge of the affairs of the nation and the entire world.
What would you have been doing if you were not a pastor?
I would have become a great musician. I was a musician before I met my wife. Though we sang together, I eventually sacrificed my career for her. I chose to be at the background and fully support her career. We performed together at Reinhard Bonnke's crusades in Nigeria. I never regretted my decision. Instead, God divinely redirected my footsteps to my parents' covenant with God. My mother told to me that she went into a covenant with God after she experienced stillbirth five times. She said she went into a covenant with God that if He allowed her children to survive, all of them would serve and work in the vineyard. None of us ever knew that we were covenant children. So, God answered her prayers and saved all her children. All my siblings are clerics. Even I, the last child, eventually became a pastor despite my initial refusal.
In fact, my mum, who had been ill for months, responded to treatment and expressed her delight on the sickbed when she heard the news that I was ordained an assembly pastor, before she passed on much later on July 2, 2017. I am convinced that she was fulfilled. A cleric, who came to pray with us, even confirmed it. He said: "Three angels were waiting for her, but she pleaded with them that she had an unfulfilled assignment," without knowing it was because of my calling. So, if not for the covenant, I would have pursued a career in music. I am a multi-talented musician. I am also an instrumentalist: I play drums, keyboard, and various other kinds of music instruments. Music is my line. So, I transferred all my professionalism to fully support my wife's music career.
So, you have dumped music?
Yes, it will be irresponsible of me to flaunt my music talent alongside my wife, since she has the talent and she is doing great with it. Instead, I gave her my uttermost support so she could excel in the gospel music industry.  However, I still have the talent; I do sing and preach at ministrations to which I am invited.  In fact, any church that invites me knows that they hardly need any gospel music minister, because I fit into both a minister and a musician. God blessed me with the gift of word, prayer and praise. So, I use the three gifts to His glory.
How have you been able to manage fame as a popular pastor and husband of a popular gospel musician?
This is not fame, mind you. It is a call to serve and do the will of God. It is stressful, but with God, all things are possible. Also, God has blessed us with good, loving and understanding children. They perfectly understand our calling and have a clear understanding of our frequent outings, especially at the time they need us most. This is why we always give our best whenever we are around, and make up make for our all-the-time absence.
You have had many experiences and God has given you the grace to see many years, what is the major thing life has taught you?
The first and greatest thing life has taught me is to never rely on human beings, irrespective of our relationship, because even someone close to one can disappoint one, but God is the only one that doesn't disappoint. This is why I have clung to Christ alone. The second thing is that it is only in Christ that there is power, one that has no expiry date. Every other power fails and expires. The third lesson is that I have learnt that you don't have to wait until a particular age before attaining certain achievement. Do whatever you have to do in time inasmuch as God gives you the grace to do those things. In a nutshell, don't live someone else's life; be yourself.
In recent times, the rate at which people commit suicide due to depression is alarming, as a cleric, what can you say about this?
The first thing to know is whoever kills him/herself will not make heaven. Life is a war front, and this means that in life, we are in for battles. Someone sometime ago asked me why God sent the devil to earth and I replied him that the devil is on earth to teach people lessons. And it is only those that overcome him that will have eternal life. If there is no devil, people will not be close to God. What brings most people to church is the problems of life. The devil is the only temptation we have and it is only those that pass that will reign with the Lord. Someone once came to me and said immediately he left my place, he was going to kill himself. It was during my interaction with him that I got to know that it wasn't that he wanted to die, but that he lacked money. Why would you kill yourself? The fact that you don't have today does not mean you won't have tomorrow. Those that don't have God are those that commit suicide.
But it is not only the lack of money that causes depression. Even misunderstanding between couples has led to it?
I know, but it is only those that do not believe in God that do that. Truly, there are problems. Jesus told us we will face troubles and tribulations here on earth but that we should not be bordered because He has conquered the world. So, my advice to people out there is that they should have faith and believe in God. All is well by confessing good things to yourself. God works by faith.
What is your aspiration in the next 10 years?
I have lots plans for my life, including the growth of the vineyard. I have centered my life on doing the will of God and impacting lives positively. God willing, I am planning to take my ministry beyond the shores of the country. This is one of my biggest dreams in life. I want to be one of the clerics that desire to adhere to God's ordainment on the propagation of the gospel according to Matthew 28 VS 19-20: "Therefore, go and make disciples of all nations, baptizing them in the name of the Father and of the Son and of the Holy Spirit, and teaching them to obey everything I have commanded you. And surely I am with you always, to the very end of age." I want to establish my ministry abroad. Also, I want to establish a foundation for the underprivileged. As a cleric, I have seen what many underprivileged people go through in our society. I just feel I need to do my own part to raise the hopes of many.