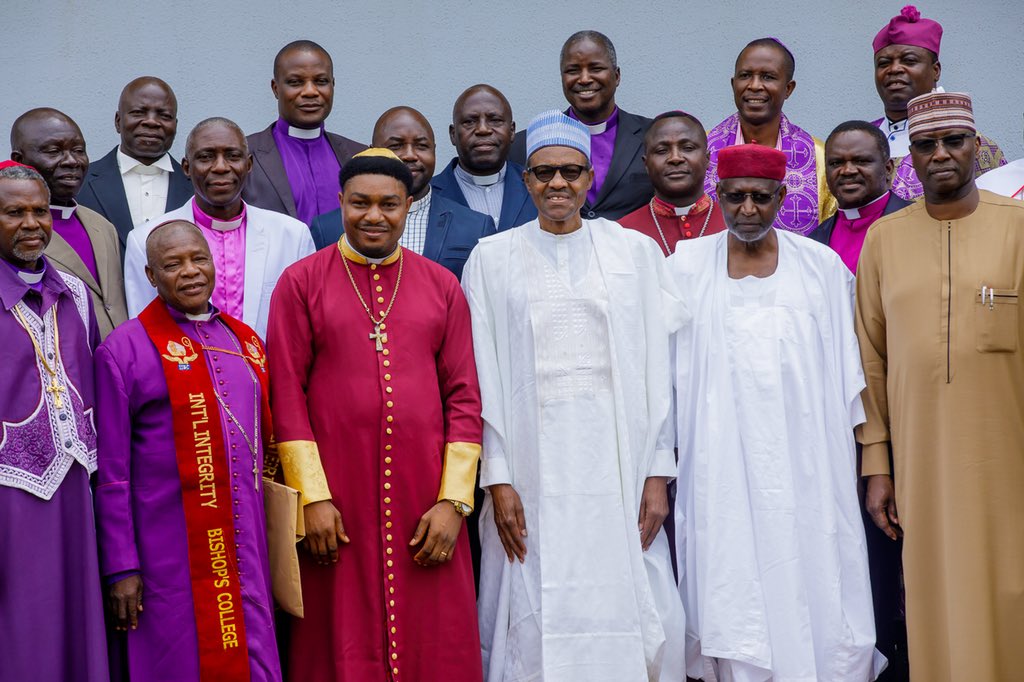 A group of clergymen under the aegis of Arewa Pastors Peace Initiative, Nigeria (APPIN) met with President Muhammadu Buhari at the presidential villa, Abuja on Thursday, telling him that churches were being used to promote hate speech and violence.
They, therefore, sought inclusion in security architecture to enable them to tackle their colleagues which the group said were being used to promote hate speech and violence.
His Lordship, Bishop John Abu Richard, National Chairman
Arewa Pastors Peace Initiative, Nigeria (APPIN) and Presiding Bishop, read a prepared speech on behalf of the group.
In their list of demands, the group said: "That you support our 5 thousand Arewa pastors peace and unity National delegate prayer congress at the eagle square on Thursday 26th April 2018.
"We will want His Excellency to link us with the relevant security agencies in our crusade for peace and fight against hate speeches and those dark walls that separate us as we will network with our counterparts from the East and West to hand over those of our colleagues being used by the enemies of our togetherness to inject confusion and false stories into the public space resulting to the destabilization of peaceful co-existence we were enjoying in the country."
They also defended the president against allegations of having Islamisation agenda for the country, noting that if he did not do it as a military head of state, he will not do it now.
The pastors accused the opposition of being behind the propaganda to tarnish the president's image.
It praised the president for the effort of his administration especially in the areas of agriculture, fighting corruption and insecurity.
Bishop Richard said: "Your Excellency, we the 19 Northern States pastors under the New platform called the Arewa pastors Non-Denominational initiative for peace in Nigeria believe in your leadership and we are here to let you know that we are fully standing by you and your government to ensure that you succeed and peace is restored to every and corner of the country.
ALSO READ: Fight against corruption most difficult task of our agenda —Buhari
"And to counter those deceiving and poisoning Nigerians with fake news to destroy your good intentions for the country especially those giving the impression that you are against Christians and some ethnic groups in Nigeria which is a big lie for instance:
"Some Pastors using places of worship to preach hate. People using Church to preach violence. If you preach war and war broke out who will go to Church for worship."
On the Islamization agenda, the pastors posited: "We believed that Mr President has no Islamisation agenda in Nigeria, because if he cannot do it as Military Head of State with a Muslim Deputy Head of State, how can it be done under a Democratic government.
"This is just an opposition propaganda, about the killings around the Country, we observed that it is not only Christian that is the victims, both Muslims and Christians are affected, and the Government is doing everything possible to solve the problem.
"What we need to do is to come together as a people to support our government in other to bring to an end to this circle of violence and we assure Your Excellency that we will co-operate in exposing any information that will be available to us as regard to the perpetrators."
The pastors congratulated the president "and ourselves and give all the thanks to the almighty God" for his good health, saying that they prayed for his full recovery during his health challenges as they saw him as God sent.
According to the clergymen, "we congratulated ourselves also because during your health challenge we knowing you to be the God-sent timely leader to rescue and restore Nigeria back to her pride, fasted and prayed with over one thousand Archbishops, Bishops, Pastors and Evangelist for God to show you mercy and heal you."