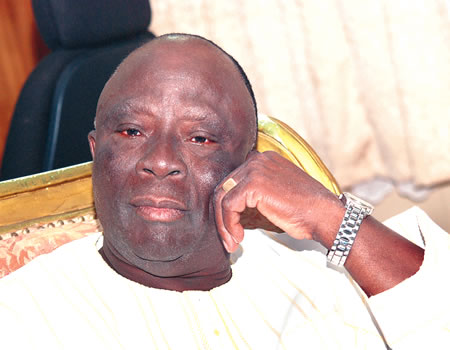 BY  the time you are reading this, one of the most loyal and dependable supporters of Papa Obafemi Awolowo, Chief Ayo Adebanjo, would have clocked 90 years on earth. At Ogbo in Ijebuland this week, a service and a party were held to mark this great man's birthday. All roads led to Ogbo and many people turned out to honour this great man of history.
I say it indeed that Chief Ayo Adebanjo is a great man. An Awoist to the core and a Nigerian patriot who loves his fatherland very dearly. A lawyer by profession, Chief Ayo Adebanjo will forever be remembered as a politician who never at any time sacrificed his political principles on pots of porridge.
In the First Republic, he was a frontline member of the Action Group (AG) put together by the late Avatar, Papa Obafemi Awolowo to advance the struggle for the independence of Nigeria. Chief Adebanjo was one of the party's most active organizing secretaries that served under the leadership of the late Papa Chief S. J. Oredein of Ogere in Remo division of Ogun State. That was at a time the country had what could be said to be Political Parties.
When the A.G crisis broke out in 1962, Chief Ayo Adebanjo was right at the centre of it. The persecutors of Papa Awo and the A.G descended on all Awo supporters in an attempt by them to obliterate history. Chief Ayo Adebanjo moved to Kwame Nkrumah's Ghana in exile. The Convention Peoples' Party (C.P.P) led by Osagyefo Kwame Nkrumah received Chief Ayo Adebanjo warmly. Chief Ayo Adebanjo lived in Accra Ghana for some years where he worked in the Ghana Broadcasting Corporation.
In 1966, after the February 24 coup against Nkrumah in Ghana, Chief Adebanjo, the late Chief Samuel Goomsu Ikoku, a foremost Secretary of the Action Group, were returned to Nigeria and straight they went into detention under the headship of General Yakubu Gowon. Chief Ayo Adebanjo and S.G. Ikoku were detained at Kirikiri prison for some years before being released by General Gowon.
I say it again that Chief Ayo Adebanjo is a man of history. His life radiates fully the Nigerian struggle for justice to the oppressed and freedom for all. I have always raised the alarm on this page to Nigerian governments that have not been fair in the way they give out national awards to some of our citizens. Definitely, we have not been fair in the way that some deserving Nigerians like Chief Adebanjo and Senator Ayo Fasanmi have not been awarded national honours in their progressive struggles for Nigeria.
These two men (Adebanjo and Fasanmi) apart from being socialist Awoists, have always served the cause of humanity. Chief Ayo Adebanjo remains a repository of the long history of the Nigerian people's struggle for political emancipation and economic justice. The struggle to wipe out corruption in Nigeria was given character by Senator Fasanmi in the 60s. These men must be honoured by their country in recognition of their positive contributions to the development of Nigeria.
They are not begging for recognition from anyone. They are great Nigerians who in their own rights deserve to be honoured. Chief Adebanjo is one who never spares anyone that he feels has over crossed the progressive line of his beliefs. I received heavy tongue lashing from Chief Ayo Adebanjo when I went to serve in the General Sani Abacha military government.
I did not hold all these against him because I knew Chief Adebanjo could do same to his own offspring if he considers them to have over-crossed the line. It is a pity that illness had debarred me from participating in all activities lined up to mark this great man's 90th birthday events. I respect and love him fully. Adebanjo's colleagues in Nkrumah's CPP include Komlah Gbadamah, Tawiah Ademafo, John Tettegah, Kofi Baako, Kodwo Addison etc.
After the military regime headed by General Ankarah, Major AkwasiAmansaAfrifa and Colonel Kotoka had handed over Chief Ayo Adebanjo, and S.G Ikoku to the Nigerian authorities, there was a coup in Ghana led by Lieutenant Arthur, Lieutenant Yeboah, and Lieutenant OseiPoku. The coup was code-named "OPERATION GUITAR BOYS". The abortive coup justified Kwame Nkrumah's position in granting political asylum to Ayo Adebanjo and co.
Chief Adebanjo is today ninety years old. He will remain a great man forever. I am happy, however, that my friends were all there. These are YemiOgunbiyi, Olu Ademulagun, 'Lekan Fadina, 'Tunji Ayanlaja, Prince Tola Sotinwa, YemiAdefulu etc.
I am glad that we still have in Nigeria today of the following leaders who were supporters and loyalists of our leader and father Papa Obafemi Awolowo, Chief Ayo Adebanjo, Alhaji Lateef Kayode Jakande, Chief Fasoranti, Professor Banji Akintoye, Professor David Oke and Senator Ayo Fasanmi. God will continue to bless and guide them in the most decisive closing chapters of their lives.
Chief Ayo Adebanjo is well loved by all those who believe that Nigeria must progressively move forward.
May God continue to bless him! Amen!!
Political Panorama and Ebino Topsy
Many people will wonder that Political Panorama is still going on long after I had announced on my 75th birthday two months ago of my desire to wind up the column. I said at that time that Political Panorama will stop publication after the completion of the serialisation of the Wale Adebanwi book on Mama H.I.D Awolowo.
We are now approaching the end of the serialisation. Mama deserves all the support we can give to her for she was a pillar that ever-strengthenedPapa Obafemi Awolowo's political struggles.
By the end of May, the serialisation of the Wale Adebanwi's book would have been over. There is still one more Political Panorama that I will want to write before the series end.
I would never have considered closing up the Political Panorama if not for the fact that glaucoma is now virtually closing my eyes. You, my readers, have all been wonderful people. I certainly love you all! Whatever however has a beginning must surely have an end!!
I have a piece that I beg God to give me strength to write on Dayo Abatan at 79 before I finally throw in the towel on Panorama.
May the peace of the Lord that transcends all human understanding be with you all!
EBINO TOPSY – 0805-500-1735 (SMS ONLY PLEASE)
NEXT WEEK
WALE ADEBANWI ON MAMA HID
(BOOK YOUR COPY IN ADVANCE)