Building on ideals of Awoism
Aare Afe Babalola OFR, CON, SAN, President and Founder, Afe Babalola University, Ado-Ekiti and winner of the 2018 Chief Obafemi Awolowo Prize For Leadership, delivered the lecture at the Awards Ceremony, held in Lagos last Wednesday.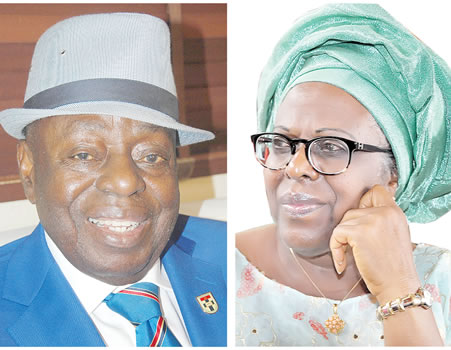 CONTINUED FROM LAST FRIDAY
Failure of successive governments in Nigeria to sustain agricultural expansion, economic emancipation and liberty of the Nigerian people is closely intertwined with the rise of instability, insecurity and violence in the country. The most unsafe countries on earth are home to a significant concentration of the poorest and hungriest people. For example, Sub-Saharan Africa is home to most of the most dangerous cities in the world which are found in Somalia, Libya, Democratic Republic of Congo and sadly Nigeria. For the 10th successive year, Nigeria is ranked in the top 20 of the most dangerous countries on earth. Poverty in Nigeria has breeded desperation, which has in turn entrenched chaos, insecurity and anarchy. Nigeria's poorest are hungry, angry and desperate; and have easily embraced thuggery, militancy and terrorism.
On the other hand, the most peaceful countries on earth are the richest countries in terms of economic opportunities and welfare. Canada, Iceland, Norway, New Zealand, Austria, Portugal, Denmark and Qatar are ranked as some of the most peaceful countries in the world. Similarly, for the 10th successive year, Europe remained ranked as the most peaceful geographical region in the world. These statistics show a direct correlation between economic emancipation and national security. With Nigeria being recently ranked as the poverty capital of the world, the country is on the dangerous path to soon becoming crowned as the crime capital of the world, unless something drastic is done to liberate our people from poverty.
This is a principal reason why I have consistently advocated for the respect, protection and fulfillment of the people's right to decent standard of living in this country. Decent standard of living goes beyond the current clamour for minimum wage. What the people of Nigeria deserve is a living wage that can guarantee their liberty and economic prosperity. For many years, the Nigerian people have endured economic captivity in the hands of the political class who will rather distribute garri, rice and vegetable oil to them during elections, rather than provide them a living wage. Nigeria has one of the lowest minimum wages in the world. The recently celebrated rmnimum wage of N30, 000 ($98) is pitiable when compared to other countries. For example, Luxembourg ($2,100), Netherlands ($1,780), Ireland ($1,800), Belgium ($1,500), France ($1,700) and South Africa ($250) all dwarf the minimum wage that the Nigerian government recently put in place.
As a practicing lawyer, I have for many years advocated that a living-wage is not a privilege or philanthropic gift from government. Rather, it is a fundamental right of every citizen of this country. Article 11 of the International Covenant on Economic, Social and Cultural Rights expressly recognises the "right of everyone to an adequate standard of living for himself and his family, including adequate food, clothing and housing, and to the continuous improvement of living conditions." Similarly, Article 25
of the 1948 Universal Declaration of Human Rights recognises the right of every person to an adequate standard of living. Article 23 also provides that everyone has the right to work, to free choice of employment, to just and favourable conditions of work and to protection against unemployment.
These international human rights instruments require countries to take positive measures to prevent unemployment, underemployment, including removing as far as possible, all causes of poverty.
Despite being a party to many of these core international human rights instruments, Nigeria has perennially failed to respect, protect and fulfill the rights of its citizens to an adequate standard of living. Unfortunately, these basic internationally-recognised rights are hidden away in the non-justiciable section of the Nigerian Constitution. The current constitution, fostered on Nigerians by the military in 1999, unscrupulously placed the economic prosperity under Chapter II called: the Fundamental Objectives and Directive Principles of State Policy. This portion of the constitution indeed graciously and rightly provides that "The State shall direct its policy towards ensuring: suitable and adequate shelter, suitable and adequate food, reasonable national minimum living wage, old age care and pensions, and unemployment, sick benefits and welfare of the disabled are provided for all citizens."
While these are good and robust provisions; Section 6, sub-section (6), paragraph (c) of the same constitution however provides that the judiciary shall have no powers to decide on any issue or question as to whether any act of omission by any authority or person is in conformity with the Fundamental Objectives and Directive Principles of State Policy. This provision makes it difficult, if not impossible, for citizens to sue the government for failing to provide them free education, jobs, food, shelter and security. In essence, like a Greek gift, the constitution, in one breadth contains wishful aspirations or dreams about economic prosperity and, in another breath, takes it away from the citizens. There is an urgent need to modify these archaic provisions and recognize the rights of the Nigerian people to a decent standard of living as an important and efforceable fundamental human right. By so doing, the Nigerian people will have robust legal basis to demand for an enforcement of their rights to welfare in courts, rather than resorting to strike actions and protests.
The Nigeria of my dream is one in which the fundamental rights of all citizens to decent standard of living, food, security, health, education, work, and wellbeing is respected, protected and fulfilled to the fullest extent.
The educational ideology of Awoism
It is a notorious fact that Chief Awolowo was a singular arrowhead and defender of the rights of the Nigerian people to qualitative education. In addition to providing free primary education in the Western Region, Chief Awolowo was instrumental to the establishment of the University of Ife (now rightly known as Obafemi Awolowo University). His vision for OAU was to promote quality university education, character development and spartan self-discipline. As the respected Sage once noted, "Any system of education, which does not help a man to have a healthy and sound body, alert brain, and balanced and disciplined instinctive urges, is both misconceived and dangerous." He also remarked that: "Any people that is starved with books, especially the right type of books, will suffer intellectual malnutrition, stagnation and atrophy."
These lofty ideals and visions of the founding father of OAU, which is to reform and promote qualitative education in Nigeria, are strikingly the same visions and ideals that I have passionately championed and dedicated my entire to.  Like Chief Awolowo, I work tirelessly, to be, and will hope to be remembered as a staunch proponent of University reform in Nigeria; and an ardent defender of the rights of the Nigerian people to qualitative, affordable, and accessible education.
For many years, Nigerian universities have at a geometric rate waned in quality, substance and prestige. Nigerians who taught or attended any Nigerian university between 1965 and 1990 would easily appreciate the extent of annihilation and dilapidation of necessary physical structures and facilities in many of our universities. A combination of infrastructural decay, lack of adequate funding, dearth of qualitative practical training curriculum and inability to attract the best teaching minds have all stagnated our universities to the current appalling point whereby QS World University Ranking and other global rankings that rank universities based on facilities, programme and instructional content, perennially fail to rank or mention a single Nigerian university in the top 1,600 category. For many of us, this situation was an unbearable dishonor to the legacy of Chief Awolowo that required urgent and aggressive turn around.
It was the commitment to play a role in reforming Nigerian educational system that spurred me to initiate diverse reform programs during my tenure as the Pro-Chancellor and Chairman, Governing Council of the University of Lagos. Many of the achievements we recorded during that period have been lauded globally and remain a reference point till today, including being adjudged twice as the best Pro-Chancellor in Nigeria.
Establishment Afe Babalola University, Ado-Ekiti (ABUAD)
This same vision led me to establish Afe Babalola University in 2009. Since 2009, ABUAD has grown astronomically in reputation and has won several national and international awards and recognition as the fastest growing university in Africa and as a shining beacon of university education in Nigeria. The reforms we embarked on at ABUAD cut across curriculum development, practice-based learning, funding, teaching, research and entrepreneurial and vocational skills. Consequently, just eight years of existence, ABUAD has been recognised by the Nigeria Universities Commission (NUC) as "a model, benchmark and reference point for other universities" and also as "the pride of university education in the country".
In a personality lecture in honour of our fathers, our role models, foremost educationist, courageous nationalist and great Nigerians delivered by Professor I. A. Olaoye, Professor of History and International Studies and Director, Centre for Archives and Documentation, University of Ilorin, the professor acknowledged the immense contribution of the Chief Obafemi Awolowo Foundation. He said, "One cardinal philosophy of the Obafemi Awolowo Foundation is to preserve and nurture the legacy of education of the late sage to fruition. In this regard, the hope of a rewarding education system in future is not lost. In the same vein, the gigantic stride of our father and mentor, Chief Aare Afe Babalola, in the establishment of Afe Babalola University, Ado-Ekiti, is an indication that there will be light at the end of the tunnel. Although, I have not been to the university, but what I have been seeing on the television and reading from the newspapers are symptomatic of "Renaissance" that promises a re-birth of glorious period of education in Nigeria.
"Let me state here that, based on their vision for education and general development of Nigeria, the late Chief Obafemi Awolowo and Aare Afe Babalola, and a few others like them, have always been seen by most of us those in the mould of nationalists and pan-Africalists such as Herbert Macaulay, Nnamdi Azzkwe, Kwame Nkrumah, Leopold Cedar Senghor, Houphouet Boign, Dauda Jawara, Nassingbe Eyadema, Marcus Garvey, E. W Blyden and WB. Dubois, to list but a few. In point of truth, Aare Afe Babalola, just like the late sage, is strongly passionate about how to reform our education system in Nigeria. His popular column on Thursdays in the Nigerian Tribune has always addressed variety of issues on education such as the need for quality education, good remuneration for teachers, review of school curriculum and education which is responsive to the needs of the country. His strong passion for the future of education in Nigeria is not misguided, knowing him as foremost educationist and erudite lawyer (SAN) and someone who hails from home of professors, Ekiti-Kete."
Ladies and gentlemen, the hope of a rewarding education system in Nigeria is not lost. My personal commitment and aspiration is to do all that is humanly possible to make the Nigerian university system the best in the world. I am very confident that we will get there. I perceive education as the full development of the human mind, cutting across cognitive, affective and psychological domains. Education goes beyond schooling: it transcends classroom teaching. It is the process of inviting truth and acquiring all round knowledge, skills, values, beliefs, and character, needed to become a better citizen.
Quality education throughout life is the birthright of every human being on earth. The right to education is one of the most basic rights recognized in international law and in the laws of every civilized country of the world. Education has long been recognized as both a human right and an indispensable means of realizing other human rights. Education is also a principal tool for unlocking prosperity and eradicating endemic poverty. According to the United Nations, every year of formal education increases an individual's earning-capacity by up to 10 per cent. The higher the level of education, the greater the chance of escaping poverty.
Passport to the future
Education is undoubtedly the-passport to the future; each page is filled with limitless opportunities. Standing before you today is a living example of the transformative power of education. This is why that Chinese adage states "If you are planning for a year, sow rice; if you are planning for a decade, plant trees; if you are planning for a lifetime, educate people." Investment in education is the only sure way to the liberation of human minds. As I tell my students, education, especially quality education, breeds discipline, discipline breeds character, character breeds hope, and hope never fails.
Given the intrinsic value of education to human life, environment, prosperity and survival in general, international law has emphasized the right of every individual on earth to quality education. As far back as 1948, Article 26 of the Universal Declaration of Human Rights proclaimed that: "Everyone has the right to education. Education shall be free, at least in the elementary and fundamental stages. Elementary education shall be compulsory. Technical and professional education shall be made generally available and higher education shall be equally accessible to all on the basis of merit.. Education shall be directed to the full development of the human personality and to the strengthening of respect for human rights and fundamental freedoms … Parents have a prior right to choose the kind of education that shall be given to their children."
The key elements in this Declaration are: accessible, available, affordable and quality education. In 1989, the United Nations Convention on the Rights of the Child, in Articles 28 and 29, stipulated that primary education should be "compulsory and available free to all". Article 13 of the International Covenant on Economic, Social and Cultural Rights (rCESCR) also recognises the right of everyone to free primary school education and the obligation of governments across the world to progressively introduce "free education for secondary and higher levels." Articles 13.3 and 13.4 also require countries to respect the educational freedom of parents by allowing them to choose private educational institutions for their children. These instruments emphasize the need for free education even at higher levels such as the university.
Budget for education
Although the UNESCO High level Group on Education for All has recommended that every country should spend no less than 15-20 per cent of yearly budgets on education, a spending threshold of 30 per cent of yearly national budget on education has been recommended as necessary for African countries to catch up and address the current infrastructure deficits. Unfortunately, however, despite perennial rhetoric by successive Nigerian governments on their plans to build world-class universities, many have consistently failed to meet the UNESCO funding benchmark. For example, in Nigeria, the 2017 budget N448.0 1 billion was allocated to education, representing only about six per cent of the N7.30 trillion budget. As a signatory to these important international law instruments, Nigeria has a fundamental obligation, as a responsible nation, to fully respect, protect and fulfill the right to education of every citizen, in accordance with the these provisions of international law.
Pathways to transformational leadership in Nigeria
Several years after the titanic strides of Chief Awolowo, the search for transformational leadership in Nigeria remains ongoing. In this final part of my address, I will propose how true national leaders in the mould of Chief Awolowo can emerge and how Nigeria, a country of many nations, can metamorphose into a nation properly so called and how we can move closer to the ideals of Awoism.
Full restructuring: a necessity for the emergence of Nation Nigeria
The founding fathers agreed on a true federalism in Lacanster House in London between 1950 and 1960, having taken into consideration the differences in culture, religion, philosophy of life, attitude to work, languages and so on. One who believes that his father is a fool would sooner than later regret his own foolishness. There is urgent need for total devolution of powers to enable each state or geo-political zone to effectively administer its resources and social political needs. The Federal Government should only be concerned with the management of common political affairs like currency, foreign affairs etc. There will be less crisis and quarrel or inordinate ambition to become president, minister or legislator. As a matter of fact, the late Sardauna found regional premiership more prestigious than being the Federal Prime Minister.
Qualification and remuneration for political office holders
Political offices in this country have been made too attractive; each state spends a huge percentage of government revenue on salaries and allowances. Yet there are 36 Houses of Assembly, two national legislative houses, array of commissioners and ministers. In addition, they maintain a large number of aides and assistants at public expense. There are also large numbers of senior special assistants, private secretaries. There is also the First Lady and an array of assistants. At the local government level, we have the chairmen and large number of officers. Politics in Nigeria today is viewed primarily as a business and not as a means of service to the nation. In the First Republic masterminded by Chief Awolowo, members of House of Assembly did not earn salaries but sitting allowances. More importantly, legislative business was part-time.
Furthermore, there has to be a change to the qualifications for seeking political office. Rather than have a minimum educational qualification of Senior Secondary School or WAEC, it should be a first degree, with a minimum of Second Class Lower. Such person must also be self employed or have viable means of self-sustenance prior to seeking political office. They must also have held positions of responsibilities. The position of local government councilors should be reserved for retired and much experienced people like teachers, professors, other professionals and clergymen also on part-time, with payment of sitting allowances only.
Agriculture
As stated earlier, agriculture was the mainstay of economy of this country in the First Republic. The fact remains that agriculture is the major employer of labour all over the world. However, in Nigeria, agriculture is virtually abandoned. In court of law, particularly in election petition cases when witnesses are asked, what is their occupation?, the answer invariably is "politics". Our government has been paying lip service to agriculture by urging people to go back to farm. I do not know a father who will tell his son who has just graduated to return to the farm and use cutlass and hoe. Agriculture is an attractive business, if we adopt mechanised farming as it is done in other countries. I am confident that our youths can go back to the farms, if the government can make available agricultural equipments to all local governments which can be hired by youths. All they need to do is pledge their farmland as security.
CONTINUES TOMORROW