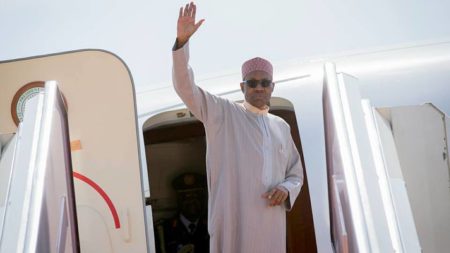 PRESIDENT Muhammadu Buhari on Saturday left Katsina for Nouakchott, Mauritania, to attend the 31st Ordinary Session of the African Union (AU) Assembly of Heads of State and Government.
The summit will hold from June 30 to July 2.
The presidential aircraft conveying the president and other members of his entourage to Mauritania took off at the Umaru Musa Yar'Adua International Airport, Katsina, about 10. 20 a.m.
President's Special Adviser on Media and Publicity Femi Adesina said on Friday in a statement that Buhari would make introductory remarks and presentation on the summit's theme — "Winning the Fight against Corruption, A Sustainable Path to Africa's Transformation.''
According to him, Buhari will make the presentation in his capacity as the leader of the AU.
Adesina also said that Buhari and other African leaders would take part in an interactive session with President Emmanuel Macron of France.
He said that the session would deliberate on financing AU-led Peace Support Operations authorised by the United Nations Security Council.
ALSO READ: Buhari redeploys 3 permanent secretaries
"Dominant issues affecting the continent such as peace and security, HIV and AIDS, regional cooperation, climate change will engage the attention of the African leaders during the Summit,'' he said.
Adesina further stated that Buhari would hold high-level bilateral sessions on issues of shared common interests of the country, Africa and the world.
Buhari would be accompanied on the trip with Gov. Tanko Al-Makura of Nasarawa State, Gov. Godwin Obaseki of Edo and other top government officials.
While in Katsina on Friday, President Buhari had met and condoled with the government and people of Katsina State on a windstorm disaster that killed six persons and destroyed more than 530 houses in the state.
NAN reports that 2,000 people were displaced as a result of the disaster.
Buhari also addressed traditional, community and religious leaders as well as representatives of victims of the disaster at the Palace of Emir of Katsina, Alhaji Abdulmumuni Usman.
He said that he had directed the National Emergency Management Agency and other relevant government agencies to assess the situation with a view to offering necessary assistance to the victims.
The president also had a closed-door session with President Faure Gnassingbe Eyadema of Togo at Katsina Presidential Lodge.
The president, at the meeting, described as a welcome development the proposed security summit among members of Economic Community of West African States (ECOWAS) and countries in Economic Community of Central African States on July 30.
According to Buhari, terrorism now transcends international boundaries and no country can combat the scourge alone.
"We need to team up to fight common enemies; terrorists in whatever form are enemies of humanity and no effort must be spared to protect our people.
"I will always support anything that is meant to enhance security in our region,'' he said.
ALSO READ: We've lost 20,000 cows but we didn't kill anybody in Plateau —Miyetti Allah chairman
Gnassingbe, who addressed newsmen after the meeting, said that he was happy to be in Katsina and thanked Buhari for his assistance in calming the political situation in Togo.
He said that he briefed Buhari on Mali elections billed for next month, saying that ECOWAS would ensure that everything went smoothly.
The Togolese leader said that the sub-regional body would soon address the persistent cases of farmers and herdsmen clashes, noting that the problem was not peculiar to Nigeria alone.
"It is not a religious or ethnic problem and must not be misconceived as such; we will discuss the matter and try to find a solution,'' Gnassingbe said
He also condoled with Buhari on the fire disaster caused by a fallen petrol tanker in Lagos on June 28.