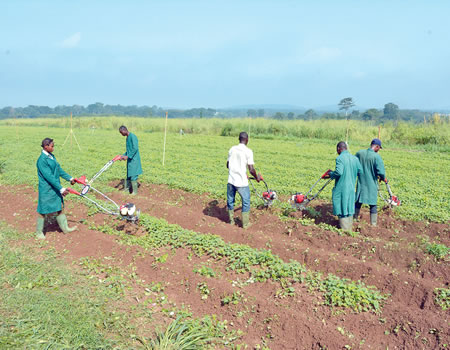 Farmers in Benue on Friday urged on the government at all levels to increase the resources allocated to the agricultural sector in their budget.
The farmers made the call at a meeting of farmers and key players in the agricultural sector, organised by Synergos Nigeria in Makurdi.
They lamented that the government's allocation to the agricultural sector was usually too meagre and insignificant in spite of the fact that agriculture was the mainstay of the nation's economy, prior to the discovery of petroleum.
Speaking on behalf of farmers, Mrs Janet Adejo, the State Chairman, Small Scale Women Farmers Association of Nigeria (SWOFON), said that funds allocated to agricultural sector were usually inadequate to address the challenges facing the sector.
She also appealed to the government to always involve farmers in the budget formulation processes so as to enable the farmers to make inputs and partake in the making of realistic agriculture budgets.
Mr Abdul-Rahman Danbaba, a Consultant to Synergos, said that if the government had been consistently allocating only 10 per cent of its budget to agriculture in the last 10 years, the agricultural sector would have been transformed.
Danbaba, who is an official of Techno-Serve, said that agriculture had the potential of fast-tracking the country's economic growth if given the desired attention.
He noted that the federal, states and local governments were not giving agriculture the desired attention.
However, Prof. Godwin Abu, the Director, Institute of Food Security, Federal University of Agriculture, Makurdi, urged farmers in the state to focus their attention more on the cultivations of certain crops in which they had comparative advantage.
Besides, Abu underscored the need for any agricultural programme to involve youths and women because the youth and women constituted between 60 and 70 per cent of the country's population.
He, therefore, called for the development of specific programmes that would assist the youth and women to engage in massive agricultural production so as to enhance their income.
Mrs Maureen Kajo of the Federal Ministry of Agriculture and Rural Development advised the government to open up the rural areas by constructing feeder roads to facilitate movement of farm produce to markets.
Earlier, Mr Victor Adejoh, the Field Manager, Synergos Nigeria, said that the meeting was organised to enable a convergence of viewpoints in efforts to draft a policy document on agriculture for the state.
He noted that Benue was one of the states that did not have an agricultural policy, adding that this was a flaw, as Benue was reputed to be the "Food Basket of the Nation''.
Adejoh encouraged the participants to bring their wealth of experience to bear on the policy document which they were about to draft.
Mr Mike Agon, the Coordinator of Synergos Nigera in Benue, said that the organisation was current executing programmes in Benue, Kaduna and Kogi states, adding that plans were underway to extend its activities to other states.