Bayelsa govt regrets disruption of work at Nigerian Content office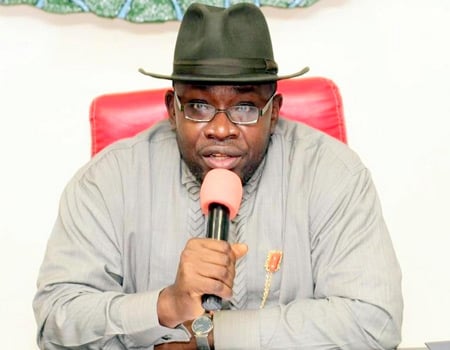 PEEVED by the protest of youths under the aegis of the Ijaw Youth Council (IYC) in the central zone, the Bayelsa State Government has condemned the action and the embarrassment it must have caused at the head office head office of the Nigerian Content Development and Monitoring Board, (NCDMB), as it disrupt the smooth operations of the activities of the management and staff of the board.
Contained in a government statement signed by the State Commissioner for Information and Orientation, Hon Jonathan Obuebite, he described the action of the youths as most unfortunate and a product of misinformation; and that it was totally unacceptable.
He said the Bayelsa State Government dissociate itself from the incident and urged the youths not to allow themselves to be used to create an atmosphere of insecurity, that could portray the government and people of the state in bad light.
The statement expressed satisfaction with the achievements of the NCDMB, under the leadership of a son of the soil, Engineer Simbi Wabote, noting that, he has done so much within his short rein as the Executive Secretary of the Board by introducing a whole lot of creativity and expertise, in line with its mandate.
Obuebite pledged government support and commitment to the Engineer Wabote led board, stressing that, Governor Seriake Dickson was personally interested and committed to the success of the board, especially the Executive Secretary, whose wealth of experience in the oil and gas sector is a clear pointer to his ability and capacity to deliver on his assignment.
While, advising the youths to channel their grievances through the authority, the Commissioner restated government commitment to create the enabling environment for the board to function at full capacity, adding that; and warned that government will no longer tolerate a situation whereby, people will take to the streets for unjustifiable and uninformed reasons.
Obuebite described such protests as counter-productive and completely at variance with the policy objectives of the Restoration Government, which is working tirelessly to engender greater private sector participation in the economy of the State.
The commissioner, however, stated that as a government, the administration believes in encouraging and supporting all Bayelsans, irrespective of their political affiliations to succeed and called on all Bayelsans to support the Local content Executive secretary and his team to succeed.
To this end, the statement regretted the embarrassment the incident would have caused the management and staff of the NCDMB, and assured that government would take adequate steps to prevent a future re-occurrence.