Battling paedophiles
Bisi Adewale's 'Protecting Your Children from Sexual Abuse' sounds the alarm on the spreading epidemic and why prompt action is needed to tackle it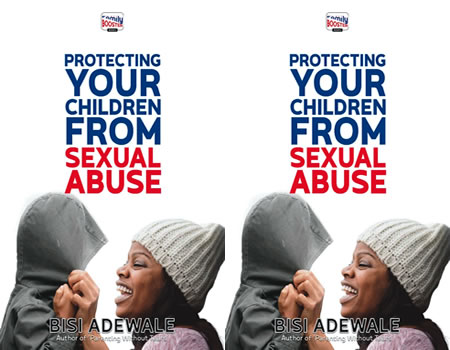 FOR author and parenting, marriage and family life coach, Bisi Adewale, there's nothing like arts for art sake. Writing must be orientated towards a goal; it must be to inform, enlighten, correct or warn. This is particularly important when the subject matter is a sensitive one like sexual abuse of children (paedophilia).
"I got provoked to finally write this book after someone sent a video of little children performing oral sex on each other in their school compound," Adewale explained last Tuesday at the unveiling of his latest book, 'Protecting Your Children from Sexual Abuse' in Lagos. "It was really disgusting! I knew that I had to do something right away, having delayed for years," he added on why he wrote the 164-page book published by Living Home Venture.
Given the increasing incidence of child sexual abuse in Nigeria which the author described as a 'national epidemic' and, especially with a study revealing that one in every 10 children would be sexually abused before age 18, Adewale's book couldn't have come at a more auspicious time.
"The menace of child sexual abuse in our society has become so alarming that we can only imagine what is happening under the roof and we can't just get it accurately. Statistics about child sexual abuse keeps increasing every day for the worse," the author further disclosed on why he wrote the book.
Adewale added that "parents need to know about sexual abuse. They need to know how to prevent it and how to coach their children. Also, they need to know what to do if abuse happens. Somebody needs to tell them, and I think I am in a vantage position to do this having put about 20 years into training families, equipping parents, helping people to raise good homes and godly children. So, I am putting all these experiences into this book to help you raise a child without blemish."
He warned that parents have to be careful because 80 per cent of abusers are relatives or those closely known to them including uncles, cousins, aunties, teachers, spiritual leaders and neighbours amongst others.
To guide against abuse, Adewale urged parents, guardians, schools and churches to start teaching children sex education from an early age. He disclosed that modules for the different age groups are in the book.
Written in readable prose, 'Protecting Your Children from Sexual Abuse' opens with 51 heart-breaking and real-life stories of sexual abuse victims. Many of the victims, now adults, shared stories of what happened to them when they were younger. The book also highlights what sexual abuse is and how a child can be abused. It differentiates between sex education and sexualisation and reiterates why parents need to be careful about people they trust with their children's upkeep. It also examines parents' mistakes that expose their children to sexual abuse; what to do when a child is sexually abused and how to identify predators and paedophiles amongst others.