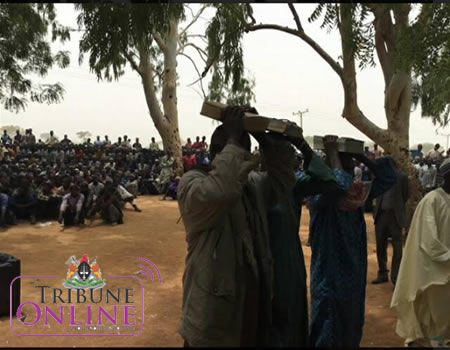 Speaker of the Zamfara State House of Assembly, Alhaji Sanusi Garba Rikiji, has said bandits have taken control of three districts of Zurmi Local government area.
He stated this during his visit on Saturday, following another attack by bandits on some villages under Mashema, Kwashebawa and Birane districts, Zurmi Local Government Area of Zamfara State, while about 42 persons were reportedly killed.
Rikiji, who was in Zurmi on Saturday, to distribute relief materials to internally displaced persons, was shocked to discover that some districts were  already under the control of bandits.
He said the districts under Zurmi emirate, were under the control of bandits, which means they had taken over all the land.
"What we meet here today in Zurmi town is worrisome. We are under siege. We are calling on security agencies to stand up and protect our people."
He added that more than 12,000 persons, especially women and children, had been displaced from their homes by the bandits.
"The security situation in this state requires general study system review. This situation has never happened in this country. Even during the civil war, this thing never happened," he said.
ALSO READ: Osun election: Oluwo endorses AGA aspirant
"The chairman of Maradun Local Government Area informed me of another attack.
"Some of the displaced persons died, while running from their communities to Zurmi. Some pregnant women delivered new babies while trekking to Zurmi, just  as new born babies had been washed away.
"We have directed the state commissioner of education to close all the schools in this area so as to accommodate the displaced people.
"As I am speaking now, all the villages have been burnt down; properties including money were also burnt to ashes. This is to tell you the banditry is not for economic reasons.
"These bandits are after the lives of our people and their properties; so, security agencies must wake up; you have to work up to expectations," he said.