Cross River State governor, Professor Ben Ayade, has commissioned an ultra-modern toothpick factory at Ekori, Yarkurr Local Government Area of the state.
The factory is said to be capable of producing 31 million toothpicks in a day.
Speaking at the event, Ayade disclosed that "this administration was trying to create an economy that will radically alter the economic landscape of the state. The country does not just change by mere promulgation of policy, the country changes by systematic, active but very visionary step by step approach towards the realisation of set objectives and one of the set objectives is to move Cross River State from the third world to the first world under my eight years in office."
"The Ministry of Agriculture in 2016 decried an average of 18 million dollars spent annually importing toothpicks into Nigeria, hence the federal government put toothpicks importation under the dollar access prohibition list, which means it cannot give you dollars if you intend to import toothpick, so we decided to take advantage of the policy to set up this factory."
Ayade disclosed that only Cross River has such a factory as a state-owned project, which is 100 per cent managed by indigenes, creating jobs for the people.
While urging indigenes of the area to go into massive commercial cultivation of bamboo which is the raw material for toothpicks, the governor said"It has a short gestation period that is why it belongs to the grass family and it grows veraciously with wide growth.
"Cultivate enough bamboo trees; we can produce 31 million toothpicks in a day which is lots of business and money with massive turnover."
The General Manager of the company, Dr Ignatius Atsu, earlier disclosed that "the factory, one of the many factories conceived by the Ayade administration produces the finest, strongest, organic and beautiful toothpicks which have brought significant economic value, creating wealth and introducing socioeconomic development in the area."
ALSO READ: Mob club cult suspect to death in Delta
He added that the company which has injected several millions of naira into the economy shares the vision to produce a world-class toothpick that would meet consumers' demand at a minimal cost.
At the palace of the Obol of Ekori where the governor stopped over for Royal blessings before the official commissioning ceremony, the Royal father, Obol Donatus Ibor Ofem, lauded Ayade for his industrialization drive, which spread across the state, a record, the Obol said, "no governor had ever beaten over the years."
"Since 1611 when Ekori came into existence, no governor has ever visited this palace except Ayade who's feat in siting a factory in the area, as well as the offer of appointments to our sons and daughters, has tremendously helped to put food on our tables while reducing the rate of crime."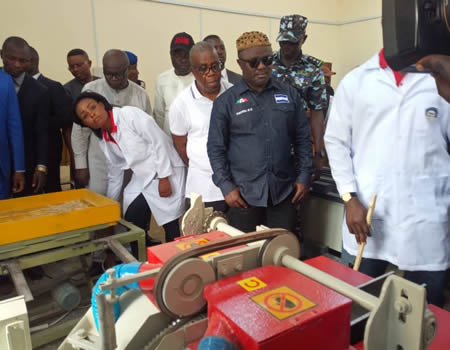 "This is the first industry in Yarkurr. We are happy with Ayade, we have had governors but this one is too much."
On the directive by the governor for the indigenes to go into massive cultivation of bamboo, "We have much bamboo, we used to burn them but now we will bring them here to sell, the economy will improve youths restiveness will be put in check and more of our children will be employed."
The highlight of the ceremony was the conferment of the highest chieftaincy title in Ekori on the governor as Obol Ojeu Onang 1, meaning, "a chief that promises and fulfils."