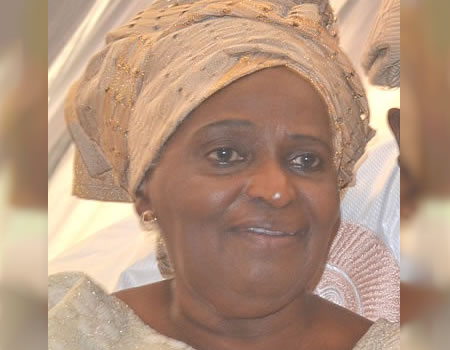 Chairman, African Newspapers of Nigeria Plc, publisher of Tribune titles, Rev. (Mrs) Omotola Oyediran has pointed to the ideals of unity and love propagated by the co-founder of the company, Chief (Dr) H.I.D Awolowo as the fulcrum of the continued existence of the company.
Oyediran who stated this at the 2017 Christmas Carol, Thanksgiving and Award ceremony of the company, held on Tuesday, added that the Tribune had continued to uplift the founders' vision of serving as the hope of the hopeless in the society.
Doing a recap of the outgoing year, which she described as both challenging and prosperous, Oyediran avowed that Tribune was poised for all-round growth in the coming years.
Especially, Oyediran lauded the perseverance of staff, the commitment of shareholders and cooperative attitude of management and board members towards ensuring that the company meandered through some trying times faced.
Speaking further, she announced that incumbent co-Chairman, Dr Olatokunbo Awolowo Dosumu would take over as Chairman of the company, on January 1, 2018.
She noted that this development was consequent upon the expiration of two-year tenure as Chairman on December 31, 2017.
She expressed the belief that the Dosumu Awolowo's tenure will take the company to greater heights.
While speaking, co-Chairman, ANN Plc, Dr Olatokunbo Awolowo Dosumu reiterated the commitment of the company's management to sustaining orderliness in the system, adding that no staff or board member will be shortchanged.
Awolowo Dosumu allayed fears of a drastic change in operations, when she takes over, noting that the current system of running the company will be sustained.
While praying that ANN Plc records greater successes in the nearest future, Awolowo Dosumu promised to give her new task all her best.
She avowed resolve to ensuring that the legacy of the founders, Chief Obafemi Awolowo and Chief (Dr) H.I.D Awolowo that has sustained Tribune, over the years, remains untainted.
In his Christmas message, Chairman, Pentecostal Fellowship of Nigeria (PFN), Oyo State, Bishop Taiwo Adelakun charged Christians to always rely on God for a change of their lives' fortunes, healing, deliverance and rest of mind.
He prayed that the strength of staff and management be renewed towards greater heights for the company.
Also present at the event were Managing Director/Editor-in-chief, Nigerian Tribune, Mr Edward Dickson; Consultant/Director, African Newspapers of Nigeria Plc, Dr Segun Olatunji; Commissioner of Police, Oyo state, Abiodun Odude, represented by Police Public Relations Officer, Adekunle Ajisebutu.
In his remarks, Mr Edward Dickson avowed that Tribune titles will remain a living entity, with continued innovativeness and unity of purpose among members of staff.
Amid the nation's economic challenges which rubbed off on the company in 2017, Dickson said it was gladdening that Tribune was able to commission a new Tribune Office Complex in Abuja.
While presenting awards to staff, he specifically praised their resoluteness in bearing with the company throughout a challenging year and committing themselves to galvanizing all resources towards ensuring that the company's projects for the year were accomplished.
Dickson expressed commitment of the management of the company to shoring up its revenue and improving on its market position.
Business Editor, Mr Sulaimon Olanrewaju received the Chairman's Award for his strong revenue drive, mastery of job/proven competence, proven loyalty and dedication to duties; efficiency and Integrity and being a high performer on the board of the Nigerian Tribune.
Recognized as the highest revenue earners were Mr Kayode Titiloye, Mr Sulaimon Olanrewaju, and Mr Akin Durodola.
Others who received departmental/Managing Director/Editor-in-Chief Awards are Mrs Yejide Gbenga-Ogundare, Mr Segun Adeeko, Mr Tola Adenubi, Mr Biola Azeez, Miss Rita Okonobor and Miss Vera Onana.
Other recipients of awards are Mrs Abiodun Temitope as best Human Resources staff; Mr Omisore Tajudeen as the best driver; Mrs Adedoye Grace for strides in Sanitation; Mrs Ameh Jummai as best Secretary.
The departmental awardees' list is also made up of Mr Isaiah Adelokun (Production); Mr Toyin Ogundaini (Maintenance); Mrs Adediran Folasade (Accounts); Mr Johnson Ajayi (Accounts); Mr Kuboye Adewale (Computer); Mrs Olubisi Ajuwon (Sales and Distribution); Mr Wande Davies (Online); Mrs Daramola Bose (Audit); Mr Niyi Ogunkoya (Credit Control) and Mr Akinduro Akinrolabu (Advert).
The Tribune choir led by Mr Femi Olukunle rendered various Christmas songs while Evangelist Bola Are sang medleys of praise and worship.
Others were Controller (Business Development), Mr Fola Oke; Chief Accountant, Mrs Oluremi Olufisayo; Senior Manager (Advertisements), Mr Kayode Titiloye; Sales Manager, Mrs Omotayo Lewis, General Manager (Online Services), Ms Tinuola Ayanniyi.