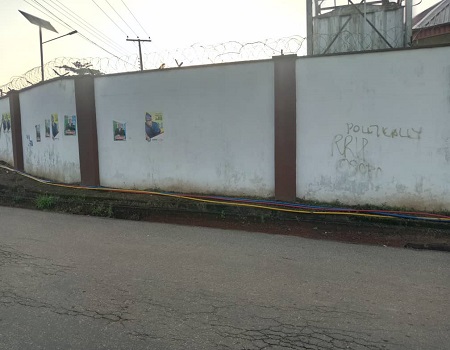 THE Ogun State Deputy Speaker, Hon. Olakunle Oluomo, on Tuesday, escaped death by whiskers as hoodlums attacked his constituency office in Ifo area of the State.
The lawmaker recently fell apart with the State Governor, Senator Ibikunle Amosun, over the latter's insistence of using consensus method in electing candidates for elective posts.
This development could not be unconnected with the confusion surrounding the conduct of the All Progressives Congress (APC) gubernatorial primary in the State.
Nigerian Tribune recalls that the exercise scheduled to hold on Sunday was postponed by the National Working Committee of the party on logistic reasons.
It is also on record that violence broke out on Monday night when some hoodlums stormed the venue of a meeting called at the instance of the electoral panel in charge of the state with the six governorship aspirants.
ALSO READ: Nigeria @ 58: Buhari's address full of false claims, empty assertions ― PDP
The hoodlums disrupted the meeting by shooting sporadically, while those present, including journalists, ran for their dear lives.
This situation probably was what necessitated the unofficial postponement of the exercise by the committee.
Also, schools in the state, both public and private were closed down on the order of the state government as regards the primary exercise.
However, reports across the state had it that members of the party trooped out to participate in the exercise, despite no directive from the eight-man committee.
When contacted, Oluomo, confirmed the development, saying that over 100 hoodlums stormed his office, wounded party members and vandalised property.
He alleged that some leaders of a transport union (name withheld) came after his life.
"Over 100 hoodlums stormed my constituency office this afternoon, wounded party members that are with me and destroyed my office and my free school buses. They are still milling around my office and the town as I speak now saying let Oluomo come out now and we teach him a lesson of how not to disobey "Oga" on consensus," he added.
The deputy speaker told newsmen that Policemen from the Sango Area Command took him away for protective custody.
He said, "Policemen have taken me out of the office now taking me to Sango Area Command of the Police, for protection they say."
In a related development, an armoured tank and some police vehicles were seen plying major roads within Abeokuta metropolis in what was termed "Show of Force."
Meanwhile, a graffiti was inscribed at two different locations on the fence of the former governor of the state, Chief Olusegun Osoba, with the inscription "Politically RIP Osoba."